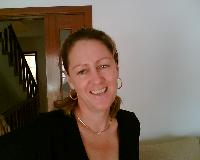 Christine Morgan
LOVE ENGLISH -Experienced and committed



Local time:

17:23 WET (GMT+0)




Native in

: English

PayPal accepted
Freelance translator and/or interpreter
This person has a SecurePRO™ card. Because this person is not a ProZ.com Plus subscriber, to view his or her SecurePRO™ card you must be a ProZ.com Business member or Plus subscriber.

This person is not affiliated with any business or Blue Board record at ProZ.com.
Translation, Interpreting, Editing/proofreading, Subtitling
Specializes in:
Business/Commerce (general)
Certificates, Diplomas, Licenses, CVs
Textiles / Clothing / Fashion
Poetry & Literature
Manufacturing
Management
Social Science, Sociology, Ethics, etc.
Law: Contract(s)
More
Portuguese to English - Rates: 0.10 - 0.18 EUR per word / 30 - 55 EUR per hour

PRO-level points: 4, Questions answered: 10, Questions asked: 5
Visa, Wire transfer, American Express, MasterCard | Send a payment via ProZ*Pay
Sample translations submitted: 3
Portuguese to English: A study of institutions for the Mentally Disabled in the specific European area of the North of Portugal and Galicia
General field: Social Sciences
Detailed field: Social Science, Sociology, Ethics, etc.
Source text - Portuguese
Desempenho organizacional, integração profissional e qualidade de vida. Um estudo em organizações para a deficiência mental na Euro-região Galiza/Norte de Portugal

RESUMO

A observação da vida quotidiana continua a revelar a existência de casos onde é visível a marginalização, a exclusão e a fraca qualidade de vida das pessoas com deficiência. Ainda assim, não deixa de ser verdade que uma evolução de mentalidades sobre o lugar da deficiência e sobre a identidade das pessoas com deficiência parece estar em curso. Um observador atento não terá muitas dúvidas que estamos numa fase que, face ao passado, se caracteriza por uma maior e melhor aceitação social das pessoas com deficiência. Tal é, amplamente, testemunhado pela disponibilidade social para investir recursos públicos e privados que promovam a integração social e uma efectiva melhoria de qualidade de vida.
Contudo, a eficácia desses objectivos depende do desempenho das organizações que promovem a integração, ou seja do modo estas usam as regras (sociais e legais) e os recursos (de todos os tipos) que geram ou que a sociedade e o estado colocam à sua disposição.
No entanto, sabemos, que a melhoria da qualidade de vida não depende apenas da existência das regras e disposições integradoras presentes nas legislações nacionais ou nas resoluções e convenções internacionais nem tão pouco do volume de investimento público em programas de reabilitação ao nível da educação formal, formação profissional, emprego, acessibilidades, habitação, apoio social. Quer dizer, não basta que se existam regras legais e se invistam recursos financeiros, materiais e simbólicos, para garantir qualidade à integração das pessoas com deficiência nas actividades comuns e normais da vida colectiva, particularmente quando ingressam no mercado de trabalho. Também é preciso que daí resulte uma melhoria significativa da qualidade de vida, que simbolize e corporize, quantitativa e qualitativamente, a participação das pessoas com deficiência e suas famílias nas actividades reabilitadoras, sejam elas, educativas, profissionais ou de lazer.
Com a investigação proposta pretendemos questionar até que ponto a acção das organizações de reabilitação que promovem a integração profissional, contribui para a melhoria da qualidade de vida das pessoas com deficiência integradas no mercado de trabalho.
Nesse sentido pretendemos saber até que ponto as práticas dos agentes das organizações de reabilitação, que se faz na interacção entre diversos actores e pela aplicação das regras legais, organizacionais e sociais e de recursos distributivos e de autoridade, respondem às necessidades das pessoas com deficiências, incrementam as possibilidades de inclusão social com reais efeitos sobre a sua qualidade de vida. A investigação desenvolver-se-á com epicentro numa amostra de seis organizações de reabilitação sedeadas na Euro-região Galiza/Norte de Portugal
Para que esta investigação não se inscreva num registo meramente académico procederemos também a uma análise SWOT (Strenghts, weeknesses, oportunities and threats). Pretendemos elencar os riscos a ter em conta e quais os problemas a resolver (ameaças), assim como as vantagens e as oportunidades, contribuindo para a construção de modelos de intervenção adequados às necessidades da integração social e melhoria da qualidade de vida das pessoas com deficiência.


Translation - English
A study of institutions for the Mentally Disabled in the specific European area of the North of Portugal and Galicia, focusing on their organizational capacity, their fulfillment of professional integration and their impact on the general quality of life of the Disabled.



SUMMARY

Observation of daily life continues to disclose examples of the marginalization, exclusion and low level of quality of life of disabled people. Nevertheless there is no doubt that there has been an ongoing and considerable change in attitude with regard to people with disabilities and their place in society. Any discerning observer would have no doubt that we are in an era which, compared to the past, is characterised by a better and greater understanding and social acceptance of the disabled. This is clearly evident from the willingness to invest public and private funds to support the social integration of the disabled and positively improve their general quality of life.
However the effectiveness of these goals depends on the capacity of the organisations that support integration; or rather the way in which these organisations use the rules ( both social and legal) and resources they have at their disposal ,or those which society or the state make available to them.

Notwithstanding it is clear that improving the quality of life for the disabled does not depend solely on the existence of rules and facilities that exist in current national legislation, or on resolutions and conventions that take place on an international level. Nor does it depend on the volume of investment in rehabilitation programs that cover formal education, professional, skills and training, work opportunities, housing and social support. It is not enough that there are laws or that there is investment, both material and symbolic, to guarantee the level of integration of the disabled in everyday life and activities, especially when they enter the work arena. It is also pertinent that their actual level and quality of life improves significantly, that we achieve a wholesome integration, not only quantitative but qualitative, enabling the disabled and their families to fully participate on all levels whether these be educational, professional or simply leisure.
In the following analysis we aim to question to what extent these rehabilitation organisations, aimed at integrating the disabled on a professional level, also contribute to an improvement in the actual quality of life for these people with disabilities who are assimilated into the work force.

In this way we are investigating how, in practice, the front people at the rehabilitation centers and organistaions (those who are responsible for the coordination of all participants in the rehabilitation process and the application of rules social, legal on an organistional level and the distribution of available funds,) handle the needs of the disabled and how they promote their social integration in a way that significantly improves their general quality of life. The enquiry focuses on a key group of six rehabilitation centers situated in the North of Portugal /Galicia.
So that this investigation does not become purely academic, we are including a SWOT analysis (Strengths /Weaknesses/ Opportunities and Threats).We aim in this way to pre-empt the risks and foresee the problems that need to be resolved, as well as highlighting the existing advantages and opportunities, and in this way contribute towards criteria and methods that can be applied to further the social integration of disabled people and in particular improve their general quality of life.


Portuguese to English: Legal Doc-initial pages
General field: Law/Patents
Detailed field: Law (general)
Source text - Portuguese
VARAS DE COMPETÊNCIA MISTA GUIMARÃES * EXMO SENHOR JUIZ DE DIREITO AUTORA: TÊXTEIS D.A. - DOMINGOS ALMEIDA S.A., sociedade anónima com sede na Zona Industrial de Mide, freguesia de Lordelo, do concelho de Guimarães, C.I.P.C. no 502 190990, VEM PROPOR CONTRA, 1. ACRO TEXTILE MILLS LIMITED, sociedade comercial por quotas com sede em 106/03, Saint Johns Park, Lahore Cantt, Pakistan; e 2. BANCO ESPÍRITO SANTO, S.A. com sede na Rua Jose Falcao, nO 176-1, 4050-315 Porto e Agência no Gaveto da Avenida de Londres, 551/ Avenida de S. Gonçalo, 4810-550 Guimarães; ACÇÃO DECLARATIVA SOB A FORMA DE PROCESSO ORDINARIO nos termos e com os seguintes: FUNDAMENTOS: 1 A Autora e dona de estabelecimento industrial no qual, com carácter regular e escopo lucrativo, se dedica a tecelagem de tecidos e ao fabrico e comercializa
Translation - English
JOINT POWERS OF DISTRICT COURTS GUIMARAES Right Honourable Judge of the court of law Plaintiff: D. A. Textiles- Domingos Almeida S.A., (sociedade anónima –inc) whose head office is based in the Industrial zone of Mide, in the borough of Lordelo, in the district of Guimaraes, C.I.P.C. nr 502 190 990. FILES LEGAL PROCEEDINGS AGAINST 1) ACRO TEXTILE MILLS LIMITED (limited company) whose head office is based in 106/03 Saint Johns Park, Lahore Cantt, Pakistan ; and 2) BANCO ESPIRITO SANTO, SA whose head office is based in Rua José Falcão, nr 176-1, 4050-315 Porto and the branch in Gaveto de Avenida de Londres,551/ Avenida de S Gonçalo, 4810-550 Guimarães; Statement of the charge in the form of judicial proceedings in line with and based on the following GROUNDS: 1 The Plaintiff is the owner of an industrial establishment which, in a legal manner and for a profitable end, is dedicated to the making of woven cloths and the fabrication of covers, bedspreads and blankets( articles of bed linen ) 2 In turn the Defendant is a business man who runs a factory unit, which, with the aim to sell and so looking to the same profitable end , produces yarns for the textile industry amongst which are yarns with the same characteristics and technical attributes that the Plaintiff regularly acquires for the weaving of its cloths with which it produces its textile articles of the said bed linen type referred to above. 3 In the exercise of the respective business activities the Plaintiff ordered from the Defendant and the Defendant accepted to sell the following yarn: -For the price of 61,755.48 USD the quantity of yarn with the characteristics, thickness and technical specifications, quality and price per unit as detailed on the invoice number ACRO/EXP/358/07 dated 20/11/2007, that is 373 boxes containing 17,012.53 kg of yarn, yarn count 40/2 100% combed cotton with 17 TPI and 22 RKM to be woven, at the unit price of 3.63 USD per kilo in accordance with the pro-forma invoice nr ACRO/ 171/07/ DD dated 27/10/07. all in accordance with the reading of the afore mentioned invoices already joined to the temporary injunction and whose content is hereby reproduced and included for all legal effects - docs 1 and 2 4 All negotiations relating to the supply of the afore mentioned yarn were made through the Agency of the first Defendant in Portugal , the Company " TARFILUZ- Comércio de Productos Têxteis, Unipessoal, Lda." 5 One of the conditions of sale, set out by the Defendant and accepted by the Plaintiff was that the cost of the merchandise be paid in 120 days after the date of the Bill of Lading, in its entirety and payment guaranteed by an irrevocable letter of credit, a letter of credit which was issued on 07/10/31 by the Banco Espírito Santo, S. A. – Porto , with the nr LIC0588134247. 6 This means that the payment of the cost of the merchandise, specified in the above mentioned invoice, had to be covered by a formal and named bank guarantee, referred to in international commercial practice as a "letter of credit "or "document of credit " by which the bank guarantees the said payment on the due date. 7 The purchaser in turn must then fulfill the value to the bank in question. 8 That the contract of sale and purchase agreed between the Plaintiff and the Defendant, which has just been described, contain such conditions resulting from those stated on the top right hand side of the invoice " PC nr LIC0588134247" and stated in points 40A, 20 and 42P in the respective document nr LICO588134247 ( letter of credit) issued on 31 of October 2007- doc. 3, joined together with the temporary injunction- and whose content , for briefness, is herein reproduced and included for all legal purposes.
Portuguese to English: Refutation Document
General field: Social Sciences
Detailed field: Social Science, Sociology, Ethics, etc.
Source text - Portuguese
1) Gostaríamos de ser informados sobre o contributo de cada critério enunciado no artº 10 do Regulamento para a
formação da decisão tomada pela FCT. Particularmente no que se refere ao peso que foi atribuído ao facto de o IR ser um investigador doutorado à menos de 5 anos à data do concurso, na medida em que da fundamentação do painel de avaliação parece decorrer que o mesmo é avaliado com base na sua experiência anterior contrariando o que o Regulamento dispõe para esses casos.
2) A rejeição deste projecto para financiamento pela FCT parece contrariar de forma grosseira o exposto pelos membros do painel de avaliação no texto de apreciação. A decisão tomada não se baseia seguramente na valia científica e social do projecto, nem na sua não razoabilidade ou exequibilidade. Aceitar-se-á a decisão, no mínimo, incompreensível de recusar um projecto apresentado por uma reconhecida "forte equipa de investigação" cujos membros possuem valiosos CV, se a sua reconhecida competência estiver a ser diminuída com base no preconceito de que aquilo que é produzido e disseminado no território nacional, usando a língua portuguesa, ou no espaço não anglófono, não tem grande valor. Algo, que os próprios membros do painel de avaliação nem sequer consideram como decisivo na avaliação que fazem do valor e da capacidade científica da Equipa de Investigação.
Aliás, a decisão da FCT, ao não permitir à equipa constituída usar verbas de financiamento público, é inclusivamente contrária ao interesse nacional e comunitário (convém não esquecer que trata-se de uma investigação a desenvolver na euro-região Galiza/Norte de Portugal), face ao elevado investimento que tem sido feito numa área de política social onde não existem trabalhos de investigação científica que procedam a uma análise do funcionamento do sistema e dos seus resultados na ligação entre os executores da política de reabilitação e os seus destinatários.
A solidez teórica e metodológica do projecto evidenciada pelo painel de avaliação, bem como a experiência e a seriedade dos membros da Equipa de Investigação deveriam ser vistas como garantia de que o projecto será executado a contento e de acordo com o plano de trabalhos apresentado. Não existem razões de natureza logística que impeçam a concretização dos objectivos propostos. Sobre as dúvidas levantadas quanto à exequabilidade do projecto, podemos afirmar que estão asseguradas as condições de participação e adesão das organizações que serão objecto da investigação e por seu intermédio o acesso às pessoas com deficiência. Não faria sentido avançar para a delineação de um projecto desta envergadura sem antecipadamente, como foi feito, assegurar a colaboração dos actores. Não existe, portanto, nenhum risco para a execução do projecto que decorra da não adesão dos actores objecto da investigação.
Além disso, a fertilização cruzada de conhecimentos dos membros da equipa a aplicar no desenvolvimento do estudo, designadamente no nível dos métodos e das técnicas em avaliação de projectos sociais, constituem indubitavelmente um valor acrescentado para a construção sustentada dos resultados da pesquisa e a transferência do conhecimento científico resultante para a melhoria das políticas sociais na área geográfica do estudo. Por conseguinte, não existem razões de natureza logística ou de outra ordem que impeçam a concretização dos objectivos propostos, antes porém, vai de encontro às políticas e práticas da actividade científica no quadro das recomendações nacionais e europeias descritas na "Estratégia de Lisboa".
Finalmente, a rejeição deste projecto pela FCT é contrária ao próprio desenvolvimento do conhecimento sociológico e do campo científico. Basta recordar que os membros do painel de
avalição concluem que "If the project was completed successfully, then it would make valuable
contributions to the sociology of disablity and to related academic fields".
Por tudo isto é da mais elementar justiça que este projecto seja devidamente reconhecido como valioso social e cientificamente, pelo que solicitamos que a FCT altere a sua decisão de não financiamento para financiamento prioritário.


Translation - English
1) We would like clarification about the relevance of each criteria laid out in the 10th article of the Regulations on which the FCT`s decision was founded. In particular the part which refers to the emphasis ascribed to the fact of the IR being a qualified investigator for less than 5 years prior to the date of application, with respect to how this provides a basis upon which the deliberating panel seems to ascertain that the aforementioned is (thus) validated based on his previous experience, contradicting what the Regulations prescribe in these cases.
2) The rejection of financing for this project by the FCT seems to contradict in a brusque way that referred to in the written assessment by the deliberating panel. The decision made is definitely not based on the social and scientific value of the project, nor is it based on its reasonableness or feasibility. The incomprehensible decision to refuse a project that has been put forward by an acknowledged " strong investigation team" whose members have compelling CV´s, could only be understood if their acknowledged competence was undermined by a biased premise that that which is produced nationally, using the Portuguese language or in an area which is not English speaking, has no great value. Something, which the actual members of the assessment panel did not even consider as a decisive factor in the appraisal they make of the value and capacity of the Investigation team.
Moreover, the FCT ´s decision, to not allow the established team to make use of public financing, is completely against national and community interests (it is pertinent not to forget that we are dealing with an investigation which will take place in the European region of Galicia/North of Portugal), when faced with the high rate of investment that has been made in the area of social politics where scientific research, which carries out an analysis of how the system functions and the effect the results have on the relationship between the deliberating political entities and those they affect, does not exist
The theoretic solidity and methodology of the project acknowledged by the assessment panel, together with the experience and earnestness of the team members should be seen as a guarantee that the project would be carried out to the letter and in accordance with the work plan presented. There are no logical impediments that prevent the realization of the proposed objectives. As to the doubts raised with regards to the execution of the project we can confirm that the conditions of participation are guaranteed as well as the commitment of the organistions that will be subject to investigation, and through them the contact with the disabled. It would not make sense to go ahead outlining a project of this scale without having previously secured the collaboration of all participants and we have done. Therefore there is no risk to the execution of the project due to non-participation of those considered the object of the investigation.
Besides this, the fertile melting pot of knowledge of the team members to be used in the progress of this study, particularly the standard of methods and evaluation techniques for social assignments, make up an irrefutable added value towards the sustained formation of the results of this analysis and the transference of the resulting scientific knowledge to improve the social politics in this geographic area of study. Consequently there are no logical, or other types of reasons that prevent the fulfilment of the proposed objectives; on the contrary, the project meets both the political and the scientific requirements of practices set out in the national and European statutes described in the "Lisbon Strategy"

Finally, the FCT´s rejection of this project goes against the very development of knowledge in sociological and scientific fields. It is sufficient to recall that the members of the assessment panel themselves concluded " If the project was completed successfully, then it would make valuable contributions to the sociology of disability and to related academic fields"

For all these reasons it is only just that this project be properly recognized to be of social and scientific value, therefore we request that the FCT alter their decision of non financing to one of priority financing.


More
Years of experience: 24. Registered at ProZ.com: Jul 2009.
N/A
Portuguese to English (British Council/ British Institute, Portugal)
Portuguese to English (MA Hons Degree in English(St Andrews Univ))

N/A
Adobe Acrobat, Microsoft Excel, Microsoft Word, Mac OS, Open Office Suite, Powerpoint
http://chrisbooks.planetaclix.pt
Christine Morgan endorses ProZ.com's Professional Guidelines (v1.0).
Bio
ENGLISH BORN AND BRED AND WORKING PART TIME IN CONNECTION WITH THE BRITISH COUNCIL. EXPERT IN MY NATIVE TONGUE LIVING IN PORTUGAL FOR 28 YEARS SO FLUENT IN PORTUGUESE (NOT ONLY THE LANGUAGE BUT A SOLID GRASP OF THE MENTALITY AND CULTURE WHICH IS KEY FOR ACCURATE TRANSLATION)

HONOURS MASTERS DEGREE IN ENGLISH LANGUAGE AND LITERATURE FROM ST ANDREWS UNIVERSITY-- LOVE MY LANGUAGE!



This user has earned KudoZ points by helping other translators with PRO-level terms. Click point total(s) to see term translations provided.



Total pts earned: 4
(All PRO level)


Language (PRO)
Portuguese to English
4
Top general field (PRO)
Other
4
Top specific field (PRO)
Law (general)
4

See all points earned >
Keywords: English, Masters in English, Resident in Portugal since 1981, Fluent Portuguese, 12 years experience, Legal, Financial, Literary, Academic, Tourism, Marketing, Social Sciences.
Profile last updated
Jun 29, 2018