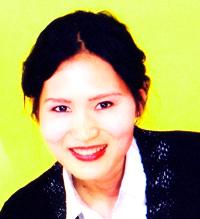 Working languages:
Spanish to Chinese
Chinese to Spanish
Chinese to English
Felicity Kou
Traducción profesional chino y español



Spain

Local time:

00:11 CET (GMT+1)




Native in

: Chinese
Freelance translator and/or interpreter
This person has a SecurePRO™ card. Because this person is not a ProZ.com Plus subscriber, to view his or her SecurePRO™ card you must be a ProZ.com Business member or Plus subscriber.

This person is not affiliated with any business or Blue Board record at ProZ.com.
Translation, Interpreting, Editing/proofreading, Subtitling, Transcription, Training, Project management
Specializes in:
Tourism & Travel
Economics
Law: Contract(s)
Business/Commerce (general)
Certificates, Diplomas, Licenses, CVs
Cooking / Culinary
Social Science, Sociology, Ethics, etc.
Education / Pedagogy
Textiles / Clothing / Fashion
Art, Arts & Crafts, Painting
More
Send a payment via ProZ*Pay
Sample translations submitted: 4
Spanish to Chinese: Mirandilla 斗牛农场简介 / Finca Mirandilla
General field: Art/Literary
Source text - Spanish
MIRANDILLA


LA FINCA

Al noreste de Sevilla, enmarcada por un sereno paisaje de limpios cielos, se levanta Mirandilla. Su entorno es una sucesión de suaves colinas, alegradas por encinas, eucaliptos y acebuches.
La finca tiene una extensión de 625 hectáreas dónde pastan 500 cabezas de ganado. Mirandilla es un reducto de vida en contacto con la naturaleza, un remanso de paz y silencio. Solo el misterio del toro bravo rompe a veces esta tranquilidad.
En Mirandilla se rechaza lo folklórico. El cortijo, de más de un siglo, tiene la fuerza de lo auténtico. La decoración es la clásica de una casa campera. Cuidada, sobria, justa y verdadera.


LA GANADERIA

La familia del Marqués de Albaserrada cría toros de lidia desde hace casi un siglo. Morfología harmónica, pelo negro brillante, pitones muy desarrollados y astifinos, temperamento bravo y fiero. Es el sello de la Casa "Albaserrada".
El 12 de octubre del 1965, el toro de nombre "laborioso", demuestra un comportamiento tan extraordinario en su lidia, que el público de Sevilla obtiene su indulto, el perdón de su vida. Salió vivo y glorificado de su lucha.
"Laborioso" fue un semental feliz durante diez años en las praderas de Mirandilla. Dejó como herencia su carácter fuera de lo común a sus 400 crías. Así su memoria sigue iluminando las tierras de Mirandilla.


LAS FAENAS DE CAMPO

El oficio de ganadero bravo es una mezcla sutil de ciencia y alquimia. Al cotidiano, los vaqueros a caballos vigilan el largo proceso de preparación del toro, cuyo combate en la plaza es el resultado final.
La prueba fundamental de la selección, en la plaza privada, es la tienta. Solamente las mejores becerras se convertirán en madres reproductoras. Es en este laboratorio natural que la sensibilidad del ganadero se plasma.
A la edad adulta, después de 5 años de felicidad, el toro parte hacia su destino, para mostrar las cualidades de su raza, casta, bravura y nobleza. Por fin expresa el comportamiento que tenía guardado en lo más profundo de sus entrañas.


LA RECEPCIÓN

Para el Marqués de Albaserrada, es crucial explicar y mostrar lo que es su pasión. Mirandilla, hospitalaria, grata y franca, permite compartir el cotidiano del toro en su ámbito natural. Los hombres y las mujeres que lo crían, enseñaran el respecto y el amor que se siente hacia el animal Rey.
Sin apartarse nunca de la autenticidad, el Marqués de Albaserrada propone descubrir sus reses acercándose a ellas con tractores/remolques, presenciando un tentadero o visitando el Museo taurino de la familia.
Sus salones rústicos acogen comidas en la más pura tradición gastronómica andaluza. La música sevillana, tan presente en el cotidiano festivo andaluz, alegra y da espontaneidad a esos momentos.




Translation - Chinese
Mirandilla斗牛农场简介

农场

位于塞维利亚东北部,在宁静的景色与明净的天空交界处,坐落着Mirandilla农场。周围都是柔和的小山丘,橡树,桉树和野生橄榄树使其景色更加优美。农场占地625公顷,有500多头牛吃草。 Miradilla农场一直与大自然联系紧密,是和平与安宁的避风港。只有"勇敢的斗牛"偶尔才打破这份安宁。

在Mirandilla农场,持久的传统比现代趋势更受重视。那种家园风情已延续了整整一个多世纪,渗透着一种地地道道的氛围。 其装饰属于那种典型的乡村之家风格, 精确,温和,简洁并朴实。

牛

Marques de Albaserrada家族自从一个世纪前就开始养育可斗的公牛。他们所养育的公牛都具有和谐的体态,黑亮的毛皮,尖长的牛角和勇敢并爆裂的特性。这是Albaserrada家族公牛的特印。1965年10月12日一头叫"Laborioso"的斗牛在斗牛表演中表现非常突出,以致于观众特许不要把它杀死。在观众的喝彩声中,这头牛活着走出了斗牛场。然后它成为了一头专门提供精子的牛,愉快的在Mirandilla农场工作了10年。它把它的例外的特性遗传给了它的400多个子孙。这样有关它的记忆一直照耀着Mirandilla农场。

农场作业

掌管一群斗牛是科学与炼金术的结合。 一般牛仔们骑着马监督漫长的斗牛的准备过程,这个过程的最终结果即为斗牛在某一天到斗牛场中表演。精选斗牛的最基本的程序就是在私下场地中用长赶枪试测小母牛的勇敢性。 只有那些最优秀的小母牛才能成为未来斗牛的母亲。 正是在这个自然的实验过程中牲畜的主人要求牲畜所具的特性才得以明显显示。等小牛长大后,渡过5年的愉快生活,就要走向它的命运,去显示它的血种,勇敢性和高贵性。最终,它将有机会显现隐藏于它身心深处的特性。

接待

对于Marques de Albaserrada家族来说,解释和表现其激情非常重要。Mirandilla农场以其友好,和蔼并诚挚的特性,允许其客人在自然的环境中了解牛畜的日常生活。育牛的男男女女会表现出对这种动物的尊重与热爱。 永不脱离地道性,Marques de Albaserrada家族为其客人提供乘坐拖车近处接近牛畜,观看斗牛表演或参观斗牛博物馆的机会。家园的乡村餐厅提供最正统的安达卢西亚传统美食, 并伴以在安达卢西亚各个节日中常见的塞维利亚音乐,在这样的时刻增添了快乐与自然的气氛。

Spanish to Chinese: Sobre venta de Participaciones Socilales / 股权出售声明
General field: Law/Patents
Source text - Spanish
El que suscribe, Don Julián Jiménez, mayor de edad, de nacionalidad china, con pasaporte chino en vigor número X, con residencia en Beijing Chaoyang District, calle Fu Dong Jia Yuan, X (República Popular China) y casado en régimen de gananciales con Doña Cecile Chang, titular del pasaporte vigente de su nacionalidad número X,

MANIFIESTA:

1.- Que su cónyuge, Doña Cecile Chang, es socia única de la sociedad X LTD., sociedad válidamente existente de acuerdo con las leyes del Reino de España, con domicilio social en Madrid, Plaza Pablo Ruiz Picasso, Torre Picasso (España) y debidamente constituida en virtud de escritura pública otorgada el día 13 de abril de 2007, ante el notario público D.X , bajo el número 2 de su orden de protocolo (en adelante, la "Compañía").

2.- Que tiene conocimiento de que Doña Cecile Chang tiene intención de proceder a la venta (en adelante, la "Compraventa"), ante un notario español, de 3.006 participaciones sociales, numeradas del 1 al 3.006, ambas inclusive, representativas del 100% del capital social de la Compañía a la sociedad X LTD., entidad debidamente constituida y válidamente existente de acuerdo con las leyes de la República Popular China.

3.- Que, por medio del presente documento, autoriza la Compraventa, en una o varias operaciones, mediante la suscripción de uno o varios contratos de compraventa. A estos efectos, Don Julián Jiménez renuncia a cualquier derecho de asunción o adquisición preferente de las participaciones sociales de la Compañía y a cualesquiera otros derechos que pudieran corresponderle en su condición de cónyuge de la Socia Única de la Compañía.


Translation - Chinese
签署人Julián Jiménez先生为成年人,中国国籍,持有效中国护照(号码为X);
现住中华人民共和国北京市朝阳区福东家园; 已婚,配偶为Cecile Chang女士,持有效中国护照(号码为X); 双方婚姻财产制度为所得共有制;

现正式声明如下:

1、其配偶Cecile Chang女士是依照西班牙王国法律有效存在的X责任有限公司的唯一股东。该公司(以下简称"公司") 现住所为Madrid,Plaza Pablo Ruiz Picasso, Torre Picasso (西班牙), 于2007年4月13日经公证人D.X公证其公司章程而依法成立。有关公证文件归档于该公证人第2号案卷中。

2、据其所知Cecile Chang女士有意通过一位西班牙公证人公证,将代表公司100%注册资本的从第1到第3006股(包括头尾的这2股在内) 共3006股出售给X 责任有限公司(以下简称"交易")。该公司是依照中华人民共和国法律正当成立并有效存在的公司。

3、以本文件表示允许通过签定一个或多个买卖合同,一次性或分多次来实现交易。为此Julián Jiménez先生自动放弃对公司股权的一切优先认购权和购买权, 以及其作为公司唯一股东的配偶依法所应有的任何其它权利。


Chinese to Spanish: 新税法 / Nueva Ley de Impuestos
General field: Bus/Financial
Source text - Chinese
第一,新税法中纳税人分为两类:居民企业与非居民企业。居民企业是指依法在中国境内成立,或者依照外国(地区)法律成立但实际管理机构在中国境内的企业。非居民企业是指依照外国(地区)法律成立且实际管理机构不在中国境内,或者在中国境内未设立机构、场所,但有来源于中国境内所得的企业。但在旧税法中纳税人是分为内资企业和外资企业两类。

第二,居民企业与非居民企业的企业所得税税率是相同的,均为25%。但对在中国境内未设立机构场所的非居民企业,及在中国境内虽设有机构场所的,但与其所设的境内机构没有实际联系得非居民企业,就其来源于中国境内的所得,适用20%的税率。除此之外,对符合条件的小型微利企业,以及国家需要重点扶持的高新技术企业,分别按20%和15%的税率征收企业所得税。

Translation - Spanish
En primer lugar, según la nueva Ley de Impuestos sobre Sociedades los contribuyentes se dividen en dos categorías: empresas residentes y empresas no residentes, frente a las categorías de empresas nacionales y empresas de capital extranjero en la ley anterior. Las empresas residentes son aquellas entidades que están constituidas en China de conformidad con la legislación china o con arreglo a la legislación extranjera pero cuya sede de dirección efectiva esté establecida en China. Las empresas no residentes se definen como entidades constituidas de conformidad con la legislación extrajera y cuya sede de dirección efectiva esté establecida fuera de China o que no dispongan de establecimientos en China pero obtengan rentas procedentes del dicho país.

En segundo lugar, el tipo de Impuesto sobre Sociedades es del 25%, aplicable tanto a empresas residentes como a empresas no residentes. No obstante, la retención que grava las rentas obtenidas por empresas no residentes sin establecimientos en China o las rentas generadas por empresas no residentes con establecimientos en China cuando dichas rentas no guardan relación con los establecimientos, es del 20%. Además, las empresas pequeñas con un bajo nivel de beneficios que reúnan los requisitos necesarios y las empresas de alta y nueva tecnología impulsadas por el Estado disfrutan una tasa impositiva del 20% y 15%, respectivamente.

Chinese to English: 西班牙海鲜饭菜谱 / Recipe for Making Paella
General field: Art/Literary
Source text - Chinese
海鲜饭菜谱(10人份)和烹调步骤

配料
1公斤用来烹调¨ 海鲜饭¨ 的米
500克蛤蜊
250克贻贝
500克对虾
750克小墨鱼
500克鳕鱼
10个大虾
500克鸡肉
一小杯白葡萄酒
250克辣椒丝
4个红辣椒
2个绿辣椒
3个切碎的西红柿
1头大蒜
2 汤匙盐
1升鱼汤
2茶匙藏红花
0,5升橄榄油
一个柠檬
2片月桂叶

制作步骤

厨师将会把海鲜饭锅底汤准备好,一同还有整虾,贻贝,大虾和蛤蜊。

在大平锅中加热橄榄油以备烹调海鲜饭。 橄榄油一热即加入绿辣椒和红辣椒。稍等片刻然后加入月桂叶和大蒜,5分钟后加入切碎的西红柿。

上述配料都已做熟后(约需5分钟),加入鸡肉和小墨鱼,做5分钟。这些步骤都用中火。

加入白葡萄酒,盐和藏红花。加入海鲜饭主体。

然后,加入米饭翻炒一两次。加入鳕鱼。 当米饭已吸收了余油并且呈现金黄外表后,加入对虾。 再加入已备好的蛤蜊。

从加入米饭起计烹调20分钟,海鲜饭在关火后应再焖3分钟左右。
配上贻贝,红辣椒丝,大虾和柠檬片。

这样就可以享用了。


Translation - English
Recipe for making PAELLA (for 10 persons)


Ingredients

0,75 kilogram "paella" rice
500 g clams
250 g mussels
500 g prawns
750 g small cuttlefish
500 g hake
10 king prawn
500 g chicken meat
1 small cup white wine
250 g sliced red pepper
4 red peppers
2 green peppers
3 chopped tomatoes
1 garlic clove
2 tablespoons salt
1 litre of fish stock
2 teaspoons saffron
0,5 litre olive oil
1 lemon
2 bay leaves

Instructions

The cook will have prepared the paella base. It is a stock together with whole prawns, mussels, king prawn and clams.

Heat the olive oil directly in the large pan for making paella. Once the oil is boiling, add the green and red peppers. Wait and add the bay leaves and garlic. After a further 5 minutes the chopped tomatoes can be added.

Once all of the above is cooked (around 5 minutes), add the chicken and the small cuttlecfish for a further 5 minutes. All of this should be done on a medium heat.

Add the white wine, the salt and saffron. Add the paella base.

After, add the rice and stir it around once or twice. Add the hake. When the rice has absorbed the surplus oil and has begun to take on a golden brown appearance add the prawns. Add the clams prepared earlier.

Calculate a cooking time of about 20 minutes from the time the rice was added. The paella should be left to sit for about 3 minutes after the heat has been turned off.
Garnish the dish with mussels, the sliced red peppers, the king prawns and sliced lemon.

Eat as is without further moderation.

More
Years of experience: 19. Registered at ProZ.com: Aug 2009.
N/A
N/A
N/A
Adobe Illustrator, Adobe Photoshop, AutoCAD, Frontpage, Microsoft Excel, Microsoft Word, Powerpoint
Chinese (DOC), English (DOC), Spanish (DOC)
Bio
I'm a professional translator between 3 languages: Chinese, Spanish and English. My specialized fields are business, economy, tourism and law. However, it's absolutely not limited only to these fields.

I was born in China and I graduated form University of International business and Economics. There I obtained the economist and translator degree. I passed the GMAT exam with excellent marks. At the end of 1998 I came to Spain to live with my family and I studied Spanish in the official language school. Afterwards I received formal training to be a professional translator in University of Salamanca . In our highly international family with Canadians and Spaniards, the common languages are English and Spanish.

So far I have been working as a translator and interpreter for several technological parks, governmental institutions, company associations, law offices and travelling agencies for more than 10 years. I have been the interpreter for many high-end Chinese business or political delegations. For example, I did the simultaneous translation between 3 languages for an important Chinese delegation, Peacebird group during its meeting with the Spanish giants Indeitex (Zara) and Mango. I've also been doing translation for the delegation of Chinese association of Joint Ventures during its meeting with Promomadrid and Madrid municipal government. I also did translation between Chinese, English and Spanish for the Chinese supreme court delegation during their two days of meetings with the Spanish Supreme court.

In 2011 I worked one year for Ofilingua S.L., the official translation company for the Spanish government. I went to the police stations, courts and governmental institutions to do translation and interpretation jobs.

Since the beginning of 2014 I´ve started to collaborate with Translatemedia, So far I've translated the consolidated financial statement 2013 for the big Spanish Company Acciona Agua S.A.U. from Spanish to Chinese and the internal magazine of the famous advertising company Leo Burnett from English to Chinese.


For a big project, I can always see the possibility to give a general price which will cut down the minimum rate per word.

I always deliver a good job on time.

******************************************************

Soy traductora profesional en tres idiomas, chino, castellano e inglés, especializada en los campos de turismo, economía, negocios y leyes. Sin embargo, los trabajos no se limten a sólo esos campos.

Nací en China y gradué de University of International business and economics in Beijing. Logré el titulo de economista y traductora en el año 1995. Pasé el examen de GMAT con una nota sobresaliente. Al final de 1998 vine a España a vivir con mi familia y estudié el español en escuela de idiomas. Después recibí la formación de traducción profesional en la universidad de Salamanca. En mi familia muy internacional con miembros canadienses y españoles, los idiomas comunes son el inglés y el español.

Hasta ahora llevo más de 7 años trabajando como traductora e intérprete para varios parques tecnológicos, instituciones oficiales, asociaciones de empresas, bufetes y agencia de viajes. He sido intérprete de chino y castellano para las delegaciones chinas más importantes de carácter comercial y política durante sus reuniones con las instituciones o empresas españolas, p. j. la reunión de una empresa China muy importante, Peacebird en su encuentro con el grupo Inditex ( Zara) y Mango.

Desde el comienzo de 2014 empiezo a colaborar con la empresa internacional de traducción Translatemedia. He traducido el informe de auditoria consolativo 2013 de la empresa importante Acciona Agua S.A.U. de español a chino y la revista interna de la famosa empresa internacional de publicidad Leo Burnett de inglés a chino.

Con un proyecto grande, puedo estudiar la posibilidad de ofrecer un precio global con una tarifa más favorable por palabra.

Realizo los trabajos con rapidez y calidad.
Keywords: Chinese, Spanish, Italian, tourism, economy, law
Profile last updated
Aug 24, 2014