Bonjour,
My name is
Gilles Osvald
, I am a enthusiastic, energetic
native French
speaker, and I provide my services as a Translator, Localizer, Proofreader, Editor, and, more generally, as a Linguistic and Stylistic Consultant. My language pairs are
en-US/en-UK into fr-FR/fr-CA
, and
fr-FR/fr-CA into en-US/en-UK
. But let me tell you a little more about me and what makes me great at what I do.
In total, I spent seven years studying at the:
-
Université de Haute Bretagne - Rennes 2
(in Brittany, France),
-
University of Reading
(Berkshire, United Kingdom) and
-
Institut Universitaire de Formation des Maîtres (IUFM) de Paris
(=Teacher's School of Paris)
Throughout these years, I focused on learning as much as I could about French and English literature, but also and especially the linguistics and sociolinguistics of both languages.
While studying for my Master's Degree, I learned a lot about literature, poetry, the Arts and humanities in general; but, as I mentioned, I specialized in the various dialects and accents of the English language and how they are perceived, as compared to the respective French varieties and attitudes.
I passed my diploma with honors, and my Master's thesis received the grade of 17 out of 20 (85%)
. Additionally, my linguistic and socio-linguistic investigations have taught me a lot that I can use today in my localization/translation work.
After finishing my studies, in 2007, I decided to leave France once again, and spent another three years in the Greater London area, improving my vocabulary where it lacked - and in a variety of specialized, professional fields.
I have been a freelance translator since I came back to France in late 2009. In spite of my love for literary translation, I quickly discovered the reality of the market, and I mostly work on specialized projects such as
marketing & advertising; communication; IT and technology in general; engineering; legal or medical texts
, etc.
Amongst my past and present clients are a number of very large multinational companies, amongst which Hewlett-Packard, Lionbridge, Microsoft (different projects dealing with the search engine Bing, or the video-game console Xbox 360/One), Absolute Software, etc.
I can provide you with a variety of linguistic services: although translation and localization remain my main occupations, quite a lot of projects on which I have worked are works of transcription, transcreation, proofreading/editing, copy-writing, post-editing, etc.
I also know how to use all the necessary computer tools that can help me provide you with a better, faster, more accurate result for your money. Here is a list of the software I own/use, depending on the project at hand:
-
CAT Tools
: SDL Trados 2011 & 2014 (+Passolo & MultiTerm), MemoQ 2013 R2, DéjàVu X2, Translation Workspace (Lionbridge's proprietary CAT-tool), and less often Across, OmegaT and WordFast
-
Publishing
: Adobe Photoshop, Illustrator & InDesign ; Microsoft Word, Excel, PowerPoint & Publisher
-
Bug-tracking
: Bugzilla, JIRA, Redmine Mantis
-
Video/audio editors
: Audacity, AVS, Adobe Premier Pro CC
I would be glad to provide you with both my experience and expertise, so don't hesitate to contact me for any translation from English into French or from French into English.
I work fast, I'm accurate, precise and very professional in all matters
. The detail of my recent work history is
available on demand
, as are the contact informations of a few former or current co-workers/employees/clients who can attest to the quality, accuracy and timeliness of my work (including
these reviews
. They date a little, because these days I do a lot of my job-prospecting on the
Elance
platform. Don't hesitate to contact me there too if you prefer).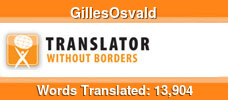 English to French volunteer translator
I am looking forward to hearing from you soon, and I hope that our collaboration can be long and fruitful for both parties.
Gilles Osvald