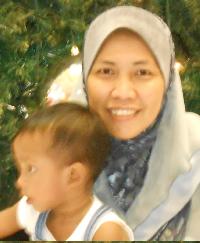 Member since Dec '11
Working languages:
English to Malay
Malay to English
Availability today:
| | | |
| --- | --- | --- |
| | December 2019 | |
S
M
T
W
T
F
S
1
2
3
4
5
6
7
8
9
10
11
12
13
14
15
16
17
18
19
20
21
22
23
24
25
26
27
28
29
30
31
Nouri Adam
Malay Translator/Localization Specialist



Kuantan, Pahang, Malaysia

Local time:

18:10 MYT (GMT+8)



Freelance translator and/or interpreter,

Verified member
This person has a SecurePRO™ card. View now.

Translation, Editing/proofreading, Website localization, Software localization, Voiceover (dubbing), Subtitling, MT post-editing, Transcription, Desktop publishing, Project management, Sales, Operations management
Specializes in:
Cosmetics, Beauty
Art, Arts & Crafts, Painting
Business/Commerce (general)
Certificates, Diplomas, Licenses, CVs
Poetry & Literature
Cinema, Film, TV, Drama
Textiles / Clothing / Fashion
Telecom(munications)
Education / Pedagogy
Tourism & Travel
More
12 entries



More
Wire transfer, PayPal, Skrill, paypal | Send a payment via ProZ*Pay
Sample translations submitted: 2
Malay to English: Orange: Powerhouse of Vitamin C and Nutrients with Culinary Uses
General field: Science
Detailed field: Medical: Health Care
Source text - Malay
Oranges were mentioned in documents edited by Confucius in 500 BC. The fruit was originally taken from China to India, and then spread all over the world. Oranges are universally popular for their taste and many health benefits.
According to a study in Finland, women who ate oranges regularly had 50% less risk of heart disease compared to those who didn't eat them regularly. This is thought to be because the flavanoids in this fruit are helping to protect the cells.

The composition of oranges endows them with many health benefits, including the following:
• Vitamin C is a major antioxidant that has preventive and curative properties. The high vitamin C also helps in absorption of iron.
• The vitamin C and calcium are beneficial in teeth and bone problems. Therefore, oranges prevent scurvy and rickets and encourage growth.
• Eating oranges daily lowers the risk of lung cancer and rheumatoid arthritis. The combination of folic acid and calcium lowers risk of cancer, fights infectious virus and arterial plaque.
• They keep the blood capillaries healthy, and prevent cardiovascular problems.
• A high protein diet causes acidic conditions in the body, which can be neutralized by the alkaline mineral elements in fruits and vegetables. Citrus fruits like oranges are alkaline reacting. Therefore, though oranges are acidic in taste, the alkaline reaction increases immunity. However, the acid of green or unripe fruits is not beneficial.
• Oranges lower blood pressure naturally.
• Half to one liter of orange juice daily prevents the formation of calcium oxalate stones.
• Orange juice is also useful for cough, cold, scurvy, arthritis, gout, hypertension, nervous debility, constipation, low blood pressure and nausea. A glass of orange juice is more beneficial than vitamin C supplements.
• The collagen from vitamin C is anti-aging, and delays the onset of wrinkles.
• Oranges are a good appetizers, as they stimulate the salivary glands and aid digestion.
• Orange juice is suitable for all ages and beneficial in all types of fevers. It hastens recovery by increasing the urinary output and flushing out toxins, developing resistance to infections and increasing energy.
Culinary Uses of Oranges
An orange gives an extra tang to food, while orange segments can be added to any dish for color. It is an ingredient in salads, frozen desserts, marmalades, jams, conserves, squashes and pastries. It is popularly used as a dessert fruit with yoghurt and salads. Finally, its juice can be combined with other juices. It has a number of culinary uses, and is a common ingredient in popular home remedies.
Tips for the Use of Oranges
Following some steps will ensure maximum benefit from oranges.
• Oranges with a uniform skin and firm texture should be selected.
• The first oranges of the season are the richest in minerals; smaller oranges are sweeter.
• Vitamin C is the least stable of vitamins, so it is destroyed fully by sterilization of orange juice, and partly when stored at low temperatures. Oranges should be eaten immediately after peeling, as the vitamin C is harmed by exposure to air.
• Maximum juice can be extracted if an orange is rolled firmly on a hard surface before juicing.
• If the zest is to be used, the orange has to be washed thoroughly in cold water.
Oranges are excellent for treating acidic body conditions, constipation, a sluggish intestinal tract, gastric and duodenal ulcers, tooth decay and poor gums, high fever and arthritis. A rich source of the antioxidant vitamin C, they increase immunity and prevent cancer, premature aging, infections and bone related problems.


Translation - English
Buah oren pernah disebut dalam dokumen yang disunting oleh Confucius pada tahun 500 SM. Buah oren asalnya di bawa dari China ke India, kemudian tersebar ke seluruh dunia. Oren amat terkenal oleh rasa dan pelbagai khasiatnya.
Menurut satu kajian di Finland, wanita yang mengamalkan makan buah oren adalah kurang 50% risiko sakit jantung berbanding wanita yang mengabaikannya. Ini adalah berdasarkan kehadiran flavanoid dalam buah oren yang membantu melindungi sel-sel.
Kandungan buah oren yang begitu kaya menghasilkan pelbagai manfaat untuk kesihatan, seperti:-
• Vitamin C adalah antioksidan utama bersifat pencegahan dan penyembuhan. Kandungan Vitamin C yang tinggi juga membantu penyerapan zat besi.
• Vitamin C dan kalsium bermanfaat dalam masalah gigi dan tulang. Oleh itu, oren menghalang skurvi dan riket serta menggalakkan pertumbuhan.
• Memakan oren setiap hari mengurangkan risiko kanser paru-paru dan artritis reumatoid. Gabungan asid folik dan kalsium mengurangkan risiko kanser, melawan virus berjangkit dan plak arteri.
• Ia memastikan kesihatan kapilari darah, dan mencegah masalah jantung.
• Diet berprotein tinggi menyebabkan keadaan badan berasid, ia dapat dineutralkan oleh unsur-unsur mineral beralkali dalam buah-buahan dan sayuran. Buah-buahan sitrus seperti oren adalah beralkali. Oleh itu, walaupun buah oren berasid, tindak balas beralkali meningkatkan keimunan. Bagaimanapun, asid dari buahan hijau atau mentah adalah tidak bermanfaat.
• Buah oren menurunkan tekanan darah secara semula jadi.
• Pengambilan setengah liter jus oren setiap hari mencegah pembentukan batuan kalsium oksalat.
• Jus oren juga berguna untuk meredakan batuk, sejuk, skurvi, artritis, gout, tekanan darah tinggi, lemah saraf, sembelit, tekanan darah rendah dan rasa loya. Segelas jus oren adalah lebih bermanfaat daripada makanan tambahan vitamin C.
• Kolagen dari vitamin C bertindak sebagai anti penuaan, dan melambatkan berlakunya kedutan.
• Buah oren ialah pembuka selera yang baik, ia merangsang kelenjar air liur dan membantu penghadaman.
• Jus oren sesuai untuk semua peringkat umur dan bermanfaat untuk semua jenis demam. Ia mempercepatkan pemulihan dengan menambah pengeluaran air kencing dan pengepaman keluar toksin, membina rintangan untuk jangkitan dan penambah tenaga.
Kegunaan Oren dalam Masakan
Sebiji oren memberikan rasa tambahan yang enak pada makanan, sementara bahagian luarnya boleh ditambah kepada sebarang sajian untuk warna. Ia merupakan salah satu ramuan dalam salad, pembasuh mulut yang didinginkan, marmalad, jem, jeruk, perahan dan pastri. Ia sering kali digunakan sebagai buah pencuci mulut bersama yogurt dan salad. Dan juga, perahan airnya boleh di campur dengan jus lain. Ia berguna dalam pelbagai jenis masakan, dan merupakan bahan yang biasa digunakan dalam rawatan di rumah.
Kegunaan Buah Oren
Dengan mengikuti beberapa langkah mudah akan memaksimumkan manfaat buah oren.
• Pilih buah oren yang berkulit rata dan bertekstur tebal.
• Buah oren pada awal musim lebih kaya dengan mineral; buah oren yang lebih kecil adalah lebih manis rasanya.
• Vitamin C adalah vitamin yang paling tidak utuh, ia akan termusnah sepenuhnya oleh pensterilan jus oren, dan hanya sebahagian jika di simpan pada suhu rendah. Buah oren perlu dimakan segera selepas dikupas, kerana vitamin C akan terjejas melalui pendedahan pada udara.
• Jus maksimum boleh diekstrak dengan mengolekkan buah oren dengan kuat pada permukaan keras sebelum diperah.
• Untuk menggunakan sari patinya, buah oren perlu dibersihkan secara menyeluruh dalam air sejuk.
Oren sangat berkesan untuk merawat asid dalam badan, sembelit, sebuah saluran usus lembap, gastrik dan ulser duodenum, kerosakan gigi dan gusi yang lemah, demam panas dan radang sendi. Ia sumber yang kaya antioksidan vitamin C, ia meningkatkan kekebalan tubuh dan mencegah kanser, penuaan awal, jangkitan dan masalah-masalah berkaitan tulang.

Malay to English: Addicted to color
General field: Marketing
Detailed field: Textiles / Clothing / Fashion
Source text - Malay
People need color, because color stimulates our feelings and therefore well being. To use color in make-up is as old as mankind. Our concept reflects the desire for colors and is Avant-Garde at the same time. No wonder we are loved by the stars and celebrities in and outside Hollywood.

The more you use it, the more you want it. It's a little wicked and totally seductive.

Color. It's addictive. You want it. You need it. You crave it. It seduces your eyes and tempts your senses. Use it to speak your mind, create an identity and celebrate your spirit. The more you use it, the more you want it.

Color awakens the passion in all of us.

We are a passionate, professional hair care and cosmetic company, driven to be the leader in our industry through vision, conceptual innovation and creative identity.

A company that has always been the first to bring innovation to the market, we continue to build out our legacy through our innovative products and programs. We see things from a different perspective that stimulates changes which results in a new standard.

Our creativity is expressed through a strong artistic force and our products.
To bring into being. A sense of curiosity, which comes from within, that propels us towards exploration and expression.

Our style consciousness is expressed in the way we talk, look and act. It creates our identity and is evident in everything we do from the styles we wear to the décor and energy of our building. Our concept is part of international fashion

Passion is what comes from people that love what they do, and do what they love.
Passion is what drives all of us to always be better, to always make a difference.
To always make a statement.
Translation - English
Manusia memerlukan warna, kerana warna merangsang perasaan dan juga kesejahteraan hidup kita. Penggunaan warna dalam alat solek telah bermula sejak ribuan tahun yang lalu. Konsep kami mencerminkan keinginan terhadap warna dan Avant-Garde pada masa yang sama. Tidak hairanlah mengapa kami disanjung oleh bintang dan selebriti dalam dan luar Hollywood.


Semakin anda menggunakannya, semakin anda menginginkannya. Ia agak nakal dan amat menggoda.

Warna. Ia membuat anda ketagih. Anda mahukannya. Anda memerlukannya. Anda mengidamkannya. Ia memikat pandangan anda dan menggoda deria anda. Gunakan ia untuk meluahkan pandangan anda, mencipta identiti dan meraikan semangat anda. Semakin anda menggunakannya, semakin anda menginginkannya.

Warna membangkitkan keghairahan dalam diri kita semua.


Kami merupakan pakar penjagaan rambut profesional dan syarikat kosmetik yang bersemangat, didorong untuk menjadi peneraju dalam industri ini menerusi visi, berkonsepkan inovasi dan identiti kreatif.


Kami sentiasa merupakan syarikat pertama yang membawa inovasi ke pasaran, kami membina legasi kami secara berterusan melalui rangkaian produk dan program inovatif kami. Kami melihat sesuatu dari perspektif berbeza yang merangsang kepada perubahan yang akhirnya menghasilkan standard baru.


Kreativiti kami diluahkan melalui kuasa seni yang hebat dan juga produk-produk kami.
Untuk menjadikannya nyata. Rasa ingin tahu, yang datangnya dari dalam, telah mengerakkan kami ke arah penerokaan dan peluahan.


Kesedaran gaya kami diluahkan melalui cara kami berbual, penampilan dan bertindak. Ia membentuk identiti kami dan jelas dalam setiap perkara yang kami lakukan, dari gaya pemakaian kami, cara kami menggunakan hiasan dalaman dan tenaga bangunan kami. Konsep kami adalah sebahagian daripada fesyen antarabangsa.

Keghairahan terhasil dari orang yang mencintai apa yang mereka lakukan, dan melakukan apa yang mereka cintai.
Rasa ghairahlah yang mendorong kita semua untuk menjadi lebih baik, untuk sentiasa melakukan perubahan.
Untuk sentiasa mewujudkan tanggapan.
More
Other - (ITBM) The Malaysian Institute of Translation & Books
Years of translation experience: 14. Registered at ProZ.com: Feb 2011. Became a member: Dec 2011.
English to Malay (The Malaysian Institute of Translation & Books (IT)
Malay to English (The Malaysian Institute of Translation & Books)

N/A
Across, Adobe Acrobat, Adobe Illustrator, Adobe Photoshop, Alchemy Publisher, AutoCAD, Catalyst, DejaVu, Dreamweaver, Fluency, FrameMaker, Frontpage, Fusion, Heartsome, Helium, IBM CAT tool, Idiom, Indesign, J-CAT, Lingotek, LocStudio, LogiTerm, memoQ, MetaTexis, Microsoft Excel, Microsoft Office Pro, Microsoft Word, Multicorpora, Multilizer, OmegaT, Photoline, Pagemaker, Passolo, Powerpoint, QuarkXPress, SDL TRADOS, SDLX, STAR Transit, Swordfish, Translation Workspace, TransSuite2000, Uniscape CAT tool, Wordfast, XTM
http://www.proz.com/translator/1373938
CV available upon request
Trainings
Nouri Adam endorses ProZ.com's Professional Guidelines.
Meet new translation company clients
Work for non-profits or pro-bono clients
Screen new clients (risk management)
Network with other language professionals
Find trusted individuals to outsource work to
Build or grow a translation team
Get help with terminology and resources
Learn more about translation / improve my skills
Get help on technical issues / improve my technical skills
Stay up to date on what is happening in the language industry
Buy or learn new work-related software
Improve my productivity
Bio
Hi and welcome to my profile. I am English - Malay translator and I have been translating for the past ten years. I enjoy working from the serenity and quiet ambience of my own home office and setting up myself with whatever assignment currently I have in hand. I have the sense of style in my native languages and offer translation that is not only accurate, but easy and pleasant to read as well. My main goal is to bring you a flawless translation / interpretation that completely satisfies your needs and exceed your expectation. Excellent quality at reasonable rates is assured, and I guarantee confidentiality and non-disclosure of all the data, documents, files, and information you provide me. If you need a quotation for an upcoming project or any further information, please send your email to

This user has reported completing projects in the following job categories, language pairs, and fields.





Project History Summary
Total projects
84
With client feedback
7
Corroborated
7
100% positive (7 entries)
positive
7
neutral
0
negative
0




Job type
Translation
80
Editing/proofreading
4
Language pairs
English to Malay
66
Malay to English
20
3
Specialty fields
Business/Commerce (general)
20
Certificates, Diplomas, Licenses, CVs
12
Poetry & Literature
5
Games / Video Games / Gaming / Casino
4
Medical: Health Care
4
Advertising / Public Relations
3
Education / Pedagogy
2
Automotive / Cars & Trucks
2
Finance (general)
1
Journalism
1
Telecom(munications)
1
Media / Multimedia
1
Tourism & Travel
1
Other fields
Computers: Software
6
Medical: Pharmaceuticals
3
Law: Contract(s)
3
Food & Drink
2
Law: Patents, Trademarks, Copyright
2
Law (general)
2
Aerospace / Aviation / Space
2
Internet, e-Commerce
1
Investment / Securities
1
Anthropology
1
Medical: Dentistry
1
Social Science, Sociology, Ethics, etc.
1
Mechanics / Mech Engineering
1
Computers: Hardware
1
Human Resources
1
Medical (general)
1
Keywords: Malay, translation, subtitling, translator, Malay translator, localization, marketing, gaming translator, malay gaming translator, legal translator, malay legal translator, malay marketing translator,
Profile last updated
Dec 11