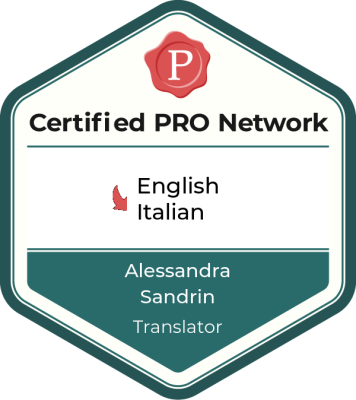 Certified professional native Italian translator/interpreter with more than 15 years experience.
Specialized in Corporate, passionate about Arts.
VAT: IT01819510932
Language pairs:
English/Italian, Spanish/Italian;
Word capacity:
2.000-5.000 words/day
Professional Summary:
Certified and professional English/Italian and Spanish/Italian translator and interpreter with excellent communication and interpersonal skills. Dedicated, organized and reliable.
Fields of expertise:
- Corporate Communication (Legal, Marketing, and Business)
- Religion and Arts
Education:
- Master's degree in English and Spanish Languages, University of Bologna, Italy 2004 (106/110)
- Overseas Exchange Program, University of Western Australia, 2002, Faculty of Arts (scholarship)
- Erasmus, University of Granada, Spain, 2000, Faculty of English Philology (scholarship)
- Liceo Classico "Leopardi" (high school focused on humanities and English), Pordenone, Italy
- Oxford School, London: Advanced English
* 2017: Currently enrolled in the postgraduate Master's Program of English-Italian Interpreting at the S.S.I.T (Scuola Superiore di Interpreti e Traduttori) of Pescara, Italy.
Prizes:
- 2005, MAE- CRUI traineeship at the Consulate General of Italy, Miami, USA, granted to the most talented Italian college students.
Experience:
I have been working as an in-house translator and interpreter since 2003, before in USA and Spain and now as a freelancer in Italy.
CAT tools:
Memoq, Cafétran, SDL Studio, OmegaT, T-Stream editor, Memsource, WebCATT
Certifications:
- TOEFL (227, Essay rating 4.0)
- General English (Oxford House College, London)
Volunteering:
Proudly collaborating with Translators without Borders, Translation Commons and The Rosetta Foundation in helping no-profit organizations. Volunteer translator at the European Southern Observatory.
CPD:
I am committed to CPD (Continuing Professional Development), and over the years I have attended countless translation and interpreting related conferences, workshops, and webinars, including:
- 2011, Advanced Degree in Seventh Framework Programme, A.R.S.A.P. Pordenone (Italia);
- 2009, Advanced Degree in Advanced Management Audit, A.R.S.A.P. Pordenone (Italia);
- 2008, Specialization course in Foreign Trade, I.A.L. Pordenone (Italia).