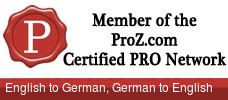 Daniel Arnold
Accredited Translator German-English
MBA, PGCert, Staatlich-gepruefter Uebersetzer für Englisch (Government-certified translator for English)
PROFESSIONAL PROFILE:

Government-accredited translator for German > English

"staatlich-geprüfter Übersetzer für Deutsch-Englisch" in Germany
8 years experience with more than 2.5 million words translated
PRACTICE AREAS:


* Legal / Litigation / M&A / Tax (Case Law and Common Law); from legal letters to court judgments, tax affairs, contracts, due diligence, acquisitions - all legal and tax documents
* Finance/ Accounting / Forensic company balance sheets, annual financial reports, audit reports, operational documentation, policies, general financial correspondence, banking, Basel III
* Business / Commerce general business correspondence, business reports, business intelligence, articles of association, tenders, presentations, manuals, employee magazines etc.
* Human Resources policies, procedures, employment agreements, job descriptions, etc.
* Marketing / Communications brochures, manuals, briefs, presentations, reports, staff training etc
* Film / Cinema screenplays, storybooks etc. (English-German)
* Website localization with a focus on law firms, accountants, attorneys & barristers

My area of expertise are professional, high-quality German to English translations for all legal, finance,
business and marketing documents. My specialty are complex matters where accurate and meaningful
translations that also capture the intention and professional language are needed. I am able to
understand the commercial and legal realities where other translators may only be able to produce a
literal translation of a document. As an expert translator, I work for many of the leading translation
agencies as well as commercial clients including law firms, tax advisers, barristers, experts, valuers,
estate administrators, property developers, accountants, auditors, corporates, banks, insurances,
investment companies, embassies and private clients.

As a legal, finance and business specialist, I also offer bilingual support and consulting in due diligence projects, litigation and website localization for law & tax firms, accountants, consumer goods and the construction industry.

My experience spans over 7 years as a certified professional translator for German-English plus the commercial experience of a a 15 year careeer as a company director, investor and entrepreneur in Germany, the USA and Australia. I am well versed in business, legal and financial English and German and am a regular translator for official and legal documents for investigations, court use, legal profession, banking and finance.

I am available on short notice and my rates for German > English start at € 0.09 per word (base rate for legal/finance, SDL Trados, memoQ and Across). I offer quick turnaround in document and original layout and format, including logos, letterheads, drawings, tables or signatures.

I am an associate member of the American Translators Association (ATA).

I keep my availability calendar updated, please feel free to email me.
Recent client feedback:
"I have been teaching DE>EN Legal translation at NYU for 17 years and I also grade candidate's tests in that pair for several large NY agencies. In my experience, this falls well within the range of a translator who would be considered "very good".
Reviewer of my work, lecturer at New York University
"Daniel is a great translator. I enjoy working with him. His response times and turnaround times are great. He goes the extra mile to fit in tight jobs."
Owner, Language Service Provider, Frankfurt
"Bei dieser Gelegenheit möchte ich Ihnen für die hervorragende Übersetzung danken, die stilistisch sehr gut formuliert ist."
Office of the Prime Minister of the State of Hessen
"Daniel's translation style is very good, he is responsive and delivers on time. I look forward to work with him again."
Translation agency project manager
"Very fast and reliable."
Translation agency project manager
"Very reliable, good quality! Thank you Daniel :)"
ACT Fachübersetzungen Project Manager
"Great help. If you are looking for a good resource in his pairs - you can be confident in this translator to provide high quality and timely support."
Taika Translations Project Manager
"Very helpful and flexible with an urgent proofreading project!"
Stealth Translations Project Manager