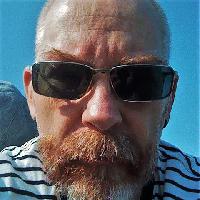 Member since Apr '03
Working languages:
English to Swedish
Chinese to Swedish
Swedish (monolingual)
Availability today:
| | | |
| --- | --- | --- |
| | May 2021 | |
S
M
T
W
T
F
S
1
2
3
4
5
6
7
8
9
10
11
12
13
14
15
16
17
18
19
20
21
22
23
24
25
26
27
28
29
30
31
Perry Svensson
Marketing, business, Taiwan, China



Taiwan

Local time:

02:57 CST (GMT+8)




Native in

: Swedish (Variants: Stockholm, Rikssvenska)
Freelance translator and/or interpreter,

Verified member
This person has a SecurePRO™ card. View now.

This person is not affiliated with any business or Blue Board record at ProZ.com.
Translation, MT post-editing, Transcreation
Specializes in:

Business/Commerce (general)

Computers (general)
Computers: Hardware
Computers: Software
General / Conversation / Greetings / Letters

Government / Politics

Human Resources
Marketing / Market Research

Photography/Imaging (& Graphic Arts)
More
USD
Sample translations submitted: 2
English to Swedish: Software strings
Source text - English
My RSS Channels>
My Watch News>
View Mode:
Edit Mode :
Result Filter>
%u items in Total
Include Subfolders
News Filter:
Search Result Filter:
Document Filter:
Channel Subscription
Channel Watch
View Mode
News Filter
Basic Tools
Search Result Filter
Scrapbook
View Mode
Document Filter
Basic Tools
Browser Tools
URL Entry
Search Tools
Edit Tool
Channel Subscription
Channel Watch
Scrapbook
Web Bookmark
Basic Search
Advanced Search
Keyword Proposition
Search History
Web Browser
My Monitored Channels
My Subscribed Channels
My Clipped Documents
My Favorities
My Search Results
Title
Date/Time
Source
Search Result
Title / Description
Site related search
More from same site
Type
Folders
There is no News Item.
Please enter your search key-words in left panel.
There is no document.
There is no matched document.
There is no matched news item.
Sorry! No matched page found.
Searching, please wait.
Please select folder or channel in "Channel Subscription" panel.
Please select watch item in "Channel Watch" panel.
There is no summary in the news.
Characteristics :
1.Integrate 3 Search Engines in one view.
2.Advanced search through keyword search result.
* Please input key word(s)
* Please select Search Engine
Global
Chinese
Google
MSN
Yahoo
Written in
Located in
File Type
Results per engine
with all of the words
with the exact phrase
with at least one of the words
without the words
Search Result

Translation - Swedish
Mina RSS-kanaler>
Mina kanalbevakningar>
Visningsläge:
Redigeringsläge:
Sök bland resultaten>
Sammanlagt %u träffar
Inkludera undermappar
Nyhetsfilter:
Filtrera sökresultaten:
Dokumentfilter:
Kanalprenumerationer
Kanalbevakning
Visningsläge
Nyhetsfilter
Grundläggande verktyg
Filtrera sökresultaten
Klippbok
Visningsläge
Dokumentfilter
Grundläggande verktyg
Webbläsarverktyg
URL-fält
Sökverktyg
Redigeringsverktyg
Kanalprenumerationer
Kanalbevakning
Klippbok
Bokmärke
Enkel sökning
Avancerad sökning
Förslag till sökord
Sökhistoria
Webbläsare
Mina kanalbevakningar
Mina kanaler
Mina urklipp
Mina favoriter
Mina sökresultat
Titel
Datum/tid
Källa
Sökresultat
Titel / beskrivning
Webbplatsrelaterad sökning
Mer från samma webbplats
Typ
Mappar
Det finns inga nyhetsartiklar.
Ange sökorden i den vänstra panelen.
Det finns inga dokument.
Inget dokument överensstämde med sökvillkoren.
Inga nyhetsartiklar överensstämde med sökvillkoren.
Tyvärr! Inga sidor som överensstämde med sökvillkoren kunde hittas.
Sökning pågår, var god vänta.
Välj mapp eller kanal i panelen "Kanalprenumerationer".
Välj den av dina bevakade kanaler som du vill läsa i panelen "Kanalbevakning".
Det finns ingen sammanfattning av nyheten.
Egenskaper:
1. Integrera tre sökmaskiner i ett fönster.
2. Sök ibland sökresultaten.
* Ange sökord
* Välj sökmaskin
Global
Kinesiska
Google
MSN
Yahoo
Språk
Geografisk placering
Filtyp
Resultat per sökmaskin
alla ord
exakt fras
minst ett av orden
utan orden
Sökresultat

Chinese to Swedish: Code of conduct
Detailed field: Business/Commerce (general)
Source text - Chinese
Xxx Code of Conduct
XXX的願景想為父母親和孩子們簡化日常生活,充分享受生命中的最重要的時光及更多的趣事。

全世界遍布我們的供應商和分包商,所有涉及到XXX產品製造的人員必須清楚我們的遠景,這對我們非常重要,我們認識到在我們產品製造環境下的責任和義務。

我們所有供應商和分包商必須同意簽訂在某些方面我們所要求的承諾,如工作環境、拒絕童工。我們的工作人員將定期拜訪工廠,同時也有權不事先通知直接拜訪,有時通過獨立的機構來確保行為守則未被違反。如果這些要求被違反XXX由權終止商業合作關係。

法律法規要求
所有供應商必須遵守國家法律法規,同時也須遵守由國際勞工組織何聯合國兒童基金會起草的標準。

童工
XXX不接收童工,我們的政策基於聯合國公約第32.1 條"童工政策"。

薪酬
工資應準時直接地支付給雇員,且不應低於法定最低工資標準。

工作時間
工作時間不應超過國家法定時間,國家法定節假日和休假應依法支付工資,加班報酬應依法支付,所有固原每週至少有連續24小時休息。

健康與安全
工作環境必須是安全的何健康的:
工作場鎖,機器和設備必須安全,無風險,適當時采取保護措施;必要時,需免費為顧員提共防護工作服和防護裝置;顧員須經過職業健康與衛生安全、突發緊急事件發生的應急處理措施的相關培訓。顧員何組織須在職業安全與健康方面接受相關諮詢診斷。

強迫勞工
無論強迫或被強迫勞工均不接受,禁止非自願勞工從事任何工作。

懲戒
任何狀況下,均不允許懲戒、處罰顧員。

自由組織合集體談判
顧員有自由獨立組織合加入公會的權利,顧用所設計談判條款,顧員一般可通過工會或集體談判。

歧視
供應商英用平等機會對待顧用,不應有任何歧視,以性別、年領、種族、膚色、宗教信仰、國籍、政治圈點或社會團體等來區別、排除或偏愛。顧員應有平等條件接受顧佣及同等工作報酬。

顧用保障
長期雇用,應盡可能簽訂書面合同,顧員的顧用合同中只通知期至少為共膺商的通知期。

社會保障
顧主應為所有顧員提共適當的保護和利益保障如傷殘、養老保險等;顧員在工作時受傷,應補償其所損失的收入。

苯首則要求翻譯為本地語言並張貼於工作場所。

XXX AB XXX Limited
Signatur Signatur
Datum

Translation - Swedish
XXX
uppförandekod för leverantörer

XXX:s vision är att förenkla vardagslivet för föräldrar och barn och hjälpa dem att njuta av livets viktigaste ögonblick och många andra intressanta upplevelser. Vi har leverantörer och underleverantörer utspridda över hela världen. Det är väldigt viktigt för oss att varje person som deltar i tillverkningen av XXX:s produkter har god förståelse för vår vision. Vi inser vårt ansvar och våra skyldigheter för miljön i vilken våra produkter tillverkas.

Alla våra leverantörer och underleverantörer måste underteckna ett åtagande angående vissa krav från vår sida rörande aspekter såsom arbetsmiljö och en vägran att använda barnarbetare. Vår personal kommer att regelbundet besöka fabriken, och vi förbehåller oss också rätten att göra oannonserade besök eller att vid tillfälle använda fristående organisationer för att kontrollera att uppförandekoden efterföljs. Skulle så inte vara fallet förbehåller sig XXX rätten att avbryta affärsförhållandet.

Juridiska krav
Varje leverantör måste följa landets lagar, och måste också respektera Internationella arbetsorganisationen ILO:s och UNICEF:S regelförslag.

Barnarbete
XXX tolererar inte barnarbete. Vår policy baseras på Artikel 32:1 i Förenta Nationernas Barnkonvention rörande barnarbete.

Löner
Lön skall betalas punktligt och direkt till de anställda och får inte underskrida lagstiftad minimilön.

Arbetstider
Arbetstiden får inte överskrida landets lagligt fastställda arbetstider. Lön skall i enlighet med lagen betalas för allmänna helgdagar och semesterledighet. Övertidsarbete skall vara frivilligt och övertidsersättning skall betalas i enlighet med lagen. Varje anställd skall ha minst 24 timmars kontinuerlig ledighet varje vecka.

Hälsa och säkerhet
Arbetsmiljön måste vara säker och hälsosam:
Arbetsplats, maskiner och utrustning måste vara säkra och ofarliga, och säkerhetsåtgärder måste vidtas när så är nödvändigt. När så är nödvändigt måste de anställda också utan kostnad få tillgång till skyddskläder och skyddsutrustning. Anställda måste genomgå utbildning i arbetshälsa och hygiensäkerhet så väl som utbildning i nödåtgärder för att kunna hantera plötsliga nödsituationer. Personal och organisation måste acceptera rådgivning och diagnos rörande arbetssäkerhet och hälsa.

Tvångsarbete
Tvångsarbete tolereras inte. Anställda som inte arbetar av egen fri vilja får inte utföra några som helst arbetsuppgifter.

Bestraffning
Bestraffning av anställda tillåts inte under några som helst omständigheter.

Fri sammanslutning och kollektiva förhandlingar
Anställda skall ha rätten till fria och självständiga sammanslutningar och till fackföreningsanslutning. Vid villkorsförhandlingar skall anställda kunna förhandla genom fackförening eller föra kollektiva förhandlingar.

Fördomar
Leverantörer skall behandla anställda rättvist. Inga som helst fördomar får förekomma som förfördelar eller favoriserar anställda på grund av kön, ålder, etnicitet, hudfärg, religiös tro, nationalitet, politisk åskådning eller social grupptillhörighet. Personal skall anställas på jämlika villkor och erhålla jämställd ersättning.

Anställningstrygghet
Skriftliga kontrakt skall så långt möjligt ingås vid långtidsanställning. Varselperioden för uppsägning av anställningskontrakt skall vara minst lika lång som leverantörens varselperiod.

Social trygghet
Arbetsgivaren skall erbjuda varje anställd lämpliga skydds- och intressegarantier, såsom handikapp- och pensionsförsäkringar. Anställd som skadas under arbetets gång skall erhålla ersättning för förlorad inkomst.

Denna uppförandekod skall översättas till det lokala språket och anslås på arbetsplatsen.

XXX AB XXX Limited
Signatur Signatur
Datum

More
Years of experience: 19. Registered at ProZ.com: May 2001. Became a member: Apr 2003.
N/A
N/A
Adobe Photoshop, memoQ, Microsoft Excel, Microsoft Office Pro, Microsoft Word, Microsoft Office, SDL Studio, Wordfast Pro, Powerpoint, SDL TRADOS, Wordfast
http://www.pstranslations.com
Powwows attended

Perry Svensson endorses ProZ.com's Professional Guidelines.
Bio
Introduction


I have worked as a part-time freelance translator from English and Chinese into my native language, Swedish, since 1998, dedicating 4-5 hrs/day to my freelance translation. The majority of that work is from English to Swedish. In the afternoons and evenings, I am  an in-house translator, managing six translators as chief translator at a local newspaper.

I specialize in corporate business codes, general business texts and communications (HR, online learning etc), consumer electronics (computers, cameras, home appliances, headphones and so on), mobile phones, SLR camera manuals as well as marketing texts/communications in these and other areas.

In addition, I translate texts in a wide variety of fields on an ongoing basis, in areas such as tourism, clothing/apparel, general technical documents (NAS units, to mention one), IT/internet-related documents and so on.

I have translated a large body of mobile phone software strings and manuals for a local Taiwanese manufacturer. In addition, I enjoy working in the areas of government/politics, Taiwan/China-related texts, a field in which I have extensive knowledge, as well as photography and bicycling, two active hobbies.

I translated three of the essays in the book "Jag har inga fiender, jag hyser inget hat, Valda dikter och texter" by Liu Xiaobo (ISBN 978-91-85849-55-0, published in November, 2011), a collection of texts by 2010 Nobel Peace Prize winner Liu Xiaobo, from Chinese to Swedish. I also translated parts of, and oversaw and managed the translation by me, two other translators and an editor, of Shih Ming-te's book "Common Sense" (ISBN 9868552354), from Chinese to English.

I was a sworn translator (Auktoriserad Translator) from Chinese to Swedish certified by the Swedish National Board of Trade (Kommerskollegium), but certification expires when residing outside the EU for an extended period of time (I now live in a country where the source language is spoken=.

I have received training in machine translation post editing from one of my clients, and will also consider such projects.

Specializations:

Business documents (business
conduct codes, anti-corruption manuals and policies, discrimination and
harassment policies, human resources, general business documents,
business communications, personnel surveys, and e-learning courses in
these areas)
Consumer electronics manuals (camera manuals, home appliances etc)
Taiwan/China affairs/sinology
Government/politics/political science
Photography (an active hobby, I (try to) sell stock images)

Other:

I also work in tourism, marketing texts, bicycling and other areas, but
as a rule reject technical legal and medical texts, although I may
consider general texts in these areas




This user has earned KudoZ points by helping other translators with PRO-level terms. Click point total(s) to see term translations provided.



Total pts earned: 222
PRO-level pts: 114


Top languages (PRO)
English to Swedish
84
Chinese to English
26
Swedish to English
4
Top general fields (PRO)
Bus/Financial
32
Tech/Engineering
32
Other
30
Social Sciences
8
Art/Literary
4
Pts in 2 more flds >

Top specific fields (PRO)
Business/Commerce (general)
32
Engineering (general)
16
Computers: Systems, Networks
8
Finance (general)
8
Government / Politics
8
Cinema, Film, TV, Drama
4
Linguistics
4
Pts in 8 more flds >

See all points earned >

---

This user has reported completing projects in the following job categories, language pairs, and fields.





Project History Summary
Total projects
4
With client feedback
2
Corroborated
2
100% positive (2 entries)
positive
2
neutral
0
negative
0




Job type
Translation
4
Language pairs
English to Swedish
3
Chinese to Swedish
1
Specialty fields
Computers: Software
3
Business/Commerce (general)
1
Other fields
Keywords: Chinese, Mandarin, English, Swedish, business, ethics codes, marketing, government, politics, political science, Taiwan, China, Sinology, general culture, general articles, photography, user manuals, kinesiska, engelska, svenska, uppförandekoder, marknadsföring, politik, statsvetenskap, Taiwan, Kina, sinologi, allmän kultur, allmänna artiklar, fotografi, användarhandböcker, manualer
Profile last updated
Nov 7, 2020