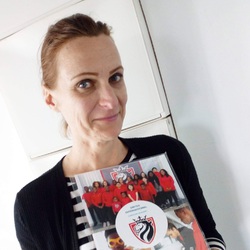 Member since Mar '20
Sonja Morris
Oil Gas Medical Finance Specialist



Portugal

Local time:

22:45 WET (GMT+0)




Native in

: English (Variants: South African, British)

PayPal accepted

Feedback from
clients and colleagues
on Willingness to Work Again

2

positive reviews

(1 unidentified)


Your feedback
Freelance translator and/or interpreter,

Verified member
This person has a SecurePRO™ card. Because this person is not a ProZ.com Plus subscriber, to view his or her SecurePRO™ card you must be a ProZ.com Business member or Plus subscriber.

This person is not affiliated with any business or Blue Board record at ProZ.com.
Translation, Editing/proofreading, Training
Specializes in:
Medical: Dentistry
Chemistry; Chem Sci/Eng
Business/Commerce (general)
Medical (general)
Economics
Petroleum Eng/Sci
Architecture
Construction / Civil Engineering
Finance (general)
0 entries
Send a payment via ProZ*Pay
Sample translations submitted: 5
Portuguese to English: Parecer sobre o Orçamento do Estado para 2016
General field: Bus/Financial
Detailed field: Economics
Source text - Portuguese
O Conselho Económico e Social (CES) elaborou o presente Parecer por solicitação da Comissão Parlamentar de Orçamento, Finanças e Modernização Administrativa, tendo o pedido e o envio da Proposta de Lei nº 12/XIII (P.OE 2016) a data de 5 de fevereiro de 2016. Entretanto foram considerados os documentos com informação adicional ou corrigida, como é o caso da Errata conhecida em 12 de fevereiro e a Nota Explicativa divulgada em 16 de fevereiro de 2016.

De referir também que o processo final de elaboração e aprovação deste Parecer já decorreu após a aprovação na generalidade no Parlamento do OE 2016, estando a audição do CES no Parlamento agendada para 3 de março de 2016.

O CES considera que neste Parecer dever-se-á ter em conta as anteriores posições deste Conselho sobre a mesma matéria, nomeadamente as conclusões do Parecer já elaborado sobre as Grandes Opções do Plano para 2016–19. Aliás, esta última articulação decorre da exigência da Constituição que no seu art.º 105º, nº 2, prevê que "O Orçamento é elaborado de harmonia com as grandes opções em matéria de planeamento…".

O CES reconhece que o Orçamento do Estado foi elaborado num quadro de restrições que limita a autonomia nacional em matéria de política orçamental, decorrendo estas restrições, nomeadamente, do Procedimento por Défices Excessivos, das recomendações no âmbito do Semestre Europeu e das metas orçamentais do Tratado Orçamental. Além disso, dever-se-ão também referir os próprios posicionamentos que a Comissão Europeia e o Conselho Europeu têm adotado em relação a Portugal, muitas vezes com diferenças visíveis face aos adotados com outros países europeus.

Acrescem ainda os condicionalismos derivados da manutenção de avaliações ex-post pelas Instituições Internacionais responsáveis pelo apoio financeiro, após o período de vigência do Programa de Ajustamento Económico e Financeiro (maio 2011-maio 2014).

Estas restrições constituíram um quadro que balizou as negociações com a Comissão Europeia e que conduziram à adoção de medidas adicionais que reduzem o défice em 1.1 mil milhões de euros face ao previsto no Esboço do OE 2016. Este facto contribuiu para a revisão em baixa do crescimento do PIB e da consequente criação de emprego, conforme é assumido no Programa do Governo e nas Grandes Opções do Plano. Esta situação realçou as diferenças no processo negocial entre a posição portuguesa e a da Comissão Europeia. Além disso o CES não pode também deixar de sublinhar a forma pouco adequada assumida pela Comissão Europeia, exteriorizando as críticas à proposta portuguesa, quando ainda decorriam reuniões bilaterais, visando dar resposta às objeções da Comissão.

Translation - English
This draft has been put forward by the Economic and Social Council (ESC) at the request of the Parliamentary Committee for Budget, Finance and Administrative Modernization, with the request for Draft Law No. 12 / XIII (P.OE 2016) sent on February 5, 2016. Documents with addendums or corrected information, such as the Errata issued on February 12 and the Explanatory Note issued on February 16, 2016 were taken into consideration.

It should also be noted that the final phase of drafting and approval of this draft has already elapsed after general approval of the State Budget in Parliament in 2016, with the ESC parliamentary hearing scheduled for March 3, 2016.

The ESC believes that previous positions of the Council, should be taken into account in this draft in particular the findings with regard to Major Planning Options for 2016-19. Incidentally, the latter continuum is a constitutional requirement with article 105, paragraph 2, providing that "The budget shall be established in accordance with major planning options ...".

The ESC recognizes that the state budget has been prepared within a restrictive framework that limits national autonomy on fiscal policy, with these restrictions applying in particular to the Procedure for Excessive Deficit, the recommendations under the European Semester and the budgetary targets of the Budgetary Treaty. In addition the positions that the European Commission and the European Council have adopted in relation to Portugal, often with visible differences compared to those adopted with other European countries are duly noted alongside the structural handicaps of maintaining ex-post assessments by the international institutions responsible for financial support after the period of enforcement of the Economic and Finance Adjustment Program (May 2011-May 2014).

These restrictions constitute a framework that guided negotiations with the European Commission and led to the adoption of additional measures to reduce the deficit by 1.1 billion euros as envisioned in the provisions of the 2016 State Budget draft outline. This contributed to the downward revision of GDP growth and the consequent creation of jobs, as assumed in the Government Program and Major Planning Options. This once again highlighted the differences in the negotiating process between the Portugal and the position of the European Commission. In addition the ESC highlights the inadequate approach assumed by the European Commission in criticizing the Portuguese proposal, while bilateral meetings were still taking place, in order to respond to the Commission's objections.

The ESC believes that, despite these restrictions the State Budget, in following Strategic Options, cannot fail to be a viable instrument of the country's development strategy defined and approved in constitutional terms.


Portuguese to English: Resumo do Mercado Angolano, Banco Atlantico
General field: Science
Detailed field: Petroleum Eng/Sci
Source text - Portuguese
A produção petrolífera referente ao mês de Janeiro situou-se em 1,374 milhões barris/dia, o que corresponde a uma redução mensal e homóloga de 34 mil barris/dia e 70 mil barris/dia, respectivamente. O desempenho continua a reflectir os constrangimentos estruturais do sector.

A Agência Nacional de Petróleo e Gás e Biocombustíveis (ANPG) procederá a uma avaliação do potencial petrolífero das bacias do interior das províncias do Cunene, Moxico, Cuando Cubango e Malange, de acordo com a estratégia 2020-2023 da instituição. Adicionalmente, prevê-se para este ano, a licitação de nove blocos on-shore, entre os quais, três na bacia do Baixo Congo e seis na bacia do Kwanza.

As receitas fiscais arrecadadas com a exportação de petróleo fixaram-se em 417.263,9 milhões Kz em Dezembro de 2019. O desempenho representa um aumento de 5% face ao mês de Novembro, suportado fundamentalmente pela depreciação cambial, de acordo com dados divulgados recentemente pelo Ministério das Finanças. Em termos acumulados, o país arrecadou com a exportação da commodity cerca de 4.023 mil milhões Kz, uma diminuição homóloga de 20,8%.


Translation - English
Oil production in January stood at 1.374 million barrels / day, which corresponds to a monthly and year-on-year reduction of 34 thousand barrels / day and 70 thousand barrels / day, respectively. Performance continues to reflect the sector's structural constraints.

The National Oil and Gas and Biofuels Agency (ANPG) will carry out an assessment of the petroleum potential of the basins in the interior of the provinces of Cunene, Moxico, Cuando Cubango and Malange, according to the institution's 2020-2023 strategy. In addition, nine on-shore blocks are expected to be tendered for this year, including three in the Lower Congo basin and six in the Kwanza basin.

Tax revenues collected from oil exports stood at 417,263.9 million Kz in December 2019. The performance represents an increase of 5% over the month of November, supported mainly by the exchange rate depreciation, according to data recently released by Finance Ministry. In cumulative terms, the country raised about 4.023 billion Kz with the export of the commodity, a year-on-year decrease of 20.8%.

Portuguese to English: SINDROMA DE HIPERTENSÃO PORTAL FIBROSE /CIRROSE (62 doentes)
General field: Medical
Detailed field: Medical (general)
Source text - Portuguese
A síndrome de hipertensão portal tem sido suficientemente estudada nos países ocidentais pelo que se fará um breve resumo para depois se expor o seu estudo no africano de Moçambique.
A síndrome da hipertensão portal surge quando há uma resistência vascular à corrente sanguínea no eixo esplenoportal, em que a cirrose é sua principal causa (9,55,71) e agravada por um aumento da circulação colateral. (32) A segunda causa em frequência, é a schistossomíase hepática. (5)
A circulação colateral não depende só do aumento da pressão na veia porta que vai permitir a abertura de canais pré-existentes, que farão a comunicação do sistema porta com a circulação sistémica, como ainda doutros factores. (29)
A resistência vascular intra-hepática na cirrose aumenta por dois mecanismos: o primeiro, consiste num componente estrutural relacionado com a distorção da microcirculação hepática por fibrose, formação nodular, angiogénese e oclusão vascular, (10,29) e o segundo, é um componente dinâmico que vai aumentar o tónus vascular devido à contracção das células estreladas hepáticas activadas e miofibroblastos em torno dos capilares sinusóides, dos septos fibrosos e dos vasos de musculatura lisa da vascularização hepática. (5,80)
Este componente dinâmico explica cerca de 30% do aumento da resistência vascular intra- hepática na cirrose com um aumento de produção local de vasoconstritores (nor epinefrina, angiotensina II, endotelinas e tromboxane-A) (32) e uma reduzida libertação de vaso- dilatadores
Devido ao aumento de resistência vascular intra-hepático, há um progressivo aumento da circulação vascular da área esplâncnica causada pela neoangiogénese e libertação de vasodilatadores, nomeadamente o óxido nítrico e o monóxido de carbono. (32,80) Este aumento vascular da área esplâncnica determina um aumento do débito sanguíneo portal, o que mantem e agrava a síndrome da hipertensão portal. (10,29,38,72)
O aparecimento da circulação colateral e de varizes no esófago não depende só do aumento da pressão na veia porta, mas também da angiogénese. (29)
Qualquer doença que interfira com a corrente sanguínea do eixo venoso espleno-mesentérico-portal, permite que se classifique a síndrome da hipertensão portal em pré hepático e corresponde doenças congénitas, neoplasias mieloproliferativas, sepsis e trauma abdominal, (5) hepático: pré sinusoidal - trombose da veia porta, fibrose schistossómica , sinusoidal -cirrose (5,9) e pós-hepático - síndrome de Budd-Chiari. (5)
A síndrome da hipertensão portal caracteriza-se por um aumento do gradiente da pressão portal - GPP (diferença ente a pressão na veia porta e a pressão na veia cava inferior) e que representa a pressão de perfusão do fígado pelo sangue da veia porta. O valor deste GPP, em condições normais é de 1 a 5 mm Hg, geralmente medido clinicamente como um aumento no gradiente de pressão venosa hepática - GPVH. (5)
O estudo da hipertensão portal implica a determinação das pressões na veia porta, nas veias supra-hepáticas e na veia cava inferior, de modo a sabermos o valor do gradiente de pressão venosa hepático - GPVH que nos vai permitir avaliar o grau das lesões hepáticas e o aparecimento das suas complicações. (14,16,35,39,66,67) O valor normal do GPVH varia de 3 a 5 mm de Hg. (10,40).
A hipertensão portal é assintomática em 80 a 90 % dos doentes cirróticos, mas o valor do GPVH entre 5 a 9mm Hg já faz suspeitar do aparecimento das varizes esofágicas, (5,9,18,33) postas em evidência pela execução duma endoscopia digestiva alta, em cerca de 40% dos doentes. (5) Valores superiores a 10 mm Hg correspondem a uma transição de cirrose compensada para não compensada (14) e superiores a 20 mm Hg à presença dum carcinoma hepatocelular. (67)
O GPVH consiste na diferença entre a pressão determinada com o cateter na veia supra hepática em posição oclusiva – PVHO -, isto é, o cateter não pode progredir mais na veia supra hepática cateterizada, e a pressão venosa livre – PVHL - com o cateter colocado na veia supra hepática a 2-4 cm da saída para a veia cava inferior. (5)

Translation - English
Portal hypertension syndrome has been studied at length in developed countries. A brief summary is made and is followed by a study if this syndrome amongst the African nation of Mozambique.
Portal hypertension syndrome arises when there is vascular resistance to blood flow in the splenoportal axis, for which cirrhosis is the princioal cause (9,55,71). The condition is aggravated by an increase in collateral circulation. (32) Hepatic schistosomiasis is the second most common cause of portal hypertension. (5)
Collateral circulation is dependent on an increase in pressure in the portal vein that will allow the opening of pre-existing channels, which establishes communication between the portal system and systemic circulation, as well as additional factors. (29)
Intrahepatic vascular resistance in cirrhosis is increased by two mechanisms: the first consists of a structural component related to changes in microcirculation in the liver caused by fibrosis, nodular formation, angiogenesis and vascular occlusion (10,29), while the second is a dynamic component that results in an increase in vascular tone due to contraction of activated hepatic stellate cells and myofibroblasts around sinusoid capillaries, fibrous septa and smooth muscle vessels of hepatic vascularization. (5.80)
The dynamic component provides an explanation for about 30% of the increase in intrahepatic vascular resistance in cirrhosis with an increase in the local production of vasoconstrictors (nor epinephrine, angiotensin II, endothelins and thromboxane-A) (32) and a reduced release of vasodilators.
Due to the increase in intrahepatic vascular resistance, there is a progressive increase in vascular circulation of the splanchnic area caused by neoangiogenesis and release of vasodilators, namely nitric oxide and carbon monoxide. (32,80) This vascular increase of the splanchnic area results in an increase in portal blood flow, which both maintains and aggravates portal hypertension syndrome. (10,29,38,72)
The appearance of collateral circulation and varicose veins in the esophagus results from an increase in pressure in the portal vein, as well as angiogenesis. (29)
Any disease that interferes with the blood flow of the spleno-mesenteric-portal venous axis allows for classification of the portal hypertension syndrome as prehepatic and as corresponding with congenital diseases, myeloproliferative neoplasias, sepsis and abdominal trauma, (5) hepatic: pre-sinusoidal - portal vein thrombosis, schistosomal, sinusoidal -cirrhosis (5.9) and post-hepatic-Budd-Chiari syndrome. (5)
Portal hypertension syndrome is characterized by an increase in the portal pressure gradient (GPP) (difference between the portal vein pressure and the inferior vena cava pressure), which represents the perfusion pressure of portal vein blood through the liver. The GPP value under normal conditions is 1 to 5 mm Hg, usually measured clinically as an increase in hepatic venous pressure gradient (GPVH).
(5) The study of portal hypertension involves determination of the pressure in the portal vein, the suprahepatic veins and the inferior vena cava, in order to obtain the value of the hepatic venous pressure gradient (GPVH), which will allow for assessment of the degree of hepatic lesions and the appearance of complications thereof. (14,16,35,39,66,67) The normal value of GPVH varies from 3 to 5 mm Hg. (10.40).
Portal hypertension is asymptomatic in 80 to 90% of cirrhotic patients, but the HGVH value of between 5 and 9 mm Hg is suggestive of the presence of esophageal varices, (5,9,18,33) evidenced by upper digestive endoscopy in about 40% of patients. (5) Values greater than 10 mm Hg correspond to a transition from compensated to uncompensated cirrhosis (14) while values greater than 20 mm Hg suggest the presence of hepatocellular carcinoma. (67)
The GVHV is the difference between the pressure determined with a catheter in the suprahepatic vein in the occlusive position - PVHO -, ie the catheter cannot progress further in the catheterized suprahepatic vein, and free venous pressure - PLHV - with the catheter placed in the hepatic vein 2-4 cm from the outlet to the inferior vena cava. (5)

Portuguese to English: Doença poliquística hepática
General field: Medical
Detailed field: Medical (general)
Source text - Portuguese
A doença poliquística hepática foi descrita pela primeira vez por Bristow em 1856.(4) É uma doença rara e geralmente associada à poliquistose renal.
Etiologia – é uma doença hereditária, caracterizada por múltiplos quistos, ocupando todo o fígado ou localizados apenas a um dos lobos, e resultante de alterações estruturais no desenvolvimento dos canais biliares (29,33) Mecanismos genéticos ou defeitos nos mesmos, são a origem de estruturas ductais que ao separarem-se das da verdadeira árvore biliar resultam na formação de quistos. (29,38) Estas estruturas quísticas estão presentes numa fase muito recente da doença, mas permanecem assintomáticas até ao início do seu crescimento na fase adulta do indivíduo. (11)
A doença poliquística do fígado é uma doença hereditária que resulta duma má formação da placa ductal durante o desenvolvimento fetal (10,309) e compreende 3 tipos de doença: complexos de Meyenburg, (11,42) doença poliquística do fígado e doença poliquística hepatorrenal. (10,29,30,33)
Os complexos de Meyenburg, designados também por microhamartomas (hamartoma biliar e hamartoma quístico do fígado) são pequenas formações quísticas nodulares não hereditárias, e apenas constituem vestígios embrionários, (10,35) de diâmetro inferior ou igual a 1,5 cm, de localização interlobular e na periferia dos canais biliares abaixo da cápsula de Glisson. (10,35) Podem coexistir com as doenças poliquísticas hepática e hepatorrenal. (3,11,19)São achados incidentais em exames imagiológicos, na cirurgia ou em autópsias (2,22,31,35) e são geralmente assintomáticos por toda a vida e não necessitam de tratamento. (3)
A doença poliquística do fígado é hereditária, autossómica dominante, relacionada com os genes SEC 63 (12,13) e PRKCSH. (9,13,14) Estes genes estão envolvidos num processo proteico em que as mutações destes genes afectam proteinas tais como as policistinas 1 e 2, que por sua vez estão associadas com o crescimento das células epiteliais e secreção de líquido, e são as responsáveis pela formação e aumento de tamanho dos quistos. (9,13,14) O aumento de tamanho dos quistos só é aparente na idade adulta e segundo Fisher (15) o líquido contido nos quistos tem substâncias orgânicas não difusíveis.
Mais frequente na mulher que no homem, numa relação M /H de 3 /1 (8) e em idades inferiores a 40 anos, atingindo o "pico" de maior prevalência depois daquela idade. (2.7)
Os quistos hepáticos da doença poliquistica hepática são o principal sinal clínico e a manifestação mais frequente da doença poliquística renal. (a14) Cerca de 50 % dos doentes com poliquistose hepática apresentam poliquistose renal, mas a inversa é menos frequente e varia entre 19 % a 33 %. (23,24,32)
O número, tamanho, localização e distribuição dos quistos pelo fígado poderão determinar o tipo de sintomas e sinais, o que está relacionado com a hepatomegalia. (11)
A doença poliquistose hepática pode decorrer sem qualquer sintoma ou alteração hepática e funcional do fígado, ou apresentar dores no hipocôndrio direito, pirose, anorexia e perda de pêso.(28,41) Como sinal, o fígado pode ser normal ou apresentar uma hepatomegalia nodular, que pode levar a uma compressão dos órgãos vizinhos,(39) e sinais de insuficiência renal numa fase tardia da doença. (36)
Os testes da função hepática são normais ou ligeiramente alterados, transaminases e fosfatase alcalina, mas a bilirrubina é normal (36,41)
Concomitantemente podem existir quistos noutros órgãos, baço, pâncreas, pulmão e ovários. Raramente a esplenomegalia e a hipertensão portal estão presentes. (36)
As principais complicações da doença poliquística do fígado são a hemorragia intraquística, a rotura do quisto para a cavidade abdominal e a infecção. (20,21,28,41) Estas manifestações parecem ser mais frequentes na doença hepatorrenal do que na doença hepática. (18)

Translation - English
Polycystic liver disease was first described by Bristow in 1856. (4) It is a rare disease and is usually associated with renal polycystic disease.
Etiology – It is a hereditary disease characterized by multiple cysts, occupying the entire liver or located only in one of the lobes, resulting from structural alterations in the development of bile ducts (29,33). Genetic mechanisms or defects in these give rise to structures within the ducts that separate from the true biliary tree resulting in the formation of cysts. (29,38) These cystic structures are present at a very early stage of the disease, but remain asymptomatic until the onset of their growth as the patient becomes an adult. (11)
Polycystic liver disease is a hereditary disease resulting from poor ductal plaque formation during fetal development (10,309) and comprises 3 types of disease: Meyenburg complexes, (11,42) polycystic liver disease, and hepatorenal polycystic disease. (10,29,30,33)
Meyenburg complexes, also referred to as microhamartomas (biliary hamartoma and cystic hamartoma of the liver) are small, non-hereditary cysts formations, made up of embryonic traces (10,35) with a diameter of less than or equal to 1.5 cm. They are located interlobularly and at the periphery of the bile ducts below the Glisson capsule. (10,35) They may coexist with hepatic and hepatorenal polycystic diseases. (3,11,19) are incidental findings in imaging, surgery or autopsy (2,22,31,35) and are generally asymptomatic throughout life and do not require treatment. (3)
Polycystic liver disease is a dominant autosomal, hereditary disease related to the SEC 63 (12,13) and PRKCSH genes. (9,13,14) These genes are involved in a protein process and which mutations of these genes affect proteins such as polycystin 1 and 2, which are associated with epithelial cell growth and fluid secretion, and are responsible for the formation and enlargement of cysts. (9,13,14) The size increase of the cysts is only apparent in adulthood and according to Fisher (15) the liquid contained in the cysts contains non-diffusible organic substances.
This disease is more frequently observed in women than in men, in a female / male ratio of 3/1 (8) and is seen in patients under the age of 40 years, becoming more prevalent after that age. (2.7)
Hepatic cysts of hepatic polycystic disease are the main clinical indicator and the most frequent manifestation of polycystic kidney disease. (a14) About 50% of patients with hepatic polycystic disease have renal polycystic disease, but the inverse is less frequent and ranges from 19% to 33%. (23,24,32)
The number, size, location, and distribution of cysts through the liver may determine the type of symptoms and indicators, which are related to hepatomegaly. (11)


Hepatic polycystic disease can occur without any symptoms or changes in liver function being present. Pain in the right hypochondrium, heartburn, anorexia and weight loss may be present. (28,41) The liver may be normal or nodular hepatomegaly may be present, which may lead to compression of neighboring organs (39) and signs of renal failure at a later stage of the disease. (36)
Liver function tests are normal or slightly altered, with alkaline transaminases and phosphatase, while bilirubin is normal (36,41)
Concurrently, there may be cysts in other organs such as the spleen, pancreas, lungs and ovaries. Rarely, splenomegaly and portal hypertension are present. (36)
The main complications of polycystic liver disease are intra-cystic hemorrhage, cyst rupture in the abdominal cavity and infection. (20,21,28,41) These clinical manifestations appear to be more frequent in hepatorenal disease than in liver disease. (18)

Portuguese to English: Acordo de Colaboração entre a DECO e a DECO PROTESTE
General field: Law/Patents
Detailed field: Law: Contract(s)
Source text - Portuguese
Considerando que:
1. A DECO foi criada em fevereiro de 1974, tendo sido constituídos vários grupos de trabalho com missões distintas, tais como a análise de produtos e de publicidade, o apoio jurídico aos consumidores, a preparação do lançamento de um boletim informativo e a expansão regional da organização que já indiciavam a amplitude da sua intervenção.
2. A concessão de utilidade pública à DECO, em 1978, conferindo-lhe o estatuto de parceiro social e o desenvolvimento dos serviços prestados aos consumidores, nomeadamente, o atendimento personalizado na sede e delegações, a representação dos consumidores, a nível coletivo, através de audiências junto do poder politico e a nível individual, o desenvolvimento de processos de mediação, a educação e a formação do consumidor e o apoio aos consumidores sobre endividados têm contribuído para o reconhecimento e a credibilidade da DECO, enquanto verdadeiro ator na sociedade portuguesa.
3. No âmbito do Acordo celebrado entre a DECO e a associação belga – Test`Achats no início da década de 90 como uma forma de encontrar sinergias para melhor defender os consumidores em Portugal e reforçar a posição destes, a nível europeu foi criada a Editora EDIDECO – Editores para a Defesa do Consumidor, Lda, hoje DECO PROTESTE – Editores, Lda responsável por diversas publicações (PROTESTE, Dinheiro & Direitos, Teste Saúde, PROTESTE Investe, guias temáticos), que se tornaram indispensáveis na defesa dos direitos dos consumidores portugueses.
4. O trabalho desenvolvido pelas duas organizações tem permitido um crescimento não só do número de associados mas também da influência de ambas na sociedade portuguesa.
5. Em todo o mundo, o movimento associativo de defesa do consumidor deve redefinir-se num ambiente que muda rapidamente de forma a poder antecipar e responder aos desafios lançados.
6. A DECO e a DECO PROTESTE estão especialmente preparadas para dar resposta a tais desafios tendo em conta a sua respetiva credibilidade e a complementaridade das suas atividades: a DECO com a sua ancoragem local e os seus serviços específicos bem como o reconhecimento nacional, europeu e internacional e a DECO PROTESTE integrada numa estrutura internacional que permite «pesar no mercado», dotada de equipas fortes e competentes capazes de desenvolver serviços que respondam a necessidades cada vez mais diversificadas e sofisticadas.
7. Estas duas estruturas são chamadas a colaborar de forma mais intensa para formar um único interface com os consumidores e para os servir cada vez melhor, oferecendo-lhes a proteção e os serviços que correspondam efetivamente às suas necessidades.
8. Se revela necessário, para a credibilidade de ambas as organizações, dar a conhecer os seus valores fundamentais como a independência, a perícia ou a proximidade, e o respeito pela transparência mútua, pela confidencialidade de informação e pela especificidade de cada organização.
9. As modalidades de colaboração devem ter, inerentes a si, o espírito de colaboração, privilegiando o que é comum e a subsidiariedade, devendo para tal promover a partilha de informação, mas também desenvolver procedimentos que permitam uma atempada resposta aos consumidores.
10. Se afigura fundamental atualizar o acordo celebrado em 1991 e completado em 1999.
As partes acordam em celebrar o presente Acordo de Colaboração que se rege pelas seguintes cláusulas:

Translation - English
Whereas:
1. DECO was set up in February 1974 comprised of a number of working groups with distinct purposes such as product and advertising analysis, legal support for consumers, publication of a newsletter and regional expansion of an organization that had already possessed a track record of extensive intervention
2. In 1978 DECO was conceded as being an entity of public benefit. DECO was thereby granted social partner status. The development of services provided to consumers, namely personalized service at company headquarters and delegations, collective representation of consumers through audiences alongside both political and individual power, the development of mediation processes, consumer education and training, and consumer support with regard to indebtedness have contributed to the recognition and credibility of DECO as playing an important role in Portuguese society.
3. Editora EDIDECO - Publishers for Consumer Advocacy, Ltd, today DECO PROTESTE - Editores, Ltd responsible for several publications (PROTESTE, Money & Financial Rights, Health Test, PROTESTE Investe, thematic guides), that have become indispensable in the advocacy of Portuguese Consumer Rights was created under the agreement between DECO and the Belgian Association - Test`Achats in the early 1990s. The aim was to create a means of finding synergies to champion consumer rights in Portugal and to strengthen their position, at European level.
4. The project developed by the two organizations has allowed for expansion in the number of members as well as growing influence within Portuguese society.
5. Throughout the world, the consumer advocacy movement must be redefined on an ongoing basis in a rapidly changing environment in order to anticipate and respond to the challenges posed.
6. DECO and DECO PROTESTE are especially prepared to respond to such challenges in view of their respective credibility and the complementarity of their activities: DECO with its local anchorage and specific services at national, European and international level, and DECO PROTESTE that is integrated into an international framework that allows for market assessment, with strong and competent teams capable of developing services that respond to increasingly diversified and sophisticated needs.
7. These two structures are called upon to collaborate to an even greater extent to form a single interface with consumers and to serve consumers with increasing efficacity, offering protection and services that effectively meet consumer needs.
8. It is necessary for the credibility of both organizations to disclose core values such as independence, expertise or proximity, respect for mutual transparency, confidentiality of information and the specificity of each organization.
9. Collaboration arrangements should be based on mutual cooperation, with priority given to common and subsidiarity areas. The sharing of information should be promoted alongside the development of procedures to enable timely responses to consumers.
10. It is a prerequisite that 1991 agreement that was concluded in 1999 be updated.
The parties agree to finalize this Cooperative Agreement, which is governed by the following clauses:

More
Other - Open University
Years of experience: 14. Registered at ProZ.com: Apr 2013. Became a member: Mar 2020.
N/A
Portuguese to English (The Open University)

N/A
Adobe Photoshop, Powerpoint
https://www.linkedin.com/in/sonja-morris-981b99188/
Bio
I am an experienced Portuguese to English translator with a 13 year track record of working with Angolan oil industry clients, clients such as KPMG, Atlantico, economic think tanks within the Portuguese government, financial reports for companies such as Cartrack Portugal and medical and dental professionals.
I work to achieve a high standard of accuracy and English Proficiency. All of my translation work is submitted for review to a proof-reader who holds a Master´s Degree in English and has a track record of excellence in translation, copy writing and proof-reading that spans more than two decades, before handover to my clients.
I aim to consistently produce high quality translation work that matches high quality publications like the Economist in terms of standard and level of English. I like to use the passive voice in writing and translation for business documents to raise the bar in terms of professionalism and to match market needs. Blue chip companies require blue chip translators to produce high quality documents that reflect excellence and professionalism. Excellence in English is a prerequisite for today´s business world and an accurate, high end translation work can really make a company´s profile stand out.
Keywords: English, Portuguese, Oil, Gas, Finance, Medical, Dentistry, Science
Profile last updated
Apr 17, 2020