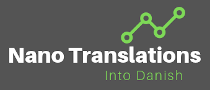 FAQ:
Are you available for a job?
Please check my calendar in the left-hand side of this page. I'm updating this regularly to reflect my bookings.
If it's all red then there's a large chance that I can't take on new week-long projects, but perhaps I can squeeze in a few hour-long jobs here and there.
If you need an exact delivery date and time I would need to have the source file.
What is your rate?
Please request my rates via email at thomas@nanotranslations.com
Can you proofread this file?
Yes, but I call it monolingual revision, since I'll be focusing on revision of the target text, which in my case is Danish. This is by the way cheaper than editing / bilingual revision, which I don't do.
Will you be able to do a test translation?
Yes.