Dear visitor,
I hope you have come to this page not by a mere chance, but because you are looking for an experienced, trained and qualified contractor and colleague.
If it's so, there is something you need to get a wind of straight away: I know exactly that a high-quality product needs lots of effort and expertise, this is the reason why I have spent more than 6 years on training. I'm certain that a good job can't do without cooperation of interested persons, that's why negotiations and communication are an indispensable part of every working process. I have no doubt that every project you fulfill and every person you meet give you an opportunity to learn, and I never miss one.
Please find the most essential information about me and my services below.
Your must-knows:
- higher education in translation and interpreting:
   Specialist's Degree (MSLU, Minsk) + Master's Degree (MSLU, Minsk);
- additional courses & seminars in:
   1. Summer course in translation and interpreting at Uni Mainz, Germersheim (August 2014) DEU-RUS/RUS-DEU;
   2. Pharmaceutics (Alliance PRO School of Specialized Translators, Russia, October-December 2016) ENG-RUS;
   3. Basics of Medical Translation (LinguaContact School, Russia, July-August 2018) ENG-RUS/RUS-ENG;
   4. Course in Medical Translation (Alliance PRO School of Specialized Translators, Russia, September-October 2018) ENG-RUS;
   5. Course in Editing and Proofreading (LinguaContact School, Russia, November-December 2018) ENG-RUS;
- specializations: pharmaceutics, medicine, marketing;
- 2.5 years of regular translation and interpreting experience plus 1 year involved in various volunteering projects (UNHCR, MIFF Listapad, World Hockey Championship, etc.);
- good knowledge and use of SDL Trados Studio 2014, 2015, 2017 (license),  Memsource Cloud (provided license), Across (provided license), SubtitleEdit;
- notary (certified) translation and interpreting services for the city of Minsk since 2016;
- certified PRO translator;
- participation in conferences:
   1. Forum of Translators & Interpreters of Belarus, Minsk, Belarus, September 30, 2017;
   2. II Belarusian Translation Forum, Minsk, Belarus, September 29, 2018 (volunteer, organizer);
- working capacity — 2,000–2,500 words per day.
Your advantages:
1. ALWAYS timely delivery;
2. high-quality translation and interpretation;
3. transparent and safe payment system (wire transfer);
4. immediate response;
5. a possibility to optimize your expenses on translation due to the SDL Trados word count system;
6. a glossary of project terms for future jobs as a bonus.
Should you have any questions please contact me at zubchenok.perevod@yandex.ru.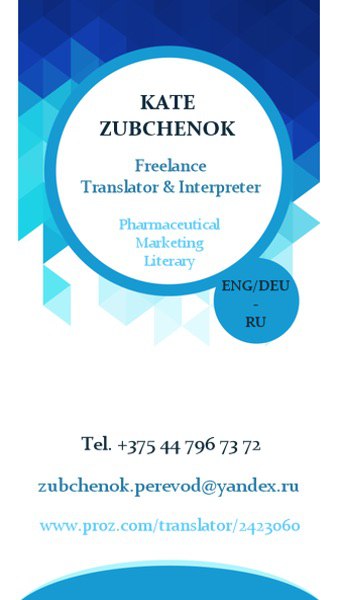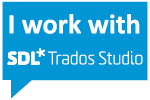 Regards,
Kate