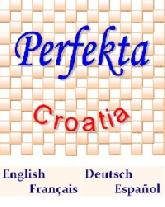 Member since Jun '07
Working languages:
English to Croatian
French to Croatian
Croatian to English
Croatian to French
German to Croatian
Kristina Kolic
Croatian legal, financial and IT expert



Split, Splitsko-Dalmatinska, Croatia

Local time:

00:55 CET (GMT+1)




PayPal accepted
Kristina Kolic is an employee of:
Croatian Translator and Certified Court Interpreter for English, French, German and Spanish
Freelance translator and/or interpreter,

Verified member
This person previously served as a ProZ.com moderator.
This translator is helping to localize ProZ.com into Croatian


ProZ.com Kudoz editor
This person has a SecurePRO™ card. Because this person is not a ProZ.com Plus subscriber, to view his or her SecurePRO™ card you must be a ProZ.com Business member or Plus subscriber.

Employer: Perfekta
Translation, Interpreting, Website localization, Software localization
Specializes in:

Business/Commerce (general)

Law: Contract(s)

Finance (general)

Law: Taxation & Customs

Law (general)

Law: Patents, Trademarks, Copyright

Accounting

Telecom(munications)

IT (Information Technology)

Advertising / Public Relations
More
EUR
PRO-level points: 2361, Questions answered: 823, Questions asked: 27
Wire transfer, PayPal
Sample translations submitted: 19
| | |
| --- | --- |
| | English to Croatian: 1st Annual ProZ.com Translation Contest - Entry #7154 |

Source text - English
Heathrow Airport is one of the few places in England you can be sure of seeing a gun. These guns are carried by policemen in short-sleeved shirts and black flak-jackets, alert for terrorists about to blow up Tie-Rack. They are unlikely to confront me directly, but if they do I shall tell them the truth. I shall state my business. I'm planning to stop at Heathrow Airport until I see someone I know. (...)

Astonishingly, I wait for thirty-nine minutes and don't see one person I know. Not one, and no-one knows me. I'm as anonymous as the drivers with their universal name-cards (some surnames I know), except the drivers are better dressed. Since the kids, whatever I wear looks like pyjamas. Coats, shirts, T-shirts, jeans, suits; like slept-in pyjamas. (...)

I hear myself thinking about all the people I know who have let me down by not leaving early on a Tuesday morning for glamorous European destinations. My former colleagues from the insurance office must still be stuck at their desks, like I always said they would be, when I was stuck there too, wasting my time and unable to settle while Ally moved steadily onward, getting her PhD and her first research fellowship at Reading University, her first promotion.

Our more recent grown-up friends, who have serious jobs and who therefore I half expect to be seeing any moment now, tell me that home-making is a perfectly decent occupation for a man, courageous even, yes, manly to stay at home with the kids. These friends of ours are primarily Ally's friends. I don't seem to know anyone anymore, and away from the children and the overhead planes, hearing myself think, I hear the thoughts of a whinger. This is not what I had been hoping to hear.

I start crying, not grimacing or sobbing, just big silent tears rolling down my cheeks. I don't want anyone I know to see me crying, because I'm not the kind of person who cracks up at Heathrow airport some nothing Tuesday morning. I manage our house impeccably, like a business. It's a serious job. I have spreadsheets to monitor the hoover-bag situation and colour-coded print-outs about the ethical consequences of nappies. I am not myself this morning. I don't know who I am.
Translation - Croatian
Zračna luka Heathrow je jedno od rijetkih mjesta u Engleskoj gdje možete sasvim sigurno vidjeti pištolj. Te pištolje nose policajci u majicama kratkih rukava i crnim pancirkama, koji budnim okom motre na teroriste koji se spremaju raznijeti prodavaonicu kravata «Tie Rack». Mala je vjerojatnost da će se izravno suočiti sa mnom, ali ukoliko to učine, reći ću im istinu. Reći ću zašto sam tu. Namjeravam ostati u zračnoj luci Heathrow sve dok ne naiđem na nekog poznatog. (…)

Začudo, čekam već trideset devet minuta i ne vidim nijedno poznato lice. Niti jedno jedino, a ni mene nitko ne poznaje. Anoniman sam kao i oni vozači sa svojim univerzalnim oznakama s ispisanim imenom (neka prezimena doduše poznajem), time što su vozači bolje odjeveni. Otkad imam djecu, što god nosim nalikuje pidžami: kaputi, košulje, majice, traperice, odjela – poput pidžame u kojoj je netko prespavao. (…)

Čujem svoja razmišljanja o svim onima koje poznajem i koji su me tog utorka ujutro iznevjerili jer nisu rano krenuli na glamurozna europska odredišta. Moji bivši kolege iz ureda osiguravajućeg društva su zasigurno i dalje prikovani za radni stol, kao što sam im uvijek govorio, kada sam i sam bio tamo prikovan, trateći svoje vrijeme i ne uspijevajući se snaći dok je Ally postupno napredovala završivši doktorat i dobivši svoje prvo radno mjesto sveučilišnog istraživača na sveučilištu Reading, njezino prvo napredovanje.

Naši noviji odrasli prijatelji, koji imaju ozbiljan posao, i koje dakle očekujem manje-više u svakom trenutku, kažu mi da je kućanstvo sasvim pristojno zanimanje za muškarca, čak i hrabro; da, muževno je ostati doma s djecom. Ti naši prijatelji su prije svega Allyini prijatelji. Čini mi se da više nikoga ne poznajem, a daleko od djece i od zrakoplova koji prelijeću, kada čujem svoja razmišljanja, čujem razmišljanje gunđala, što od sebe nisam očekivao.

Počnem plakati, bez mrštenja i ridanja; samo krupne tihe suze klize niz moje obraze. Ne želim da me itko poznat vidi kako plačem jer nisam tip koji utorkom ujutro ni zbog čega doživljava živčani slom u zračnoj luci Heathrow. Savršeno vodim naš dom, kao tvrtku. To je ozbiljan posao. Imam proračunske tablice za praćenje popunjenosti vrećice usisivača te ispise sa znakovima u boji o etičkim posljedicama nošenja pelena. Jutros nisam svoj. Ne znam tko sam.
English to Croatian: Intellectual property / Intelektualno vlasništvo
Source text - English

Nullity Action against HR XXX
It is requested that HR XXX (hereinafter referred to as: the patent-in-suit) is nullified in its entirety. The grounds for nullification are:
(i) Lack on inventive step, contrary to the requirements of [insert appropriate sections of Croatian Patent Act]; and
(ii) Lack of sufficient disclosure of the specification to enable the invention to be carried out by a person skilled in the art, contrary to the requirements of [insert appropriate sections of Croatian Patent Act].

The patent-in-suit relates to formulations of XYZ and is attached hereto as Exhibit K1. The US equivalent thereto is attached hereto as Exhibit K2.

The main treatment for peptic ulcers was administration of antacids to neutralise excess gastric acid (which promotes ulcer formation and prevents healing), but this provided only temporary relief. The alternative was an operation (gastrectomy and/or vagotomy). The surgery was, however, often associated with serious side effects and pharmacological control of the complex mechanism of gastric acid secretion had thus long been sought.

Opposition Against Patent EPXXXXX
The opponents request the patent be revoked in its entirety under Articles 100(a), (b) and (c) EPC. In particular, the Opponents request that claims 1 to 14 are cancelled or amended so as not to contravene Articles 52-57, 83 and 123(2) EPC. The Opponents rely on: European Patent No. 12345 granted on 15 December 2004. The opposed patent is a divisional of EP67890 having a filing date of 8 July 1996 and claiming priority from US 101010 filed on 17 July 1995. The patent contains four independent claims (1, 4, 5 and 6) directed to XYZ Form II and four independent claims (7, 9, 10 and 11) directed to XYZ Form IV: Article 56 EPC states that an invention shall be considered as involving an inventive step if, having regard to the state of the art, it is not obvious to a person skilled in the art.
Translation - Croatian

Prijedlog za proglašavanje ništavnim patenta HR XXX
Predlaže se da se patent HR XXX (u daljnjem tekstu: sporni patent) u cijelosti proglasi ništavnim. Razlozi za proglašenje ništavnim su:
(i) nedostatak inventivne razine, protivno uvjetima iz [unijeti odgovarajuće članke hrvatskog Zakona o patentima]; i
(ii) nedostatak dostatnog otkrivanja specifikacije kako bi se stručnoj osobi iz tog područja omogućilo izvođenje izuma, protivno uvjetima iz [unijeti odgovarajuće članke hrvatskog Zakona o patentima].

Sporni patent odnosi se na formule XYZ i prilaže se u privitku kao Dokaz K1. Njegov američki ekvivalent prilaže se u privitku kao Dokaz K2.

Glavni način liječenja peptičkog ulkusa bio je davanje antacida radi neutraliziranja prekomjerne želučane kiseline (koja potiče nastanak čira i sprječava liječenje), ali je to pružalo tek privremeno ublažavanje tegoba. Alternativa je bila operativni zahvat (gastrektomija i/ili vagotomija). Međutim, kirurški zahvat je često puta bio povezan s teškim nuspojavama i stoga se dugo tragalo za farmakološkim nadzorom nad složenim mehanizmom lučenja želučane kiseline.

Prigovor na patent EPXXXXX
Podnositelji prigovora predlažu poništavanje patenta u cijelosti temeljem članaka 100.(a), (b) i (c) Europske konvencije o patentima. Podnositelji prigovora naročito predlažu da patentni zahtjevi od 1. do 14. budu poništeni ili izmijenjeni na način da ne budu protivni člancima 52. do 57., 83. i 123.(2) Europske konvencije o patentima. Podnositelji prigovora oslanjaju se na europski patent broj 12345 koji je priznat 15. prosinca 2004. godine. Osporavani patent je izdvojeni dio iz EP67890 za koji je prijava podnesena 8. srpnja 1996. godine kojim se traži pravo prvenstva patenta US 101010 prijavljenog 17. srpnja 1995. godine. Patent sadrži četiri nezavisna patentna zahtjeva (1., 4., 5. i 6.) usmjerena na XYZ oblika II. i četiri nezavisna patentna zahtjeva (7., 9., 10. i 11.) usmjerena na XYZ oblika IV.: člankom 56. Europske konvencije o patentima propisano je da se smatra da izum ima inventivnu razinu ukoliko, imajući u vidu stanje tehnike, nije očigledan stručnoj osobni iz tog područja.
Croatian to English: Telekomunikacije - Propisi / Telecommunications – Regulations
Source text - Croatian

MEĐUSOBNO POVEZIVANJE
U skladu s odredbom članka 7. stavak 1. Pravilnika o pristupu mreži i međusobnom povezivanju, (dalje u tekstu: Pravilnik o interkonekciji), cijene međusobnog povezivanja operatora za međusobno povezivanje sa znatnijom tržišnom snagom na tržištu javnih govornih usluga u nepokretnoj telekomunikacijskoj mreži, na tržištu usluga iznajmljenih telekomunikacijskih vodova, te operatora pokretne telekomunikacijske mreže koji su proglašeni operatorima sa znatnijom tržišnom snagom na tržištu međusobnog povezivanja, moraju biti u skladu s načelima transparentnosti i troškovne usmjerenosti, te se moraju temeljiti na stvarnim troškovima usluge koja se pruža, uključujući i razumnu stopu povrata ulaganja.

Za dokazivanje utemeljenosti cijena međusobnog povezivanja na tim troškovima odgovoran je operator za međusobno povezivanje koji obavlja međusobno povezivanje. Nadalje, odredba članka 7. stavak 12. istog Pravilnika, navodi da ako operator za međusobno povezivanje ne može dokazati troškovnu usmjerenost svojih cijena međusobnog povezivanja, Vijeće Agencije može utvrditi cijene međusobnog povezivanja u skladu s praksom u zemljama članicama Europske unije, a temelji se na referentnim vrijednostima cijena međusobnog povezivanja, uvažavajući stanje na domaćem telekomunikacijskom tržištu i gospodarske interese operatora.


PRENOSIVOST BROJA
I PREDODABIR OPERATORA
(1) Operatori i davatelji usluga sa znatnijom tržišnom snagom na tržištu javnih govornih usluga u nepokretnoj telekomunikacijskoj mreži su obvezni omogućiti svojim pretplatnicima slobodan predodabir operatora za sljedeće vrste poziva:
a) međunarodne pozive,
b) nacionalne pozive,
c) lokalne pozive,
d) pozive prema pokretnim telekomunikacijskim mrežama,
e) sve pozive.
(2) Nacionalni poziv se smatra poziv prema nacionalnom zemljopisnom broju različitog zemljopisnog područja u kojem je poziv započet.
(3) Lokalni poziv se smatra poziv prema nacionalnom zemljopisnom broju istog zemljopisnog područja u kojem je poziv započet.
(4) Svi pozivi se smatraju međunarodni, nacionalni, lokalni i pozivi prema pokretnim telekomunikacijskim mrežama.
(5) Odabir opcije «e) sve pozive» ne može se kombinirati niti s jednom od prethodno navedenih opcija iz stavka (1).
Translation - English

INTERCONNECTION
In accordance with the provision laid down in Article 7, paragraph 1 of the Ordinance on Network Access and Interconnection (hereinafter referred to as: Interconnection Ordinance), the interconnection rates of interconnection operators with a significant market power on the market of public voice services in the fixed telecommunications network or on the market of leased telecommunications lines services, and of mobile telecommunications network operators having been proclaimed operators with a significant market power on the interconnection market, shall be in compliance with the principles of transparency and cost-orientation and be based upon the actual costs of the provided service, including a reasonable rate of return on investments.

The interconnection operator performing the interconnection shall be liable for the provision of evidence that the interconnection rate is based upon these costs. Furthermore, the provision laid down in Article 7, paragraph 12 of the said Ordinance prescribes that if the interconnection operator may not provide evidence of the cost-orientation of its interconnection rates, the Agency Council may determine the interconnection rates in accordance with the practice in the EU member states, which is based upon the benchmark interconnection rates, while taking into account the situation on the domestic telecommunications market and the economic interest of the operator.

NUMBER PORTABILITY
& CARRIER PRESELECTION
(1) Operators and service providers with a significant market power on the market of public voice services in the fixed telecommunications network shall have the obligation to enable free carrier preselection to their Subscribers for the following types of calls:
a) international calls,
b) national calls,
c) local calls,
d) calls to mobile telecommunications networks,
e) all calls.
(2) A national call shall mean a call to a national geographic number from a different geographic area other than that in which the call has been originated.
(3) A local call shall mean a call to a national geographic number from the same geographic area in which the call has been originated.
(4) All calls shall mean international, national, local calls and calls to the mobile telecommunications networks.
(5) The selection of the "e) all calls" option may not be combined with any of the options listed above in paragraph (1).
English to Croatian: Law - Contracts / Pravo - Ugovori
Source text - English

ARBITRATION
1 The Arbitral Tribunal shall decide all questions relating to its competence and shall, subject to the provisions of this Section and except as the parties shall otherwise agree, determine its procedure. All decisions of the Arbitral Tribunal shall be by majority vote.

2 The Arbitral Tribunal shall afford to all parties a fair hearing and shall render its award in writing. Such award may be rendered by default. An award signed by a majority of the Arbitral Tribunal shall constitute the award of the Arbitral Tribunal. A signed counterpart of the award shall be transmitted to each party. Any such award rendered in accordance with the provisions of this Section shall be final and binding upon the parties to the Loan Agreement and the Guarantee Agreement. Each party shall abide by and comply with any such award rendered by the Arbitral Tribunal in accordance with the provisions of this Section.

3 The parties shall fix the amount of the remuneration of the arbitrators and such other persons as are required for the conduct of the arbitration proceedings. If the parties do not agree on such amount before the Arbitral Tribunal convenes, the Arbitral Tribunal shall fix such amount as shall be reasonable under the circumstances. The Bank, the Borrower and the Guarantor shall each defray its own expenses in the arbitration proceedings. The costs of the Arbitral Tribunal shall be divided between and borne equally by the Bank on the one side and the Loan Parties on the other. Any question concerning the division of the costs of the Arbitral Tribunal or the procedure for payment of such costs shall be determined by the Arbitral Tribunal.

SETTLEMENT OF DISPUTES
1 Decisions and clarifications pertaining to specific issues in execution of this Contract shall be carried out by each Party's contacts specified in Appendix 5 herein.

2 Issues that the contacts are unable to settle in agreement within 15 (fifteen) days after the origination of dispute or that exceed their authority in decision-making, especially those pertaining to significant obligations set forth herein, shall without delay be forwarded by the coordinator to Parties' competent persons in a form of written report on the issue.

3 All disputes that may result from this Contract that fall under the jurisdiction of a competent regulatory body shall be settled by this body.

4 All disputes that may arise from or in connection with this Contract, including those pertaining to issues of its valid origination, breach or termination, as well as legal effects of the above stated which do not fall under the jurisdiction of the competent regulatory body, Parties agree to settle before the competent court in Zagreb.

5 Parties agree that in practicing their rights set forth herein, each Party has the right to request from the competent court the issuing of interim measures.
Translation - Croatian

ARBITRAŽA
1. Arbitražni sud odlučuje o svim pitanjima koja se odnose na njegovu nadležnost i, podložno odredbama iz ovog Odjeljka i ukoliko se strane ne suglase drugačije, utvrđuje svoj postupak. Sve odluke Arbitražnog suda donose se većinom glasova.

2. Arbitražni sud omogućit će svim stranama pravično saslušanje i donijet će svoj pravorijek u pisanom obliku. Navedeni pravorijek može biti donesen i u odsutnosti strana. Pravorijek potpisan od strane većine Arbitražnih sudaca činit će pravorijek Arbitražnog suda. Potpisani primjerak pravorijeka dostavlja se svakoj strani. Svaki takav pravorijek donesen sukladno odredbama ovog Odjeljka bit će konačan i obvezujući za ugovorne strane iz Ugovora o zajmu i Ugovora o jamstvu. Svaka strana će se pridržavati i postupiti po bilo kojem takvom pravorijeku donesenom od strane Arbitražnog suda sukladno odredbama ovog Odjeljka.

3. Strane će utvrditi iznos naknade arbitražnih sudaca i drugih osoba koje su potrebne za vođenje arbitražnog postupka. Ukoliko se strane ne suglase o navedenom iznosu prije zasjedanja Arbitražnog suda, Arbitražni sud utvrdit će navedeni iznos na način koji bude razuman u danim okolnostima. Banka, Zajmoprimac i Jamac snose svoje vlastite troškove arbitražnog postupka. Troškovi Arbitražnog suda dijele se između i snose ih u jednakom dijelu Banka, s jedne strane, i ugovorne strane iz Ugovora o zajmu, s druge strane. O svakom pitanju koje se odnosi na podjelu troškova Arbitražnog suda ili na postupak plaćanja navedenih troškova odlučuje Arbitražni sud.


RJEŠAVANJE SPOROVA
1. Odluke i pojašnjenja koja se odnose na posebna pitanja u izvršenju ovog Ugovora provodit će kontakt osobe svake Ugovorne strane sukladno utvrđenom u Dodatku 5. ovog Ugovora.

2. Pitanja koja kontakt osobe ne mogu sporazumno riješiti u roku od 15 (petnaest) dana od nastanka spora ili koja prelaze njihove ovlasti na području odlučivanja, naročito ona koja se odnose na značajne obveze koje su utvrđene u ovom Ugovoru, koordinator će neodložno proslijediti nadležnim osobama Ugovornih strana u obliku pisanog izvješća o pitanju.

3. Svi sporovi koji bi mogli proizaći iz ovog Ugovora i koji su u nadležnosti nadležnog regulatorskog tijela, bit će riješena od strane tog tijela.

4. Svi sporovi koji bi mogli nastati iz ili u svezi s ovim Ugovorom, uključujući one koji se odnose na pitanja njegovog valjanog nastanka, povrede ili prestanka kao i na pravne učinke gore navedenog koji nisu u nadležnosti nadležnog regulatorskog tijela, Ugovorne strane su suglasne riješiti pred nadležnim sudom u Zagrebu.

5. Ugovorne strane su suglasne da u korištenju svojih prava sukladno utvrđenom u ovom Ugovoru svaka Ugovorna strana ima pravo zatražiti od nadležnog suda donošenje privremenih mjera.
Croatian to English: Pravo / Law
Source text - Croatian

SUDSKI POSTUPAK
1. protiv I. osumnjičenog XX i II. osumnjičenog YY, odrediti pritvor temeljem čl. 102. st. 1. t. 2. i točka 4. Zakona o kaznenom postupku,

2. temeljem čl. 11. Konvencije o pranju, traganju, privremenom oduzimanju i oduzimanju prihoda stečenog kaznenim djelom (Narodne novine-Međunarodni ugovori br. 14/97), preko Ministarstva unutarnjih poslova Republike Hrvatske, Ravnateljstva policije, Uprave kriminalističke policije, Odjela gospodarskog kriminaliteta i korupcije, te Odjela Interpola, kao središnjeg tijela u smislu Konvencije, radi prosljeđivanja Uredu za sprječavanje pranja novca Republike Austrije, a u svezi s čl. 219. st. 5., 6. i 7. Zakona o kaznenom postupku, te čl. 136. 467. Zakona o kaznenom postupku, zatražiti privremenu mjeru zamrzavanja novčanog iznosa preostalog na računima (dolarskom i eurskom) tvrtke XYZ u ABC banci, po kojim računima je jedini ovlaštenik za raspolaganje i podizanje novca XX, kao i zamrzavanja tj. zapljene novca, dokumentacije i predmeta tj. svega onoga što se nađe u sefu XX u ABC banci, radi sprječavanja svakog raspolaganja novcem na računima, te novcem i predmetima koji se nalaze u sefu,

3. budući da je I. osumnjičenik pribavio sebi protupravnu imovinsku korist, koja se po službenoj dužnosti mora oduzeti sukladno čl. 82. Kaznenog zakona, a kako osumnjičenici solidarno odgovaraju za nastalu štetu i ukupnu tako pribavljenu korist, to predlažem temeljem čl. 467. u svezi s čl. 136. Zakona o kaznenom postupku, te čl. 293. do 297. Ovršnog zakona, od istražnog suca Županijskog suda u Splitu odrediti privremenu mjeru.
Translation - English

LEGAL ACTION
1 that the first suspect XX and the second suspect YY be placed in custody pursuant to Article 102, paragraph 1, item 2 and item 4 of the Code of Criminal Procedure;

2 pursuant to Article 11 of the Convention on Laundering, Search, Seizure, and Confiscation of the Proceeds from Crime ("Official Gazette" of the Republic of Croatia – International Agreements No. 14/97), through the intermediary of the Ministry of the Interior of the Republic of Croatia, General Police Directorate. Criminal Investigation Department, Economic Crime and Corruption Section, and the Interpol Section, as the central authority in the sense of the Convention, for the purpose of transmission to the Office for the Prevention of Money Laundering of the Republic of Austria, and in connection with Article 219, paragraphs 5, 6 and 7 of the Code of Criminal Procedure and of Articles 136 and 467 of the Code of Criminal Procedure, request as a temporary injunction to freeze the funds available on the (dollar and euro) accounts of the company XYZ with the ABC Bank, the only person authorized to dispose of and withdraw the funds available on these accounts being XX, as well as to freeze, i.e. to seize the money, documents and items, i.e. everything to be found in the safety deposit box of XX in the ABC Bank, for the purpose of preventing any disposal of the money on the accounts and of the money and items deposited in the safety deposit box;

3 in view of the fact that the first suspect has obtained an unlawful material benefit for himself and for others, which is to be confiscated ex officio in accordance with Article 82 of the Criminal Code, and since the suspects are jointly liable for the damage caused and the whole benefit so obtained, I request, pursuant to Article 467 in connection with Article 136 of the Code of Criminal Procedure as well as pursuant to Articles 293 to 297 of the Seizure Act, from the investigating magistrate of the County Court in Split to grant a temporary injunction.
Croatian to English: Financije - Porezi / Finance - Taxation
Source text - Croatian

POREZ PO ODBITKU
Porez po odbitku plaća se po stopi od 15%. Iznimno, porez po odbitku ne plaća se na kamate isplaćene:
- na robne kredite za kupnju dobara koja obvezniku služe za obavljanje djelatnosti,
- na kredite koje daje inozemna banka ili druga financijska organizacija,
- imateljima obveznica, državnih ili korporativnih, inozemnim pravnim osobama.

Ukoliko je primatelj naknade fizička osoba – nerezident, porez po odbitku iznosi 35%.

Porez po odbitku plaća se sukladno lokalnom zakonu u slučaju ako ne postoji Ugovor o izbjegavanju dvostrukog oporezivanja sa zemljom u kojoj je sjedište primatelja naknade. Ukoliko sa zemljom u kojoj je sjedište primatelja naknade postoji Ugovor o izbjegavanju dvostrukog oporezivanja tada se primjenjuju stope poreza po odbitku iz relevantnog ugovora.
Translation - English

WITHHOLDING TAX
The withholding tax is payable at a rate of 15%. As an exception, the withholding tax is not payable on interests paid on:
- commodity loans for the purchase of goods that are used by the taxpayer for the operation of its business,
- loans granted by a foreign bank or other financial institution,
- holders of state or corporate bonds, foreign legal persons.

If the recipient of the fee is a natural person – non-resident, the rate of the withholding tax is 35%

The withholding tax is payable in accordance with the local laws in the event that no Double Taxation Avoidance Agreement has been signed with the country where the recipient of the fee has its registered office. If a Double Taxation Avoidance Agreement has been signed with the country where the recipient of the fee has its registered office, then the rates of the withholding tax under the relevant agreement are applicable.
English to Croatian: Medical equipment / Medicinska oprema
Source text - English

MANUAL
1 The Cardiovascular Imaging System incorporates an exclusive Solid-State Digital Detector. This is a fully integrated imaging system that meets all clinical needs for interventional and diagnostic angiographies procedures with advanced image quality, innovative dose management and ease of positioning.

2 The gantry, collimator, and MLC are the parts of the accelerator that deliver treatments. The accelerator is located in a room that is shielded to prevent radiation exposure when the treatment room door is closed.

3 The gantry contains the mechanisms for accelerating the beam and delivering the treatment through beam-shaping devices. The gantry can rotate 3600 around the treatment couch to deliver treatments. The upper part of the gantry contains:
• Electron gun that controls dose rate and injects a stream of electrons into the accelerator.
• Automatic frequency control system (AFC) that senses the operating frequency of the accelerator structure and varies the operating frequency of the radio-frequency driver and microwave power tube to maintain constancy of radiation output.
• Linear accelerator guide that maintains optimal bunching for different acceleration conditions and transports the standing waves of the energy beam.
• Vacuum system that maintains the high vacuum needed for operation of the accelerator structure and electron gun.
• The head of the gantry includes a bend magnet that directs the path of the electron beam around 270° from its incoming orientation.
Translation - Croatian

PRIRUČNIK
1. U sustavu kardiovaskularnog oslikavanja ugrađen je ekskluzivni poluvodički digitalni detektor. Ovo je potpuno integrirani sustav oslikavanja koji ispunjava sve kliničke potrebe za interventne i dijagnostičke angiografske postupke s unaprijeđenom kvalitetom slike, inovativnim upravljanjem dozom i jednostavnošću pozicioniranja.

2. Stativ, kolimator i višeslojni kolimator su dijelovi akceleratora koji isporučuju tretmane. Akcelerator se nalazi u prostoriji koja je zaštićena kako bi se izbjeglo izlaganje zračenju kada su vrata prostorije u kojoj se provodi tretman zatvorena.

3. Stativ sadrži mehanizme za ubrzavanje snopa i za isporuku tretmana kroz uređaje za oblikovanje snopa. Stativ se može okretati za 360˚ oko ležaja za obradu radi isporuke tretmana. Gornji dio stativa sadrži:
• Top za elektrone koji kontrolira količinu doze i ubrizgava strujanje elektrona u akcelerator.
• Sustav za automatsko upravljanje frekvencijom (AFC) koji bilježi radnu frekvenciju strukture akceleratora i varira radnu frekvenciju radio-frekvencijskog pogonskog sklopa i cijevi za mikrovalnu energiju kako bi se osigurala stalnost izlaznih zraka.
• Vodilica linearnog akceleratora koja održava optimalno usnopljavanje za različite uvjete ubrzavanje i transport stalnih valova snopa energije.
• Vakuumski sustav koji održava visoki vakuum koji je potreban za rad strukture akceleratora i topa za elektrone.
• Glava stativa sadrži magnet za savijanje snopa koji usmjerava putanju snopa elektrona oko 270° od svog ulaznog usmjerenja.
Croatian to English: Nabava / Procurement
Source text - Croatian

POZIV NA NATJEČAJ
Konzultant će, na temelju ovog projektnog zadatka, tehničke dokumentacije dobivene od naručitelja (uključujući idejno rješenje, geotehničko izvješće i lokacijsku dozvolu) i vlastitih iskustava analizirati i po potrebi provjeriti sve dostupne podatke, izvesti sve navedene i nenavedene radnje potrebne da se postignu osnovni ciljevi ovog ugovora. U svakom slučaju, konzultant će biti sam odgovoran za analizu i interpretaciju svih dobivenih i prikupljenih podataka kao i za rješenja koja će prezentirati kroz izvješća i projektna rješenja.

Projektnu dokumentaciju pod a), c) i d) treba izraditi u skladu sa važećim Zakonom o gradnji RH, tehničkim propisima za strukovne oblasti koje obuhvaća ovaj projektni zadatak i ostalim važećim propisima.

Konsultant će sudjelovati u postupcima ishođenja dozvola pod b) i e), u cilju da taj postupak bude dovršen u najkraćem mogućem roku i da rezultira traženim dozvolama.

Dokumentaciju za nadmetanje pod f) će izraditi prema smjernicama i uputama za projekte koji se financiraju iz zajmova Svjetske banke.

Dokumentaciju pod g) izraditi će se u slučaju da konzultant pregledom postojećih istražnih radova obavljenih 80-tih godina prošlog stoljeća te geotehničkih istražnih radova izvedenih po Programu iz Idejnog rješenja zaključi da za izradu Idejnog i Glavnih projekata nužno obaviti dodatne geotehničke istražne radove.
Translation - English

INVITATION TO TENDER
The Consultant shall, pursuant to this project assignment, the technical documents provided by the Client (including the Conceptual Design, the geotechnical report and the zoning permit) and based upon its own experience, analyze and, if necessary, check all available data, undertake all designated and non-designated activities required in order to achieve the basic objectives of this contract. In any case, the Consultant shall be solely liable for the analysis and interpretation of all received and collected data as well as for the designs that it shall present in the reports and project designs.

The project documents referred to under items a), c) and d) shall be prepared in accordance with the Building Act of the Republic of Croatia currently in force, the technical regulations from the various technical fields involved in this project assignment and other regulations as may be in force.

The Consultant shall participate in the procedures aimed at obtaining the permits referred to in items b) and e) for the purpose of having this procedure completed as soon as possible and to result in the grant of the requested permits.

The bidding documents referred to in item f) shall be prepared according to the guidelines and instructions for projects financed under loans of the World Bank.

The documents referred to in item g) shall be prepared in the event that the Consultant shall come to the conclusion, after having examined the existing investigation works performed in the eighties of the last century and the geotechnical investigation works performed pursuant to the Program contained in the Conceptual Design, that it is indispensable to perform additional geotechnical investigation works for the purpose of the preparation of the Conceptual and Final Designs.
French to Croatian: Propriété intellectuelle / Intelektualno vlasništvo
Source text - French

LE DROIT D'AUTEUR
Le seul rôle de la Cour, dans une telle situation, peut être, dans le cadre d'un litige porté devant elle, d'inviter les États membres à faire respecter de la façon la plus uniforme possible, sur le territoire de la Communauté, la notion de rémunération équitable, laquelle doit s'analyser, au regard des objectifs de la directive 92/100, précisés notamment dans ses considérants, comme étant de nature à permettre d'atteindre un équilibre adéquat entre l'intérêt des artistes interprètes ou exécutants et des producteurs de phonogrammes à percevoir une rémunération au titre de la radiodiffusion d'un phonogramme déterminé et l'intérêt des tiers à pouvoir radiodiffuser ce phonogramme dans des conditions raisonnables.

Ainsi que le souligne la Commission, cette rémunération, qui représente la contre-prestation de l'utilisation d'un phonogramme commercial, en particulier à des fins de radiodiffusion, implique que son caractère équitable soit, notamment, analysé au regard de la valeur de cette utilisation dans les échanges économiques.

Il convient donc de répondre à la première question que la notion de rémunération équitable figurant à l'article 8, paragraphe 2, de la directive 92/100 doit être interprétée d'une manière uniforme dans tous les États membres et mise en œuvre par chaque État membre, celui-ci déterminant, sur son territoire, les critères les plus pertinents pour assurer, dans les limites imposées par le droit communautaire, et notamment par ladite directive, le respect de cette notion communautaire.
Translation - Croatian

AUTORSKA PRAVA
Jedina uloga Suda, u takvoj situaciji, može biti da u okviru spora koji se iznosi pred sud pozove države članice da se na području Zajednice pobrinu za poštivanje na najujednačeniji mogući način pojma pravične naknade, koji se mora analizirati, u smislu ciljeva iz Direktive br. 92/100 koji su naročito precizirani u osnovama iste, kao pojam takve prirode da omogućuje ostvarivanje primjerene ravnoteže između interesa umjetnika izvođača ili izvršitelja i izdavača fonograma vezano za dobivanje naknade s osnove radijskog emitiranja određenog fonograma i interesa trećih osoba da taj fonogram mogu radijski emitirati po razumnim uvjetima.

Kako je to istaknula Komisija, ta naknada, koja predstavlja protučinidbu za korištenje komercijalnog fonograma, naročitu u svrhu radijskog emitiranja, podrazumijeva da njezino pravično obilježe bude, između ostalog, analizirano prema vrijednosti tog korištenja u gospodarskoj razmjeni.

Stoga valja odgovoriti na prvo pitanje da se pojam pravične naknade, koji se navodi u članku 8., stavak 2. Direktive br. 92/100 mora tumačiti na jedinstven način u svim državama članicama i da mora biti primijenjen od strane svake države članice, koja će, na svom teritoriju, utvrditi primjerenije kriterije kako bi osigurala poštivanje tog pojma Zajednice u granicama nametnutim pravom Zajednice i naročito navedenom Direktivom.
Croatian to French: Pravo - Ugovori / Droit - Contrats
Source text - Croatian

UGOVOR O UPRAVLJANJU
Upravitelj se obvezuje izraditi:
- prijedlog programa rada koji sadržava popis planiranih radova i potrebnih sredstava u narednoj godini i to najkasnije do 30. studenog tekuće godine, koji se program dostavlja Vlasniku
- za svaki posao koji se obavlja tijekom godine dužan je izraditi troškovnik, voditi nadzor i preuzeti posao,
- završni račun za prethodnu godinu, u skladu sa zakonskim odredbama, i evidenciju korisnika.

Upravitelj je dužan ugovarati i potpisivati sve ugovore koje ocjeni nužnim za poslovanje Galerije, a naročito ugovore o komercijalizaciji prostora i zakupu.

Upravitelj se obvezuje sve poslove koji su predmet ovog Ugovora obavljati s pažnjom dobrog gospodara, što između ostalog znači čuvati interese svih korisnika Galerije.

VIŠA SILA
Ugovorne stranke oslobađaju se odgovornosti za neispunjenje svih ili dijela obveza preuzetih ovim Ugovorom, ukoliko je do neispunjenja došlo uslijed više sile. Višom silom se smatraju okolnosti koje nastupe nakon potpisivanja ovog Ugovora uslijed pojava izvanredne prirode, koje ugovorne stranke nisu mogle predvidjeti niti spriječiti uobičajenim razumnim sredstvima.

Pod višom silom se naročito, ali ne isključivo smatraju pojave kao što su poplava, požar, potres, i druge elementarne nepogode te rat, vojna djelovanja, i postupci državnih tijela, kao i druge okolnosti koje su nisu pod nadzorom ugovornih stranaka.

Ukoliko nastupi slučaj više sile ugovorna strana je dužna odmah izvijestiti drugu ugovornu stranku.
Translation - French

CONTRAT DE GESTION
Le Gestionnaire s'engage à établir :
- un projet de plan d'action qui comprendra une liste des activités prévues et des fonds nécessaires pour l'année suivante, et ce au plus tard avant le 30 Novembre de l'année en cours, plan qui sera transmis au Propriétaire,
- pour tous les travaux qui seront entrepris au cours de l'année, il est tenu de procéder à une estimation des coûts, d'assurer la supervision et de prendre les travaux en charge,
- le bilan pour l'année précédente, conformément aux dispositions légales, et une liste des utilisateurs.

Le Gestionnaire est tenu de négocier et de signer tous les contrats qu'il considère indispensables à l'exploitation de la Galerie, et en particulier les contrats de commercialisation des locaux et de bail.

Le Gestionnaire s'engage a effectuer toutes les tâches qui font l'objet de ce Contrat avec les soins d'un bon gestionnaire, ce qui signifie entre autres la protection des intérêts de tous les utilisateurs de la Galerie.

FORCE MAJEURE
Les parties contractantes seront dégagées de toute responsabilité pour le non-respect, en partie ou en totalité, des engagements pris en vertu de ce Contrat, dans le cas où leur non-respect résulte d'un cas de force majeure. Par cas de force majeure on entend les circonstances survenues après la signature de ce Contrat à la suite de l'apparition d'évènements d'un caractère extraordinaire que les parties contractantes ne pouvaient ni prévoir ni empêcher par des mesures habituelles et raisonnables.

Par cas de force majeure on entend en particulier, sans caractère limitatif, les événements tels que les inondations, incendies, tremblements de terre et autres catastrophes naturelles, ainsi que les guerres, actions militaires et actes des autorités gouvernementales, ainsi que d'autres circonstances qui ne sont pas sous le contrôle des parties contractantes.

En cas de survenance d'un cas de force majeure, la partie contractante est tenue d'en informer immédiatement l'autre partie contractante.
French to Croatian: Droit / Pravo
Source text - French

STATUTS
Article 6 – Composition et réunions de l'Assemblée Générale
L'Assemblée Générale est composée par les délégués représentant les organisations adhérentes, membres actifs et membres associés de l'Association.

L'Assemblée Générale se réunit au moins une fois l'an, sur convocation du Président en exercice, adressée quinze jours à l'avance. S'il l'estime nécessaire, le Président peut également convoquer l'Assemblée Générale après avis du Conseil Exécutif.

L'Assemblée Générale doit être également convoquée sur demande adressée au Président et signée au moins, soit par le quart des délégués des membres actifs, soit par la majorité des membres du Conseil Exécutif. Elle ne peut alors délibérer valablement que si les deux tiers au moins des délégués des membres actifs sont présents ou représentés.

Article 7 – Ordre du jour
L'ordre du jour de l'Assemblée Générale est établi par le Conseil Exécutif sur proposition du Président, ou, le cas échéant, du groupe ayant demandé la réunion en application de l'article 6 dernier alinéa.

Article 8 – Pouvoirs
L'Assemblée Générale:
- élit le Président de l'Association dans les conditions prévues aux articles 15, 16 et 17 ;
- élit les membres du Conseil Exécutif dans les conditions prévues à l'article 13 ;
- élit les membres du Comité Statutaire dans les conditions prévues à l'article 21 ;
- se prononce sur le rapport général qui rend compte des activités depuis la précédente Assemblée Générale et définit les actions à mener dans le cadre des dispositions de l'article 1 ;
- se prononce sur le rapport financier du Conseil Exécutif dans les conditions prévues à l'article 24 ;
- ratifie les admissions et radiations prononcées par le Conseil Exécutif.

Article 9 – Vote
L'Assemblée Générale délibère valablement à la majorité simple de ses membres ayant voix délibérative et ayant pris part au vote personnellement ou par mandataire sauf dans les cas suivants : élection du Président (article 15), renouvellement du mandat du Président (article 16), modifications des statuts (article 26).
Translation - Croatian

STATUT
Članak 6. – Sastav i sjednice Glavne skupštine
Glavna skupština se sastoji od izaslanika, koji zastupaju organizacije članice, aktivne i pridružene članice Udruge.

Glavna skupština zasjeda najmanje jednom godišnje, a istu saziva predsjednik, koji je tada na dužnosti, pri čemu se obavijest o sazivanju upućuje petnaest dana unaprijed. Ukoliko to ocijeni potrebitim, predsjednik može također sazvati Glavnu skupštinu nakon dobivanja mišljenja od Izvršnog odbora.

Glavna skupština mora također biti sazvana na zahtjev, koji je upućen predsjedniku i koji je potpisan od strane najmanje jedne četvrtine izaslanika aktivnih članica, odnosno od strane polovice članova Izvršnog odbora. Tada može donositi valjane odluke isključivo u slučaju nazočnosti ili zastupljenosti najmanje dvije trećine izaslanika aktivnih članica.

Članak 7. – Dnevni red
Dnevni red Glavne skupštine utvrđuje Izvršni odbor na prijedlog predsjednika, ili, ovisno o slučaju, na prijedlog skupine koja je zatražila zasjedanje sukladno posljednjem stavku članka 6.

Članak 8. – Ovlaštenja
Glavna skupština:
- bira predsjednika Udruge sukladno uvjetima utvrđenim u člancima 15., 16. i 17.;
- bira članove Izvršnog odbora sukladno uvjetima utvrđenim u članku 13.;
- bira članove Statutarnog odbora sukladno uvjetima utvrđenim u članku 21.;
- izjašnjava se o općem izvješću o radu od prethodne Glavne skupštine, i utvrđuje mjere, koje trebaju biti poduzete u okviru odredbi iz članka 1.;
- izjašnjava se o financijskom izvješću Izvršnog odbora sukladno uvjetima utvrđenim u članku 24.;
- potvrđuje odluke Izvršnog odbora o primanju u članstvo i brisanju iz članstva.

Članak 9. – Glasovanje
Odluke Glavne skupštine su valjane ako su donesene običnom većinom glasova njezinih članova, koji imaju pravo odlučivanja i koji su sudjelovali u glasovanju, osobno ili posredstvom punomoćnika, uz izuzetak sljedećih slučajeva: izbor predsjednika (članak 15.), produživanje mandata predsjednika (članak 16.), izmjena Statuta (članak 26.).
Croatian to French: Pravo - Zakonski propisi / Droit - Législation
Source text - Croatian

ZAKON O RUDARSTVU
Članak 9.
Odobrenje za istraživanje mineralnih sirovina ili rudarsku koncesiju za eksploataciju mineralnih sirovina može se izdati, odnosno dodijeliti pravnoj osobi sa sjedištem u Republici Hrvatskoj registriranoj za obavljanje te djelatnosti (u daljnjem tekstu: trgovačko društvo) i fizičkoj osobi koja u Republici Hrvatskoj ima registriran obrt za obavljanje istraživanja ili eksploataciju mineralnih sirovina (u daljnjem tekstu: obrtnik).

Članak 10.
Pravo na istraživanje ili eksploataciju mineralnih sirovina na određenom području trgovačko društvo i obrtnik ostvaruju na osnovi odobrenja ili rudarske koncesije tijela državne uprave nadležnog za poslove rudarstva.
Odobrenje ili rudarska koncesija iz stavka 1. ovoga članka ne mogu se bez suglasnosti tijela državne uprave koji ih je izdao prenositi na drugu fizičku ili pravnu osobu i ne mogu biti predmetom stečajnog postupka.

Članak 16.
Za istraživanje mineralnih sirovina potrebno je odobrenje.
Odobrenje za istraživanje mineralnih sirovina iz članka 3. točke 1. do 5. ovoga Zakona, osim za naftu i plin, izdaje Ministarstvo gospodarstva.
Iznimno od odredbe stavka 2. ovoga članka odobrenje za istraživanje mineralne sirovine iz članka 3. točke 4. ovoga Zakona obrtniku izdaje ured državne uprave u jedinici područne (regionalne) samouprave nadležan za poslove rudarstva u suglasnosti s Ministarstvom gospodarstva.
Translation - French

LE CODE MINIER
Article 9
Un permis de prospection de substances minérales peut être délivré ou une concession minière pour l'exploitation de substances minérales accordée à une personne morale ayant son siège sur le territoire de la République de Croatie et immatriculée au Registre du Commerce et des Sociétés pour l'exercice de ces activités (ci-après : la société) ou à une personne physique immatriculée au registre des artisans de la République de Croatie pour l'exercice d'activités de prospection ou d'exploitation de substances minérales (ci-après: l'artisan).

Article 10
Les sociétés et les artisans exercent leur droit de prospection et d'exploitation des substances minérales dans un périmètre donné conformément au permis ou à la concession minière de l'organisme de l'administration de l'état chargé des affaires minières.
Le permis et la concession minière visés au paragraphe 1 de cet article ne peuvent être transférés à une autre personne physique ou morale sans le consentement de l'organisme de l'administration de l'état qui les a délivrés et ne peuvent faire l'objet d'une procédure de faillite.

Article 16
Un permis est requis pour la prospection de substances minérales.
Le permis de prospection des substances minérales visées à l'article 3, points 1 à 5 du présent Code, à l'exception du pétrole et du gaz, est délivré par le Ministère de l'Économie.
Par dérogation aux dispositions du paragraphe 2 de cet article, le permis de prospection des substances minérales visées à l'article 3, point 4 du présent Code est délivré à l'artisan par l'office de l'administration de l'état de l'unité administrative locale (ou régionale) chargé des affaires minières sur accord du Ministère de l'Économie.
Croatian to French: Projekt izgradnje marine / Projet de construction d'une marina
Source text - Croatian

Studija gospodarske opravdanosti
projekta za gradnju marine
Planirana marina imat će kapacitet od 272 veza u moru i oko 120 vezova na suhom, te sve prateće sadržaje koji moraju osigurati kvalitetu marine I. kategorije. Svi morski vezovi imat će mogućnost priključka vode, struje, fiksne telefonije i satelitske televizije.

Izgradnja marine dugoročno je planirana u dvije faze zbog ovisnosti o realizaciji drugih prije svega infrastrukturnih objekata. To se odnosi prije svega na izgradnju nove Jadranske autoceste kao zaobilaznice oko grada, čija izgradnja omogućuje drugačije korištenje postojećeg kompleksa i sadržaja okolo iste, te na konačno rješenje pročiščivača otpadnih voda, za cijelo gradsko naselje. No predmet ove studije u ovoj fazi je gospodarska analiza prve faze.
Translation - French

Étude de la justification économique
du projet de construction de la marina
La marina telle que prévue disposera d'une capacité de 272 postes d'amarrage en mer et de près de 120 postes d'amarrage à terre, ainsi que de toutes les installations annexes qui doivent assurer la qualité d'une marina de 1ère catégorie. Tous les postes d'amarrage en mer offriront la possibilité d'un branchement à l'alimentation en eau, électricité, téléphonie fixe et télévision par satellite.

A long terme, la construction de la marina a été prévue en deux phases du fait de la dépendance de la réalisation d'autres éléments, et principalement de l'infrastructure. Cela concerne avant tout la construction d'une nouvelle autoroute sur l'Adriatique ainsi que celle d'un périphérique autour de la ville, dont la construction permettra une utilisation différente du complexe actuel et des installations aux alentours, mais également la conception finale du système de purification des eaux usées pour toute l'agglomération municipale. Dans la phase actuelle, l'objet de cette étude porte sur l'analyse économique de la première phase.
German to Croatian: Recht – Verträge / Pravo - Ugovori
Source text - German

Geheimhaltung und Datenschutz
Die Vertragsparteien verpflichten sich, alle durch die andere Partei mitgeteilte oder ihr im Rahmen der Kooperation bekannt gewordene Tatsachen, Informationen und Daten, die sich auf diesen Vertrag, seinen Inhalt und seine Erfüllung und das zu seiner Erfüllung notwendige technische und sonstige "know-how" beziehen, und die weder offenkundig noch allgemein zugänglich sind, als vertraulich und geheim zu behandeln. Im Zweifel sind alle Tatsachen, Informationen und Daten als vertraulich und geheim zu werten.

Jede Nutzung von Informationen, Daten und Rechten der anderen Partei oder deren Weitergabe zu anderen Zwecken als der Erfüllung von Pflichten oder Ausübung von Rechten aus diesem Vertrag ist verboten.

Die Vertragspartner haben alle geeigneten Vorkehrungen zum Schutz und zur gesicherten Verwahrung aller vertragsrelevanten Daten und Informationen, sowie auch hinsichtlich der ihnen im Zusammenhang mit der Vertragserfüllung und Vertragsabwicklung allenfalls bekannt gewordenen Geschäftsgeheimnisse zu treffen.

Nach Beendigung des Vertrages oder auf Verlangen sind in Gewahrsame der anderen Partei befindlichen Unterlagen, die unter die Geheimhaltungspflicht fallende Informationen und Daten enthalten, insbesondere Kundendaten, vollständig zurückzugeben oder zu zerstören.
Translation - Croatian

Čuvanje tajne i zaštita podataka
Ugovorne strane se obvezuju čuvati povjerljivost i tajnu o svim činjenicama, informacijama i podacima koji su priopćeni od strane druge ugovorne strane ili koji su postali poznati u okviru suradnje, koji se odnose na ovaj Ugovor, njegov sadržaj i njegovo izvršenje kao i o tehničkom i drugom «znanju i umijeću» koje je potrebno za njegovo izvršenje, i koji nisu objavljeni niti dostupni javnosti. U slučaju dvojbe, sve činjenice, informacije i podaci moraju biti ocijenjeni povjerljivim i tajnim.

Zabranjeno je svako korištenje informacija, podataka i prava druge ugovorne strane ili njihovo prosljeđivanje u druge svrhe osim izvršenja obveza ili korištenja prava iz ovog Ugovora.

Ugovorne strane moraju poduzeti sve primjerene mjere predostrožnosti radi zaštite i sigurnog čuvanja svih podataka i informacija koje su relevantne za ovaj Ugovor kao i glede poslovnih tajni s kojima su eventualno upoznati vezano za ispunjenje Ugovora i izvršenje Ugovora.

Po prestanku Ugovora ili na zahtjev, dokumentacija koja je pohranjena kod druge ugovorne strane i koja sadrži informacije i podatke, a naročito podatke o korisnicima, na koje se obveza čuvanja tajne odnosi, mora biti u cijelosti vraćena ili uništena.
German to Croatian: Recht – Gesetz / Pravo - Zakon
Source text - German

BUNDESRECHTSANWALTSORDNUNG
§ 7 Versagung der Zulassung zur Rechtsanwaltschaft
Die Zulassung zur Rechtsanwaltschaft ist zu versagen,
1. wenn der Bewerber nach der Entscheidung des Bundesverfassungsgerichts ein Grundrecht verwirkt hat;
2. wenn der Bewerber infolge strafgerichtlicher Verurteilung die Fähigkeit zur Bekleidung öffentlicher Ämter nicht besitzt;
3. wenn der Bewerber durch rechtskräftiges Urteil aus der Rechtsanwaltschaft ausgeschlossen ist und seit Rechtskraft des Urteils noch nicht acht Jahre verstrichen sind, Nummer 5 bleibt unberührt;
4. wenn gegen den Bewerber im Verfahren über die Richteranklage auf Entlassung oder im Disziplinarverfahren auf Entfernung aus dem Dienst in der Rechtspflege rechtskräftig erkannt worden ist;
5. wenn der Bewerber sich eines Verhaltens schuldig gemacht hat, das ihn unwürdig
erscheinen lässt, den Beruf eines Rechtsanwalts auszuüben;
6. wenn der Bewerber die freiheitliche demokratische Grundordnung in strafbarer Weise bekämpft;
7. wenn der Bewerber infolge eines körperlichen Gebrechens, wegen Schwäche seiner
geistigen Kräfte oder wegen einer Sucht nicht nur vorübergehend unfähig ist, den Beruf eines Rechtsanwalts ordnungsmäßig auszuüben;
8. wenn der Bewerber eine Tätigkeit ausübt, die mit dem Beruf des Rechtsanwalts,
insbesondere seiner Stellung als unabhängiges Organ der Rechtspflege nicht vereinbar
ist oder das Vertrauen in seine Unabhängigkeit gefährden kann;
9. wenn der Bewerber sich im Vermögensverfall befindet; ein Vermögensverfall wird
vermutet, wenn ein Insolvenzverfahren über das Vermögen des Bewerbers eröffnet
oder der Bewerber in das vom Insolvenzgericht oder vom Vollstreckungsgericht zu
führende Verzeichnis (§ 26 Abs. 2 der Insolvenzordnung, § 915 der Zivilprozessordnung) eingetragen ist;
10. wenn der Bewerber Richter, Beamter, Berufssoldat oder Soldat auf Zeit ist, es sei denn, dass er die ihm übertragenen Aufgaben ehrenamtlich wahrnimmt oder dass seine Rechte und Pflichten aufgrund der §§ 5, 6, 8 und 36 des Abgeordnetengesetzes vom 18. Februar 1977 (BGBl. I S. 297) oder entsprechender Rechtsvorschriften ruhen.
Translation - Croatian

NJEMAČKI SAVEZNI ZAKON O ODVJETNIŠTVU
Članak 7. – Odbijanje zahtjeva za odvjetničkim ovlaštenjem
Zahtjev za odvjetničkim ovlaštenjem odbija se,
1. ukoliko podnositelj zahtjeva izgubi osnovno pravo temeljem odluke Saveznog ustavnog suda;
2. ukoliko podnositelj zahtjeva nema pravo obavljati javnu dužnost zbog kaznene osude;
3. ukoliko je podnositelj zahtjeva isključen iz odvjetništva temeljem pravomoćne presude i ukoliko je prošlo manje od osam godina od trenutka kada je navedena presuda postala pravomoćna; ovo ne utječe na stavak 5.;
4. ukoliko je pravomoćna sudska odluka donesena protiv podnositelja zahtjeva u postupku utvrđivanja odgovornosti, protiv suca ili u disciplinskom postupku radi razrješenja dužnosti u pravosudnom sustavu;
5. ukoliko je podnositelj zahtjeva kriv za ponašanje zbog kojega se čini nedostojnim za obavljanje djelatnosti njemačkog odvjetnika;
6. ukoliko se podnositelj zahtjeva protivi slobodnom demokratskom poretku na način koji je zakonom kažnjiv;
7. ukoliko podnositelj zahtjeva, iz zdravstvenih razloga, nije sposoban uredno obavljati djelatnost njemačkog odvjetnika na način koji nije privremen;
8. ukoliko podnositelj zahtjeva obavlja djelatnost koja je nespojiva s obavljanjem djelatnosti njemačkog odvjetnika, a naročito s njegovim statusom neovisnog tijela u pravosudnom sustavu, ili koja može potkopati povjerenje u neovisnost njemačkog odvjetnika;
9. u slučaju pogoršanja financijskog položaja podnositelja zahtjeva; pretpostavit će se da je to slučaj ukoliko je protiv podnositelja zahtjeva pokrenut postupak zbog nesolventnosti ili ukoliko je podnositelj zahtjeva upisan u upisnik kojeg vodi Sud za nesolventnost ili Ovršni sud (članak 26., stavak 2., Zakona o nesolventnosti, članak 915. Zakona o parničnom postupku;
10. ukoliko je podnositelj zahtjeva sudac, državni službenik, redovni vojnik ili vojnik na određeno vrijeme, osim ukoliko podnositelj zahtjeva obavlja svoje zadaće u počasnom svojstvu ili osim ukoliko prava i obveze podnositelja zahtjeva proizlaze iz članaka 5., 6., 8. i 36. Zakona o zastupnicima u parlamentu od 18. veljače 1977. godine (Savezni službeni list I str. 297.) ili iz ekvivalentnih zakonskih propisa.
Croatian to German: Pravo / Recht
Source text - Croatian

ODVJETNIŠTVO
Uvodno se napominje kako je odvjetništvo u Hrvatskoj temeljem članka 27. Ustava Republike Hrvatske ("Narodne novine" br. 41 i 55; u daljnjem tekstu: Ustav) kao i člancima 1. i 2. Zakona o odvjetništvu ("Narodne novine" br. 9/94) ustrojeno kao neovisna i samostalna služba koja osigurava pružanje pravne pomoći. Samostalnost i neovisnost odvjetništva ostvaruje se ustrojstvom odvjetništva u Hrvatsku odvjetničku komoru, kao jedinu Ustavom i Zakonom predviđenu samostalnu i neovisnu organizaciju svih odvjetnika kojima je dozvoljeno profesionalno djelovanje na teritoriju Republike Hrvatske. Hrvatska odvjetnička komora je ovlaštena na donošenje svojega Statuta i općih akata te jedina odlučivati o stjecanju i prestanku prava na obavljanje odvjetništva, čime se ostvaruje autonomni ustroj odvjetništva u skladu s čl. 27. Ustava.

Hrvatska odvjetnička komora ima ovo isključivo ustavno i zakonsko pravo u odlučivanju o stjecanju i gubitku prava na obavljanje odvjetničke djelatnosti u Hrvatskoj za sve organizacijske oblike obavljanja odvjetničke djelatnosti na području Republike Hrvatske, uključujući i za odvjetnička društva, jer niti jedan odvjetnik u odvjetničkom društvu ne može djelovati u tom svojstvu ukoliko nije istodobno član Hrvatske odvjetničke komore - za što mora ispunjavati sve Ustavom i Zakonom predviđene uvjete. Hrvatska odvjetnička komora stoga ima nezaobilaznu dvojaku funkciju: s jedne strane je jamac ustavnog načela samostalnosti i neovisnosti odvjetništva, dok s druge strane predstavlja autonomni mehanizam nadzora i kontrole nad odvjetničkom profesijom.
Translation - German

DIE RECHTSANWALTSCHAFT
Einleitend wird erwähnt, dass die Rechtsanwaltschaft in Kroatien aufgrund § 27 der Verfassung der Republik Kroatien (Amtsblatt der Republik Kroatien Nr. 41 und 55; nachfolgend "Verfassung" genannt) sowie §§ 1 und 2 des Rechtsanwaltsgesetzes (Amtsblatt der Republik Kroatien Nr. 9/94) als eine unabhängige und selbständige Stelle organisiert ist, welche die Leistung von Rechtshilfe gewährleistet. Die Selbständigkeit und Unabhängigkeit der Rechtsanwaltschaft wird durch die Organisierung der Rechtsanwaltschaft zu der Kroatischen Rechtsanwaltskammer geschaffen, als die einzige durch die Verfassung und das Gesetz vorgeschriebene Organisation aller Rechtsanwälte, denen die Berufsausübung auf dem Gebiet der Republik Kroatien gestattet ist. Die Kroatische Rechtsanwaltskammer ist befugt, ihre Satzung und allgemeinen Akten anzunehmen und als die einzige über den Erwerb und das Erlöschen des Rechts auf die Ausübung der Rechtsanwaltschaft, wobei sie eine unabhängige Organisation der Rechtsanwaltschaft in Übereinstimmung mit § 27 der Verfassung schafft.

Der Kroatischen Rechtsanwaltskammer steht dieses verfassungsmäßige und gesetzliche Recht auf Exklusivität in der Beschlussfassung über den Erwerb und das Erlöschen des Rechts auf die Ausübung der Rechtsanwaltschaft in Kroatien für alle organisatorischen Formen von Ausübung der Rechtsanwaltschaft auf dem Gebiet der Republik Kroatien zu, einschließlich der Rechtsanwaltsgesellschaften, weil keinem Rechtsanwalt in einer Rechtsanwaltsgesellschaft gestattet ist, in solcher Eigenschaft berufstätig zu sein, wenn er nicht gleichzeitig auch Mitglieder der Kroatischen Rechtsanwaltskammer ist – wofür er alle durch die Verfassung und das Gesetz vorgeschriebenen Bedingungen erfüllen muss. Die Kroatische Rechtsanwaltskammer hat deshalb eine unvermeidliche Doppelfunktion: einerseits leistet sie Bürgschaft für den Verfassungsgrundsatz der Unabhängigkeit und Selbständigkeit der Rechtsanwaltschaft, wobei sie andererseits den unabhängigen Aufsichts- und Kontrollmechanismus der Rechtsanwaltschaft darstellt.
Croatian to German: Pravo – Ugovori / Recht – Verträge
Source text - Croatian

DRUŠTVENI UGOVOR
Članak 12.
Uprava društva ima pravo sazivati skupštinu društva. To pravo ima i svaki član društva u slučaju da uprava društva ne sazove skupštinu društva u roku od 15 (petnaest) dana od dana podnošenja zahtjeva jednog člana društva za sazivanjem skupštine društva.

Uprava ima obvezu obavijestiti sve članove društva o datumu i dnevnom redu skupštine najmanje 7 (sedam) dana prije dana održavanja skupštine društva.

Članak 13.
Odluke skupštine društva su valjane kada su nazočni članovi društva koji zastupaju najmanje 60% temeljnog kapitala. Ukoliko temeljni kapital nije zastupljen na skupštini u navedenom omjeru, skupština se odgađa te se saziva nova skupština s istim dnevnim redom u roku od 15 dana od odgođene skupštine.

Prigodom sazivanja skupštine uprava društva ima obvezu ponoviti propisani postupak sazivanja i upozoriti članove društva da će nova skupština moći donositi valjane odluke bez obzira na visinu kapitala zastupljenog na skupštini.
Translation - German

GESELLSCHAFTSVERTRAG
§ 12
Das Recht auf die Einberufung der Gesellschafterversammlung steht dem Vorstand der Gesellschaft zu. Dieses Recht steht auch jedem Gesellschafter zu, im Falle, dass die Gesellschafterversammlung von dem Vorstand innerhalb von 15 (fünfzehn) Tagen vom Tag der Einreichung des Antrags eines Gesellschafters auf Einberufung der Gesellschafterversammlung nicht einberufen wird.

Der Vorstand ist verpflichtet, alle Gesellschafter mindestens 7 (sieben) Tage vor dem Tag der Gesellschafterversammlung von dem Termin und der Tagesordnung der Gesellschafterversammlung zu benachrichtigen.

§ 13
Die Gesellschafterversammlung der Gesellschaft ist beschlussfähig, wenn die Gesellschafter dabei anwesend sind, die mindestens 60 % des Stammkapitals vertreten. Sollte bei der Gesellschafterversammlung das Stammkapital nicht in der oben erwähnten Höhe vertreten sein, ist die Gesellschafterversammlung zu vertagen und innerhalb einer Frist von 15 Tagen vom Tage der Vertagung mit derselben Tagesordnung wieder einzuberufen.

Bei der Einberufung der Gesellschafterversammlung ist der Vorstand der Gesellschaft dazu verpflichtet, das vorgesehene Einberufungsverfahren zu wiederholen, mit der Vorwarnung zu den Gesellschaftern, dass die neue Gesellschafterversammlung ohne Rücksicht auf die Höhe des bei der Gesellschafterversammlung vertretenen Kapitals beschlussfähig sein wird.
Spanish to Croatian: Derecho / Pravo
Source text - Spanish

PODER ESPECIAL
En la ciudad de Mar del Plata, Partido de General Pueyrredón, Provincia de Buenos Aires, República Argentina, a doce días del mes de septiembre de dos mil siete, ante mí, XXX, Escribana Titular del registro número 999 de este Partido, COMPARECE la persona que se identifica y expresa sus datos individualizantes como se indica a continuación: XXX, croata, pasaporte de la República de Croacia XXXXXXXXX, residente permanente de la República Argentina, con domicilio en esta ciudad: Mar del Plata, nacida el 10 de julio de 1960, soltera, hija de AAA y BBB; la compareciente es persona capaz, quien justifica su identidad con el pasaporte que se menciona ut- supra y cuya fotocopia de sus partes pertinentes agrego, doy fe. – INTERVIENE por sí y DICE: Que confiere PODER ESPECIAL a favor de su tío XXX, documento de identidad XXXXXXX: A) Para que actuando personalmente en su nombre y representación, o por el abogado XYZ –quien sólo podrá representar a la mandante en el proceso sucesorio pero no podrá percibir suma alguna ni ejercer ningún acto de disposición sobre los bienes de la sucesión-, al efecto: inicie, intervenga y prosiga hasta su total y definitiva terminación la sucesión de BBB. – Al efecto la parte mandante, faculta a la parte mandataria para: presentarse ante los tribunales, jueces, autoridades judiciales y administrativas competentes, legitimando su carácter de parte;
Translation - Croatian

SPECIJALNA PUNOMOĆ
U gradu Mar del Plata, okrug General Pueyrredón, provincija Buenos Aires, Republika Argentina, dana dvanaestog rujna dvije tisuće sedme godine, preda mnom, XXX, javnim bilježnikom s registarskim brojem 999 iz ovog okruga, PRISTUPILA je osoba koja se identificirala i iznijela svoje osobne podatke, kako se navodi u nastavku: XXX, Hrvatica, putovnica Republike Hrvatske br. XXXXXXXXX, s trajnim prebivalištem u Republici Argentini, s prebivalištem u ovom gradu: Mar del Plata, rođena 10. srpnja 1960. godine, neudana, kćer AAA i BBB; stranka koja je pristupila je pravno sposobna i svoj identitet potvrđuje gore navedenom putovnicom, a kopiju relevantnih dijelova iste prilažem i potvrđujem. – PRISTUPA u svoje vlastito ime i IZJAVLJUJE: da daje SPECIJALNU PUNOMOĆ u korist svog ujaka XXX, osobna iskaznica br. XXXXXXX: A) da postupajući u njezino ime i za njezin račun, ili preko odvjetnika XYZ –koji će davatelja punomoći jedino moći zastupati u ostavinskoj raspravi ali neće moći primiti nikakav novac niti izvršiti bilo kakvu radnju vezanu za raspolaganje ostavinom-, u svrhu: pokretanja, sudjelovanja i vođenje postupka vezano za nasljedstvo BBB-a do potpunog i pravomoćnog okončanja istog. – U tu svrhu, davatelj ove punomoći ovlašćuje punomoćnika: da se pojavi pred sudovima, sucima, nadležnim sudskim vlastima i upravnim tijelima legitimirajući se kao stranka;
Croatian to Spanish: Pravo / Derecho
Source text - Croatian

STATUT
ČLANAK 30.
(1) Redovna skupština održava se u pravilu svake četiri godine i tada se radi o izbornoj skupštini.
(2) Redovnu skupštinu saziva Predsjednik središnjice ABC-a ili predsjedništvo središnjice ABC-a ukoliko to predsjednik pokuša izbjeći.
(3) Izvanrednu skupštinu saziva:
- predsjednik ABC-a svojom vlastitom voljom ili temeljem odluke predsjedništva, ili
- predsjedništvo središnjice ABC-a, ukoliko to predsjednik pokuša izbjeći,
- predsjednik ABC-a na zahtjev Glavnog odbora ABC-a. Glavni odbor odlučuje o tome apsolutnom većinom glasova svih nazočnih članova tajnim glasovanjem. Ukoliko to predsjednik pokuša izbjeći, skupštinu saziva predsjedništvo središnjice ABC-a.

ČLANAK 31.
(1) Glavni odbor ABC-a sastoji se od:
- članova predsjedništva ABC-a,
- članova koje je odabrala skupština ABC-a (njih najviše 71), od kojih najmanje jednu trećinu bira glavni odbor, a jedna trećina bira se na prijedlog predsjedništva središnjice ABC-a tajnim glasovanjem o svakom kandidatu dok se ne postigne brojka 71, dvotrećinskom većinom glasova svih članova.

ČLANAK 32.
(1) Glavni odbor može izmijeniti određene odredbe Statuta ako je navedena izmjena nužna zbog izmjena zakona. Navedena izmjena vrijedi jedino dok se glavni odbor ABC-a o njoj ne izjasni.
(2) Tijekom trajanja njegovog mandata, na prijedlog predsjedništva središnjice ABC-a glavni odbor je ovlašten donijeti odluku o primanju nekih dodatnih članova, čiji broj ne može prelaziti jednu trećinu svih članova odabranih na izbornoj skupštini ABC-a.
Translation - Spanish

ESTATUTOS
ARTÍCULO 30
(1) La sesión ordinaria de la Junta General se halla en principio todos los cuatro años, y se trata entonces de una Junta General electoral.
(2) La sesión ordinaria está convocada por el Presidente de la Central del ABC, o por la Presidencia de la Central del ABC si el Presidente trata de evitarlo.
(3) La sesión extraordinaria de la Junta General está convocada:
- por el Presidente del ABC, según su propia voluntad o por decisión de la Presidencia, o
- por la Presidencia de la Central del ABC, si el Presidente trata de evitarlo,
- por el Presidente del ABC, a petición del Consejo General del ABC. El Consejo General decide de esto a la mayoría absoluta de los votos de los miembros presentes mediante voto secreto. Si el Presidente trata de evitarlo, la convoca la Presidencia de la Central del ABC.

ARTÍCULO 31
(1) El Consejo General del ABC está constituido:
- de los miembros de la Presidencia del ABC;
- de los miembros elegidos por la Junta General del ABC (71 máximo), cuyos dos tercios mínimo elegidos por él, y un tercio a propuesta de la Presidencia de la Central del ABC por voto secreto para cada candidato hasta que se alcance el número de 71, a la mayoría de los dos tercios de todos los miembros.

ARTÍCULO 32
(1) El Consejo General puede modificar ciertas disposiciones de los Estatutos si aquella modificación resulta esencial debido a una revisión de la legislación. Dicha modificación queda válida sólo hasta que se pronuncie la Junta General del ABC.
(2) Durante su mandato, a propuesta de la Presidencia de la Central del ABC, el Consejo General está habilitado a decidir de cooptar algunos miembros, cuyo número no debe superar un tercio de todos los miembros elegidos por las Constituyentes del ABC.
More
Finance, General, German-English, IT, Legal, Medical, Technical
Years of translation experience: 29. Registered at ProZ.com: Nov 2006. Became a member: Jun 2007.
N/A
English to Croatian (Split County Court)
French to Croatian (Split County Court)
Croatian to English (Split County Court)
Croatian to French (Split County Court)
German to Croatian (Split County Court)




More
SFT
Adobe Acrobat, Microsoft Excel, Microsoft Word, CorelDraw, Passolo, Powerpoint, SDL TRADOS, Wordfast
http://www.proz.com/profile/612638
CV available upon request
Conferences attended
Attended 8 training sessions



More
1st Annual ProZ.com Translation Contest: English to Croatian

Kristina Kolic endorses ProZ.com's Professional Guidelines.
Bio
CROATIAN TRANSLATOR & SWORN COURT INTERPRETER

More than 20 years of experience as a translator

color=#0000FF>

Sworn Court Interpreter since 1995

Full-time freelancer and self-employed since 1996. Owner of a limited liability company – Perfekta PU d.o.o./Lingua Experts d.o.o.

My working languages Native in French & Croatian.

I was born in France where I studied and started my professional career.

I moved to Croatia in 1990.

My specialization

Legal, financial and IT translation expertcolor=#0000FF>

Business

Consumer protection; Economy; Human resources; Insurance; Management; Marketing & advertising; Public relations; Sales (retail & wholesale); Standards & strategies; Real estate; Tenders; Tourism

Finance

Accounting & audit; Banking; Stock exchange; Taxes & customs

Information technology

Communications & telecommunications; Computer software & applications; Internet & Web sites

Legal

Civil law; Constitutional law; Contracts & due diligence; Corporate & business law; Criminal law; EU legislation; Human rights; Intellectual property & patent law

My other working fields Medical

Medical equipment; Medicine; Pharmaceuticals; Veterinary legislation

Technical

Civil engineering & road construction; Energy & electronics; Environmental protection; Port infrastructure & shipbuilding; Printing industry

My services

Reliability & Customer Satisfaction

color=#0000FF>

Reliable translator who provides high quality translation and interpreting services and always delivers on time.

I have been working for more than ten years with most of my clients to our mutual satisfaction.

My clients in Croatia are major law firms, notaries and the Croatian courts, the Ministry of the Interior and the Ministry of Justice, auditors, banks, governmental authorities, international organizations, NGOs, port authorities, telecommunications operators, internet service providers, content providers and other service providers, advertising and PR agencies, various manufacturers, contractors and corporations, and I usually work for all of their departments.

For further information

Please feel free to contact me for further information or references by

Email

This user has earned KudoZ points by helping other translators with PRO-level terms. Click point total(s) to see term translations provided.


Keywords: Accounting, audit, comptabilité, Bilanzierung, Buchhaltung, contabilidad, računovodstvo, knjigovodstvo, revizija, government, državna uprava, gouvernement, gobierno, Staatswesen, politika, politics, politique, política, Politik, administration, journalism, journalisme, periodismo, Journalismus, business, commerce, enterprise, Wirtschaft, Handel, negocios, comercio, trgovina, economics, ekonomija, économie, economía, Wirtschaftswissenschaften, retail, vente au détail, venta al detalle, Einzelhandel, finance, financije, Finanzen, finanzas, taxation, taxes, impôts, imposition, Steuern, porezi, oporezivanje, impuestos, customs, douanes, Zoll, aduanas, carina, international, internacional, development, cooperation, développement, cooperation, desarrollo, cooperación, Zusammenarbeit, Entwicklung, razvoj, suradnja, legal translation, Law, contracts, traduction juridique, contrats, Recht, Vertrag, Verträge, pravo, ugovori, derecho, contratos, arbitration, arbitrage, arbitraža, decision, resolution, legal action, proceedings, judgment, award, jugement, Beschluss, Bescheid, Entscheidung, Klage, Verfahren, Urteil, tužbe, rješenje, sudski postupak, Power of attorney, POA, Vollmacht, pouvoir, procuration, poder, punomoć, directive, Direktive, direktiva, directive, intellectual property, patents, trademarks, copyright, propriété intellectuelle, brevets, marques de commerce, droits d'auteur, geistiges Eigentum, patentes, marcas registradas, derechos de autor, Patente, Marken, Urheberrecht, intelektualno vlasništvo, žigovi, patenti, autorska prava, nullity action, Nichtigkeitsklage, management, administración, gestion, Verwaltung, marketing, market research, market surveys, étude de marché, mercadeo, estudios de mercado, Marktforschung, istraživanje tržišta, oglašavanje, odnosi s javnošću, advertising, PR, public relations, publicité, relations publiques, publicidad, relaciones públicas, Werbung, human resources, ressources humaines, recursos humanos, Personalwesen, IT, information technology, technologie de l'information, tecnología de la información, Informationstechnologie, informacijska tehnologija, communications, telecommunications, telecom, Telekom, Telekommunikation, telecomunicaciones, computers, informatique, ordinateurs, informática, Internet, e-Commerce, comercio-e, commerce électronique, SAP, insurance, assurances, seguros, Versicherung, osiguranje, environment, ecology, environmental protection, environnement, écologie, medioambiente, ecología, Umwelt, Ökologie, okoliš, ekologija, zaštita okoliša, construction, civil engineering, génie civil, Bauwesen, graditeljstvo, real estate, immobilier, bienes inmuebles, Immobilien, Grundstücke, tourism, travel, tourisme, voyages, turismo, viajes, Tourismus, Reisen, turizam, putovanja, transport, transportation, shipping, expédition, transporte, Versand, maritime, marítimo, Seefahrt, pomorstvo, medical, health care, pharmaceuticals, medical instruments, médecine, médicaments, soins de santé, instruments, Medizin, Gesundheitswesen, Pharmazie, Instrumente, medicina, salud, farmacia, instrumentos, farmaceutika, zdravstvena zaštita, certificates, diplomas, licenses, permits, CVs, CV, certificats, diplômes, licences, permis, certificados, títulos, permisos, Urkunden, Diplome, Zeugnisse, Lebenslauf, svjedododžbe, diplome, dozvole, životopis, općenito, general, géneral, allgemein, conversation, greetings, letters, reports, salutations, correspondance, correspondence, correspondencia, rapports, conversación, saludos, cartas, informes, Konversation, Grußworte, Briefe, Berichte, dopisi, izvješće, izvještaj, Court Interpreter, interpreter, conference interpreter, interpreting, translator, translations, translation, interprète, interprète assermentée, interprète de conférence, simultaneous, simultanée, traduction, traducteur, traductrice, sudski tumač, prevoditelj, prevođenje, simultano prevođenje, Dolmetscherin, Gerichtsdolmetscherin, Übersetzerin, Übersetzer, Übersetzungen, Übersetzung, intérprete, intérprete jurado, traductor, traducción, Croatian, croate, Kroatisch, croata, hrvatski, German, allemand, Deutsch, alemán, njemački, English, anglais, inglés, Englisch, engleski, French, français, francés, Französisch, francuski, Spanish, espagnol, Spanisch, español, španjolski.
94 visits in the last month,
from a total of 53 visitors This profile has received
Profile last updated
May 17, 2018