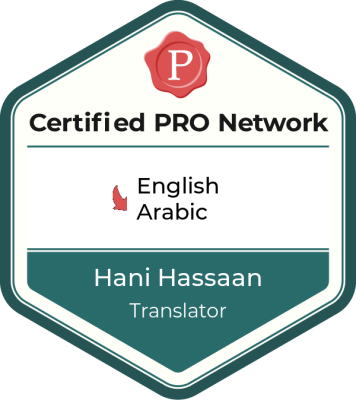 My name is Hani Hassaan and I am working as a translator since 1999.
I am native Arabic speaker and live in Cairo. I have a strong command of all the major Arabic dialects (Gulf dialects).
I take care to deliver high-quality translations and DTP services, It is my work and not my words that will prove this.
I am a dedicated, meticulous and highly motivated Certified Translator with Postgraduate Diploma in Applied Languages and 14 years' experience in English to Arabic translation. Delivers translation, software localization and DTP services enabling my clients to reach Arabic audiences for products, IT strings, programs, heavy machinery, home appliances and achieve marketing goals. Strong knowledge of all major Arabic dialects and has a proven track record of providing accurate and on time translations of the highest quality standards for private clients and agencies. Excellent written communication skills, highly detail-oriented and possesses the interpersonal qualities to build positive working relationships with clients. Strong planning and organization skills and highly IT literate with sound knowledge of various translation software.
Education, Qualifications, and Credentials:
*Post Graduate Diploma in Applied Linguistics with grade: Good, please check: here.
*A certified professional translator by the Institute for Arabization of Science and Technology in Beirut – Lebanon. My certification in 2018 is: here and in 2007 is: here.
*Accredited by the Linguists and Translators Association in Cairo, please check: here.
*A certified and approved English to Arabic translator [Technical and IT] by TranslateMedia (BSEN:15038) and Capita Translation and Interpreting in the UK. Feel free to check my certifications here and here.
*A Certified Translator according to EN 15038 norm from the Austrian Standards Institute – Vienna / Austria. Please check my certification, here.
*Current study: Localization Project Management - University of Washington.

Work Experience As In-house Translator:
I worked as in-house localization technical specialist in the largest Egyptian translations agencies, the latest companies being TransNative and METRANSLATION.NET in Cairo, please check my experience certificates here and here.
My duties mainly included:
•Translating software manuals, user's guides, online help pages, hardware, medical equipment, MSDS sheets and education materials.
•I worked as a senior translator and PM handling all the technical projects from A to Z. •Translating and preparing the files for the translation team.
• Translating of mobile communications applications and app's user interface (UI) for iPhone and Android devices and mobile phone OS (eg. iOS & Android), a mobile app for http://www.maaii.com/en and other companies.

Services:
Translation and DTP from English/ German <> Arabic.
I deliver a perfect translation and DTP service to industry leaders in a number of countries both in the automotive sector, as well as in a range of other technology sectors. Whether you are a translation agency, an advertising/branding company, a global corporation, or a small business owner, it is my pleasure to provide you the best service to meet all your needs.
Major Translation Projects Have Included the Following Areas of Specialization:

Technical (Automotive, Petroleum, and engineering):
•Maserati Quattro Porte AUTOMATIC - Owner's Manual 2011.
•Operation and Maintenance Manual - 14M Motor Grader - Caterpillar - September 2007.
•User, repair, diagnostic, training manuals for motor vehicles.
•Warranty Benefits booklets.
•Operation manuals for construction equipment and cranes- Doosan.
Technical / (hardware/ software):
• All kinds of devices, home appliances, hardware, and software.
•IdeaPad Tablet K1 Quick Start Guide.
•Digital camera guide.
•iphone app UI.
•Translating a number of technical manuals relevant to electric appliances, printers (HP) and cell phones (Nokia).
•Translating manuals for (Toshiba-–Samsung -Canon, etc).
•LG (Various QSGs & UGs).
•Air conditioner (Get Start).
•HP Printers manuals.
Localization and IT:
•Aupeo strings and Android strings.
•iTunes, App Store, Buzz etc.
•I am involved in the Arabization of software and user documentation for companies such as Toshiba, Lexmark, Dell Computers, Nokia, Hewlett Packard, Navision, Canon, Microsoft, Kodak EasyShare digital cameras and others.
•App's user interface (UI) for iPhone and Android devices and mobile phone OS (eg. iOS & Android), a mobile app for http://www.maaii.com/en.
•Microsoft Kinect - Windows website.
•Press Releases and booklets about Management Platforms and Network Security for McAfee.
•Translation of software Help files.
•Localization of computer software, menu strings and internet homepages for PC Windows.
•Telecommunications: mobile phones manuals.
•Navigation Software for PDA.
Politics and Human Rights:
• I translated many features about victims of enforced disappearances in the Arab Countries especially in countries of Northwest Africa.
•News translator from English to Arabic for online US portal (**********) focused on ME (Iraq, Iran, etc), I translated daily news, features, human rights and commentaries for the portal.
Legal and business:
• On-going translation of birth, marriage and death certificates.
•Translation of several litigation court documents.
• Translating a number of internal regulations for companies including Codes of Conduct.
Medical:
•User's Guide to Philips Medical Systems.
•User's Booklet - OneTouch® Ultra® - Test Strip (Diabetes).
•MiniMed Paradigm(5-Series or 7-Series) - insulin pump.
•3 manuals about diet and weight loss tips.
•Sexual health disorders.
•Bone graftings.
Marketing:
•Translation of promotional booklets & brochures for Panasonic Electronics, Sharp, Canon, Kodak EasyShare, etc.
•Promotional material for electronics, cosmetics, food products, medical products, auto products, heavy equipment, retail chains, financial services and other products and services.
Education:
•Translating educational subjects (Physics, Chemistry & Mathematics) for a KSA-based educational institution (Count: 100,000 words).
• Internet security tips for kids using the Internet.
•Educational websites.
•Complete translation and DTP for a large project of Four Education USA booklets (If You Want to Study in the United States).
---
Contact Me:
hassaanhani@gmail.com 
hani_zag@yahoo.com
To make sure that I receive all your emails, please always send your messages to both these addresses!
Skype: hani_trans
Mobile:002 01022681968.