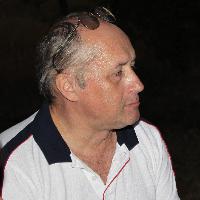 Member since Jul '08
Working languages:
English to Russian
English to Ukrainian
Ukrainian to Russian
Russian to Ukrainian
Russian (monolingual)
Stanislav Korobov
Assoc.Prof., MD, PhD



Odessa, Odes'ka Oblast, Ukraine

Local time:

06:03 EET (GMT+2)




Native in

: Russian

Feedback from
clients and colleagues
on Willingness to Work Again

24

positive reviews

(3 unidentified)


Your feedback
in-depth translation of medical/pharmaceutical/biological texts, the 38-year experience
Freelance translator and/or interpreter,

Verified member
This person has a SecurePRO™ card. Because this person is not a ProZ.com Plus subscriber, to view his or her SecurePRO™ card you must be a ProZ.com Business member or Plus subscriber.

This person is not affiliated with any business or Blue Board record at ProZ.com.
Translation, Editing/proofreading, Website localization, Training
Specializes in:

Medical (general)

Medical: Pharmaceuticals

Medical: Instruments

Medical: Health Care

Medical: Cardiology

Science (general)
More
PRO-level points: 5300, Questions answered: 3351, Questions asked: 7
Wire transfer, Visa, MasterCard, 2Checkout (incl. PayPal), Payoneer
Sample translations submitted: 4
English to Russian: Implications for Treatment of Humans/Potential Adverse Events
General field: Medical
Detailed field: Medical: Pharmaceuticals
Source text - English
XY is a novel ester pro-drug of X, an antibiotic of the β-lactam family, penem class, and penem subclass. The other subclass of penems, the carbapenems, is structurally distinct from the penem subclass. As a class, the penems possess good antibacterial activity against the Gram-positive and Gram-negative pathogens commonly responsible for a wide range of infections, and the penems are intrinsically stable to β-lactamases. XY shows in vitro activity against most Gram-positive bacteria and Enterobacteriaceae, including the common causes of community-acquired respiratory and skin infections. The drug maintains potent activity against penicillinnonsusceptible
S. pneumoniae, β-lactamase producing H. influenzae and M. catarrhalis, and
Enterobacteriaceae that produce ESBLs.
XY can be given with or without food. No adjustments in dose are
required due to concomitant medications, including cytochrome P450 inducers or inhibitors because XY does not inhibit, and is not susceptible to, the activity of cytochrome P450 enzymes. No dose adjustment is necessary for patients with mild or moderate renal impairment, but a change to QD dose administration is recommended for
those with severe renal impairment. No dose-limiting toxicity has been found when doses
higher than 300 mg BID are administered.
In 7 randomized, double-blind, clinical studies evaluating the effectiveness of XY in subjects with common respiratory infections (ABS, AECB, and CAP), the protocol-specified primary efficacy endpoints were met, and the statistical results showed that XY was non-inferior to the comparator agent. One study in ABS demonstrated the statistical superiority of XY over cefuroxime axetil. One of 2 studies in subjects with uSSSI met the protocol-specified primary efficacy endpoint and demonstrated that XY was non-inferior to amoxicillin/clavulanate (within a pre-specified delta of 10%). A second study was unable to demonstrate noninferiority of XY to cephalexin within a pre-specified delta of 10%. In the latter study, some differences in subject evaluability among those with simple abscess in the cephalexin group of the Clinically Evaluable Population appeared to explain the results,
which was not seen in the ITT population analysis. When the data from the 2 studies were pooled, the results indicated that XY was not less effective than the control treatments in subjects with uSSSI. The safety profile of XY is similar to that of penicillins and cephalosporins. XY showed no proconvulsant effects in animal models and was associated with an extremely low rate of convulsions (0.02%; 1/5023) in the clinical trials. The most frequent treatment-emergent adverse events in 5023 subjects who received XY were diarrhea NOS, headache NOS, and nausea; these were the most frequent adverse events regardless of the type of infection being treated. These 3 adverse events were also the most frequent in 3795 subjects who received a comparator drug, but they occurred at higher rates (4.8% to 5.4%) in the comparator group. The only common,
treatment-emergent adverse event that occurred at a higher rate with XY than with all comparators combined was vaginosis fungal NOS (3.2% versus 1.5% of female subjects). XY was not associated with QTc prolongation, tendonitis, or visual disturbances. Finally, a related drug (Y sodium) has a well-established safety profile after being marketed in Japan for more than 8 years.
Translation - Russian
XY представляет собой новый сложноэфирный «предпрепарат» Y – антибиотика из семейства β-лактамов, класса пенемов и подкласса пенемов. Другой подкласс пенемов – карбапенемы – отличается по своему строению от подкласса пенемов. Как класс, пенемы обладают хорошей противомикробной активностью в отношении грамположительных и грамотрицательных патогенных факторов, обычно ответственных за широкий спектр инфекций, и пенемы существенно устойчивы к β-лактамазам. XY проявляет активность in vitro в отношении большинства грамположительных бактерий и Enterobacteriaceae, включая обычных возбудителей внебольничной пневмонии и кожных инфекций. Препарат сохраняет выраженную активность в отношении невосприимчивых к пенициллину S. pneumoniae, вырабатывающих β-лактамазу H. influenzae и M. catarrhalis, а также Enterobacteriaceae, которые продуцируют β-лактамазы расширенного спектра действия.

XY можно давать с едой и без еды. Никакие корректировки дозы, обусловленные сопутствующим лечением, включая стимуляторы или ингибиторы цитохрома P450, не требуются, поскольку XY не подавляет и невосприимчив к действию ферментов группы цитохрома P450. Никакой корректировки доз не требуется для пациентов со слабой или средней степенью поражения почек, но для тех, у кого имеется тяжелое почечное поражение, рекомендуется корректировка в сторону однократной суточной дозы. При введении доз, превышающих 300 мг дважды в день, не обнаружено никакой токсичности, ограничивающей прием этих доз.

В 7 рандомизированных, «двойных слепых» клинических исследованиях, оценивающих эффективность XY у лиц с обычными респираторными инфекциями (острый бактериальный синусит, обострения хронического бронхита и внебольничная пневмония), определенные протоколом основные показатели эффективности были достигнуты, а статистические результаты продемонстрировали, что XY оказался не хуже, чем фактор сравнения. Одно исследование с острым бактериальным синуситом показало статистически значимое превосходство XY над цефуроксим аксетилом. Одно из двух исследований у больных с неосложненными кожными или затрагивающими структуру кожи инфекциями добилось установленного протоколом уровня основного показателя по эффективности, и показало, что XY был ничуть не хуже, чем амоксициллин / клавуланат (в пределах предварительно определенной дельта в 10%). Второе исследование не смогло продемонстрировать, что XY был не хуже, чем цефалексин в пределах предварительно определенной дельта в 10%. В последнем из этих двух исследований, у лиц с простым абсцессом в цефалексиновой группе «клинически оцениваемой когорты» появились некоторые различия в «оцениваемости субъекта», что дало возможность объяснить полученные результаты и чего не было при анализе группы «намеревающихся лечиться». Когда данные из этих двух исследований свели воедино, результаты показали, что XY был у субъектов с неосложненными кожными или затрагивающими структуру кожи инфекциями не менее эффективен, чем контрольные виды лечения.

Профиль безопасности XY подобен таковому для пенициллинов и цефалоспоринов. XY не продемонстрировал каких-либо проконвульсантных эффектов в опытах на животных, и был связан с крайне низким уровнем судорог (0,02% – 1 из 5023) в клинических испытаниях. Наиболее частыми нежелательными явлениями, имевшими место в период лечения у 5023 человек, получавших XY, были диарея (неуточненная), головная боль (неуточненная) и тошнота; это были наиболее частые нежелательные явления, независимо от типа инфекции, которую лечили. Эти три нежелательных явления были также наиболее частыми и у тех 3795 человек, которые получали препарат сравнения, но в группе сравнения они отмечались чаще (от 4,8% до 5,4%). Единственным распространенным нежелательным явлением, отмечаемым в период лечения и чаще имевшим место при использовании XY, чем всех факторов сравнения вместе взятых, был грибковый вагиноз (неуточненный): 3,2% против 1,5% пациенток). XY не был связан с удлинением ЭКГ интервала между началом QRS-комплекса и окончанием T-волны, скорректированного на ЧСС, а также с тендинитом или офтальмологическими нарушениями. Наконец, родственный препарат (Y натрия) обладает хорошо известным профилем безопасности; его продают в Японии вот уже более 8 лет.
English to Russian: PET FDG/Perfusion Match/Mismatch Analysis Tools
Source text - English
PET FDG/Perfusion Match/Mismatch Analysis Tools

Myocardial tracer uptake seen on F-18 FDG studies is an indicator of myocardial glucose metabolism. The pattern of myocardial perfusion can be seen by using tracers such as Rb-82. ECToolbox contains special tools for analyzing the relationship between metabolism and function, and for showing matches and mismatches between the two. These tools are automatically made accessible when one chooses an FDG image as one of the studies to be analyzed. In this case, the button Match/Mis, in the permanent button group, will become active. Selecting this button starts the analysis. There are three screens that are part of the match/mismatch analysis, and these are discussed in the following pages. In addition, other standard screens have been modified to handle these types of combined perfusionmetabolic studies. Once the Match/Mismatch tool has started, the permanent button set will change to reflect the fact that certain options are unavailable, since they are not appropriate for combined perfusion and metabolism data.
Translation - Russian
Средства анализа соответствия между поглощением фтордезоксиглюкозы и перфузией при позитронно-эмиссионной томографии

Поглощение миокардом радиоактивного изотопа, наблюдаемое в исследованиях с использованием фтордезоксиглюкозы, меченной фтором-18, является показателем миокардиального метаболизма глюкозы. Характер перфузии миокарда можно наблюдать при использовании таких изотопов, как рубидий-82. В пакете программ ECToolbox есть специальные средства анализа соотношения между метаболизмом и функцией, а также средства демонстрации соответствия или несоответствия между ними. Эти средства становятся доступными автоматически при выборе изображения, полученного с помощью фтордезоксиглюкозы, в качестве анализируемого результата исследования. В этом случае активируется кнопка Match/Mis, входящая в состав группы постоянных кнопок. Нажатие этой кнопки запускает процесс анализа. Есть три экранных изображения, являющихся частью анализа соответствия; все они обсуждаются ниже. Кроме того, для обработки этих разновидностей результатов комбинированных перфузионно-метаболических исследований видоизменены другие стандартные экранные изображения. Когда запускается инструмент Match/Mismatch («Соответствие/несоответствие»), набор постоянных кнопок изменяется – как отражение того факта, что определенные опции становятся недоступными, поскольку не подходят для комбинированных перфузионных и метаболических данных.
English to Russian: Viability Mass Display
Source text - English
Viability Mass Display

The Estimated Viability display has a single option control, which is a droplist displayed below the Patient Info area. Using this control, you can change from the default Extent display to a Viability Mass display (Figure
3-38). Either gated or ungated mass calculation can be used. If Gated Mass is selected from the droplist, and the gated processing has not been done, a message will be displayed. In this case, ungated mass can be used.
The same three Polar Maps are also included in the Viability Mass display:
The Raw Stress Map on the left, the Raw Rest Map in the center, and again on the right. This Rest Polar Map is again displayed with a default lower threshold value of 50%. The threshold can be changed using the same procedure as for Viability Extent, described above.
Translation - Russian
Отображение Viability Mass («Жизнеспособная масса»)

Отображение Estimated Viability («Расчетная жизнеспособность») имеет управляющий элемент единственной опции, который представляет собой выпадающий список, отображаемый под областью Patient Info («Информация о пациенте»). С помощью этого элемента управления можно перейти от установленного по умолчанию отображения Extent («Степень») к отображению «Жизнеспособная масса» (рис. 3-38). Можно рассчитывать как стробированную, так и нестробированную массу. При выборе Gated Mass («Стробированная масса») в выпадающем списке, но невозможности стробированной обработки, на экране появится соответствующее сообщение. В этом случае можно использовать нестробированную массу.
В отображение «Жизнеспособная масса» входят также те же самые три Polar Maps («Полярные карты»): слева – Raw Stress Map («Необработанная карта для нагрузки»), в центре – Raw Rest Map («Необработанная карта для состояния покоя»), и она же еще раз – справа. Эта «Необработанная карта для состояния покоя» отображается второй раз с установленным по умолчанию нижним пороговым значением, равным 50 %. Пороговое значение можно изменять с помощью той же самой процедуры, которая описана выше для Viability Extent («Степени жизнеспособности»).
English to Ukrainian: XY HIP SYSTEM: ACETABULAR SHELL, BUFFER, RESURFACING & MODULAR HEADS AND NECK ADAPTOR
Source text - English
XY HIP SYSTEM: ACETABULAR SHELL, BUFFER, RESURFACING & MODULAR HEADS AND NECK ADAPTOR

Important Note:
The insert has important information on the XY Hip System. Read and follow these directions carefully. The surgeon should be aware and the patient informed of the following information: Any hip prosthesis will not perform as well as thee natural human hip joint. The patient must be instructed about all postoperative restrictions, particularly those related to occupational and sport activities in order to achieve the best results.

Purpose: The XY Hip System consists of the XY Acetabular Shell, TriboFit Acetabular Buffer, XY Modular and Resurfacing Femoral Heads and Neck Adaptors. The XY Hip System is intended to help reconstruct the human hip joint in primary or revision total hip arthroplasty or resurfacing. The implants are available in a variety of sizes to satisfy anatomical requirements and surgeon needs.

Device Description:
XY Acetabular Buffer device is made of polycarbonate polyurethane. The device is designed for either press-fit application or with use of a metal Shell. The Buffer is designed to articulate against the TriboFit cobalt chrome modular femoral head or resurfacing femoral head components of a diameter within the tolerances to the size cavity of the Buffer. The outer diameter varies in 2 mm increments and the inner diameters of the Buffers are 6 mm less corresponding with the heads within the AIC permitted tolerances. Unless specifically permitted in another AIC document, do not use any other femoral head components with the XY Acetabular Buffer. The subject devices are single use devices. The characteristics specific to each component are detailed on the product label.

The XY Acetabular Shell is provided in a range of outer diameter sizes and several inner diameters that match the XY Acetabular Buffer sizes.
Translation - Ukrainian
СТЕГНОВА СИСТЕМА XY: ВЕРТЛЮЖНА ПІВСФЕРА, ІМПЛАНТАТ, ТРИМАЧ ГОЛІВКИ ДЛЯ ЗАМІНИ СУГЛОБНОЇ ПОВЕРХНІ ТА МОДУЛЬНОЇ ГОЛІВКИ, А ТАКОЖ ШИЙКИ СТЕГНА

Важлива нотатка
Цей вкладиш містить важливу інформацію щодо стегнової системи XY. Уважно прочитайте та дотримуйтесь цих вказівок. Хірург має бути поінформованим, а пацієнт обізнаним відносно наступної інформації. Будь-який протез стегна не буде функціонувати так само, як природний стегновий суглоб. Пацієнт повинен бути проінструктованим щодо всіх післяопераційних обмежень (зокрема тих, що пов'язані з професійною та спортивною діяльністю), щоби досягти найкращих результатів.

Призначення
Стегнова система XY складається з вертлюжної півсфери XY, вертлюжного імплантату XY, а також тримачів модульних стегнових голівок та голівок для заміни суглобної поверхні і шийки стегна XY. Стегнова система XY призначена для допомоги в реконструюванні стегнового суглобу людини під час первинної чи ревізійної тотальної стегнової артропластики або заміни суглобної поверхні. Наявні імплантати різноманітних розмірів, щоби задовольнити анатомічні вимоги та потреби хірурга.

Опис пристрою
Вертлюжний імплантат XY зроблений із полікарбонатного поліуретану. Пристрій призначений для запресовування або використання з металевою півсферою. Імплантат призначений для того, щоби зчленовувати з кобальтово-хромовою модульною стегновою голівкою або з компонентами для заміни поверхні стегнової голівки, що мають діаметр у межах допусків до розміру порожнини імплантату. Зовнішній діаметр змінюється з приростом у 2 мм, а внутрішні діаметри імплантатів є на 6 мм меншими – відповідно до голівок у межах допусків, що дозволені корпорацією AIC. Не використовуйте з вертлюжним імплантатом XY будь-які інші компоненти стегнової голівки, якщо тільки це конкретно не дозволено в іншому документі корпорації AIC. Пристрої, що розглядаються, є одноразовими. Характеристики, специфічні для кожного компоненту, деталізовані в етикетці виробу.

Вертлюжна півсфера XY надається в асортименті розмірів зовнішнього діаметру та декількох внутрішніх діаметрів, що пасують розмірам вертлюжного імплантату XY.
More
Stanislav Korobov's Glossary at ProZ.com
Years of experience: 38. Registered at ProZ.com: Jul 2007. Became a member: Jul 2008.
N/A
ProZ.com Certified PRO Network
memoQ, MemSource Cloud, Microsoft Excel, Microsoft Office Pro, Microsoft Word, Adobe Reader, Powerpoint
99 forum posts
http://www.proz.com/profile/697304
CV available upon request
Powwows attended

Stanislav Korobov endorses ProZ.com's Professional Guidelines.
Bio
Associate Professor of Medicine (Physiotherapy)

MD

PhD 

Medical translator since 1982.

15 years in medical research -- various staff positions including Senior Scientist.

16 years in clinical work -- Head of Balneo-Physiotherapeutic Department and Physician-Physiotherapist with a Clinical Sanatorium.

8 years in standartization & metrology including metrologic assessment of medical research reports.

80+ professional medical publications since 1984.

Editorial Board member to Physiotherapy Research International journal

This user has earned KudoZ points by helping other translators with PRO-level terms. Click point total(s) to see term translations provided.


Keywords: altitude simulation, altitude training, analysis, animal, biological, biology, biophysics, brochure, cancer, clinical trial, clinical, English, experiment, headache, health care, health, healthcare, history, hypoxia, hypoxic, investigation, investigator, life sciences, medical rehabilitation, medical, Medicine, normobaric, oncology, outcome, Pharmaceuticals, physical therapy, physiological, physiology, physiotherapy, protocol, research, result, Russian, science, scientific, study, temperature, thermal, translation, translator, tumor, tumour, Ukrainian
43 visits in the last month,
from a total of 27 visitors This profile has received