☼ Environment ☼ Biology ☼ Agriculture ☼ Chemistry ☼ SDSs ☼ Energy ☼ Oil & Gas ☼

I am a Dutch national living in the Republic of Belarus, translating full time since 2008.

Earlier, I worked as a teacher of biology and chemistry for various schools in The Netherlands.

Also I worked for the sub-faculties of Biology and Life Sciences & Technology at Groningen University, organising courses of Science and Society for some years.

I focus on what I like and what I do best – translating into Dutch within my fields of expertise. My rates reflect investments in education, training, and quality assurance.

I use SDL Trados Studio 2011

Send me an email at maxnuijens@hotmail.com for more information and rates. Please note that I do not work with agencies from Russia, Belarus, Ukraine, China, India, the Middle East, and Africa.


How I work
1. Before accepting any task, I review the document and assess whether it falls within my fields of expertise.
2. Before starting the actual translation, I read through the document and perform (Internet) research on the topic involved.
3. After the translation, I perform consistency checks to ensure terminology is translated the same way throughout the document.
4. I perform a spelling check and proofread the document on screen.
5. Next, I send the file to my trusted editor/proofreader.
6. After processing the proofreader's adjustments, I print the document, lay down on my sofa and read through the entire file, pencil in hand to catch any imperfections left.
7. If the client performs their own proofreading afterwards, I work with the client in order to ensure they receive a product that is optimally suited to their tastes and preferences.
Productivity
2,000-4,000 words/day
Credentials
Cambridge Certificate of Proficiency in English (CPE)
, 2007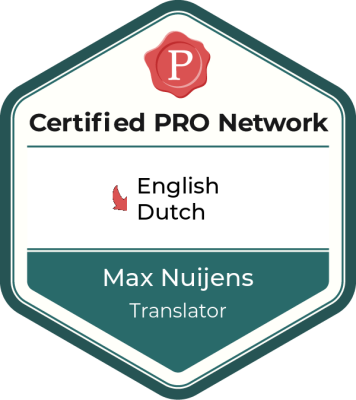 .
Education
University of Groningen, Teaching qualification Biology
Free University
Amsterdam &
University of Groningen
,
Environmental Sciences (MSc)
Free University Amsterdam,
Biology
(Propaedeutic year)
Conferences Attended
Proz.com Ukraine Conference 2011 (Kharkiv, Ukraine)
Proz.com International Conference 2012 (Barcelona, Spain)
Ukrainian Translation Industry Conference 2013 (Kyiv, Ukraine)
Ukrainian Translation Industry Conference 2014 (Kyiv, Ukraine)
Symposium on Dutch language and literature teaching, 2014 (Pskov, Russia)
The Translation and Localization Conference 2015 (Warsaw, Poland)
Dutch language and literature teaching conference, 2018 (Tbilisi, Georgia)


Customers and Projects (selection)

Unievertaal (The Netherlands)
42k Eng-Dut Orchid Virusses manual
LNE Translations (Belgium)
25k Eng-Dut
ABNAMRO
Environmental newsletters
JSM Textservice (The Netherlands)
3.5k Eng-Dut Environmental research report
JSM Textservice (The Netherlands)
3k Eng-Dut Steel sheet pile materials
EU Translations (Lithuania)
16k Eng-Dut
Caterpillar
welding course
Marketing Mania (USA)
8k Eng-Dut
Bluetooth
 Mobile telephone software files
LNE Translations (Belgium)
5k Eng-Dut
Royal Bank of Scotland
Eco-newsletter
Edimart (Hungary)
2k Eng-Dut Technical description solar powered Communicators
Toptranslators (India)
3.6k Eng-Dut Pandemic Preparedness Plan
Fe-Q Languages (UK)
1.5k Dut-Eng
Ernst&Young
Q4 report
Studio Moretto (Italy)
10k English-Dutch,
Beretta
Semi Automatic pistol instructions
Staatsbosbeheer (The Netherlands), 6k Dut-Eng Ecology Dissertation Summary
DaVinci Vertalingen (The Netherlands)
6k Eng-Dut
Fokker
educational materials
Eurideas Linguistic Services (Belgium)
50k Eng-Dut Physics educational materials
Stranslations (UK)
, 58k Eng-Dut Bird species descriptions
T&S Translations (Spain)
7k Water treatment plant operation manual
Global Translate (Germany)
5k Eng-Dut
EU DG Taxations and Customs Union
information leaflets
Applied Language Solutions (UK)
, 2k Eng-Dut proofreading Leica Medical