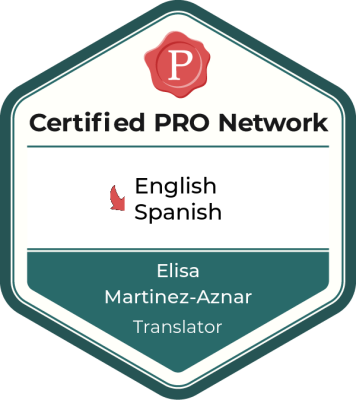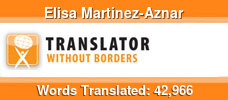 English to Spanish volunteer translator

http://www.ciol.org.uk/member-check/profile/58335/17089
ELISA MARTINEZ-AZNAR
BA, MSc, MITI, MCIL & Chartered Linguist
ISO 17100:2015 Qualified
Accurate and reliable English to Spanish translation and proofreading services with a friendly and customer-focused approach.
My main goal is to translate concepts, not just words, accurately yet in a way that sounds stylistically pleasant and natural in the target language.
EXPERTISE
•
Medical and Pharmaceutical
: General, Pharmaceutical, Biomedical, Medical Devices.
SERVICES
Translation, Editing/proofreading, Website localization, Software localization, Games localization, Transcription, Desktop publishing, Text control, and Transcreation.
EDUCATION
Oct 2007- Sep 2009 Imperial College, London
MSc in Scientific, Technical & Medical Translation with Translation
Technology,
passed with
Distinction.
Modules on: Language Engineering, Translation Technology, Theory
and Practice, Website Design and Desktop Publishing Skills,
Localization, Subtitling, and CAT tools
Jan 2009- Mar 2009 Imperial College, London
PDC Translation Technology: Software Localization
Translation of graphics, resource and help files, game localization.
Jan 2005-Dec 2005 City University, London
Diploma in Translation
EN>ES translations of general and semi-specialised texts
(disciplines covered: science, technology, business and law).
Sep 1995-Jun 2000 Universidad de Alicante, Spain
BA degree in English Studies
Awarded a Socrates Scholarship to spend one semester at the
University of Aberdeen.
TRANSLATION EXPERIENCE
Freelance translator since February 2007.
End clients include
: Pfizer, Merck, DHL, Epson, GE Healthcare, Roche, Novartis Vaccines & Diagnostics, Astellas, UPS, Covidien, Tyco, Olay, Royal Caribbean, USEndoscopy, Celgene, AstraZeneca, University of Oxford, Blackberry, HTC, VISA, Dolce & Gabbana, Hugo Boss, Siemens, Agfa, Procter & Gamble, Pringles, Pantene, Special-K & Dyson.
Recent projects undertaken include
:
• Translation and proofreading of medical questionnaires, clinical trials, protocols, patient information leaflets, pharmaceutical product profiles, IVRS prompts and medical case reports.
• Translation of a medical simulator used in Obstetrics (67-page instruction manual).
• Translation and proofreading of instruction manuals for a variety of medical devices (chest drain trainers, prosthetics, sutures, vein harvesting devices, endoscopes, PEG tubes, Stretchers, etc).
• Translation of an article on sterilization of endoscopes for publication in a medical journal.
• Proofreading and editing of online help files for medical imaging software (29,000 words)
• Translation of several operational manuals on UV-Vis spectrophotometres for biomedical measurements.
• Translation of a manual on calibration of spectrophotometres for application on optically brightened textiles.
• Transcreation of webpages for a major pharmaceutical company. Tasks performed included: translation of flash animations, core content, downloadable and e-learning materials, general website content, images and translation of video transcripts for subtitling.
• Translation and proofreading of software user manuals and online help files.
• Text control of PDF files using Adobe Comment & Markup tools.
• Brand name checks.
Over 1,300 projects undertaken to date.
SOFTWARE
•
CAT tools
: MemoQ Translator Pro 2015, SDL TRADOS STUDIO 2017 (Translator´s Workbench, MultiTerm, Tag Editor, WinAlign, Synergy, Passolo), SDLX 2007 and OmegaT v. 1.6.1. Electronic dictionaries and glossaries.
OTHER SKILLS
•
Languages
: Spanish (mother tongue), Catalan (mother tongue), English (fluent), Italian (intermediate), Danish (basic).
•
Computer skills
: Advanced user of Windows Office Suite (Excel, Word, Access, Powerpoint, Outlook, OneNote), basic knowledge of HTML and CSS, general DTP and web design skills.
•
Memberships
: ITI (Institute of Translation and Interpreting - MITI), Medtrad (RedIris), Tremédica, ITI Medical Network, MCIL & Chartered Translator. Proz.com Certified PRO
To read my clients' feedback, please click here.