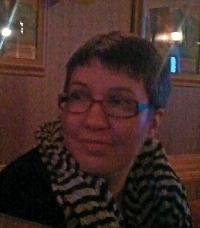 Member since Feb '09
Working languages:
English to Finnish
Finnish to English
Tiina Häkkinen
Finnishing touch to your success



Tampere, Finland

Local time:

21:11 EET (GMT+2)




Native in

: Finnish
Freelance translator and/or interpreter,

Verified member
This person has a SecurePRO™ card. Because this person is not a ProZ.com Plus subscriber, to view his or her SecurePRO™ card you must be a ProZ.com Business member or Plus subscriber.

Blue Board: Rosmer International osk
Translation, Editing/proofreading, Website localization, Software localization, Subtitling, Desktop publishing
Specializes in:
Business/Commerce (general)
Marketing / Market Research
Tourism & Travel
IT (Information Technology)
Telecom(munications)
Computers: Software
Cinema, Film, TV, Drama
More
English to Finnish - Rates: 0.10 - 0.18 EUR per word / 38 - 42 EUR per hour
Finnish to English - Rates: 0.10 - 0.18 EUR per word / 38 - 42 EUR per hour

Wire transfer
Sample translations submitted: 3
English to Finnish: IrfanView - A lightweight flexible image viewer and Editor
Source text - English
IrfanView is a powerful and lightweight image editing program that can provide a quick and free alternative to such graphic suites as Paintshop Pro or Adobe Photoshop.

About IrfanView

Supporting 68 different file types in the tested version, this program leads the way in flexibility for freeware graphics editing. Equipped with several unique features not commonly found in multimedia editing suites, it was the first graphics program worldwide to support multiple animated GIF files. With a single 340KB EXE file, this program is quick to load and requires no DLL support.

Features

Convenient and oft-overlooked functions are found throughout the program. Some of the features that I personally found useful include the Reopen function on the File menu. This allows you to reopen the file you are currently editing, discarding all changes without having to close the file and open it once more.

Another unique feature is the ability to move from file-to-file by simply double right-clicking the viewer while in full screen mode. This cycles through the available images in the directory, a great feature for webmasters who have to deal with a lot of graphics.

Total hotkey support allows advanced users to harness the program's functions quickly and efficiently.

The only problem I found with the program was in its Red Eye Reduction feature; attempting to use it on a picture of myself, the red in my eyes stayed the same while part of my face was turned grey!

There are many different types of image effects you can add successfully, including:

-Image re-sampling to decrease file size (great for saving bandwidth on the web!)
-Image sharpening
-Creating panoramic pictures
-Blurring and embossing

Translation - Finnish
IrfanView on tehokas mutta kevyt kuvanmuokkausohjelma. Se on nopea ja ilmainen vaihtoehto Paintshop Pro:n tai Adobe Photoshopin kaltaisille grafiikkaohjelmille.

IrfanView:n esittely

Ohjelman testattu versio tukee 68:aa eri tiedostotyyppiä, ja on siten suunnannäyttäjä ilmaisten grafiikkaohjelmien joustavuudessa. Siinä on useita ainutlaatuisia ominaisuuksia, joita multimediamuokkausohjelmissa ei yleensä ole. Se oli mm. maailman ensimmäinen grafiikkaohjelma, joka tuki useita animoituja GIF-tiedostoja. Ohjelmassa on yksi ainoa 340KB:n EXE-tiedosto, joten se on nopea ladata, eikä vaadi DLL-tukea.

Ominaisuudet

Ohjelmassa on käteviä, usein unohdettuja toimintoja. Itse pidin erityisen hyödyllisenä mm. Tiedostovalikon uudelleenavaustoimintoa. Se mahdollistaa sillä hetkellä muokattavana olevan tiedoston uudelleenavaamisen, jolloin kaikki muutokset häviävät, ilman että tiedosto tarvitsisi erikseen sulkea ja avata uudestaan.

Toinen ainutlaatuinen ominaisuus on tiedostosta toiseen siirtyminen yksinkertaisesti kaksoisnapsauttamalla hiiren oikeaa painiketta ohjelmassa, kun se on koko ruudun tilassa. Tässä tilassa kaikki hakemiston kuvat kierrätetään näytöllä, mikä on mahtava ominaisuus verkkosivujen ylläpitäjille, jotka joutuvat käsittelemään paljon kuvia.

Täysi hotkey-tuki antaa edistyneille käyttäjille mahdollisuuden ottaa käyttöön ohjelman toiminnot nopeasti ja tehokkaasti.

Ohjelman ainoa ongelma, jonka löysin, oli sen punasilmäisyyden poisto-ominaisuudessa: kun yritin käyttää sitä kuvaan itsestäni, punaiset silmät säilyivät samanlaisina, mutta osa kasvoistani muuttui harmaaksi!

Voit onnistuneesti lisätä useita erityyppisiä kuvatehosteita, kuten:

-kuvan uudelleenkokoaminen tiedostokoon pienentämiseksi (säästää hienosti verkon kaistanleveyttä!)
-kuvan terävöittäminen
-panoraamakuvien luominen
-sumentaminen ja kohokuvion lisääminen
English to Finnish: XXX Flushing Pump
Source text - English
Important Information — Please Read Before Use

• Use only in conjunction with XXX series gastrointestinal endoscopes.
• The water tube XXX-1111 MUST be replaced daily - failure to do so may lead to patient infection and a reduction in equipment performance.
• Reprocess the XXX-222 following each use according to the manufacturer's instructions supplied with the product.
• The XXX-3333 and XXX-3334 must be replaced after each patient use. Failure to do so may lead to risk of cross-infection.
• Check the "USE BY" date of all accessories as indicated on the packaging label. Do not use any accessories beyond the specified "USE BY" date.
• Do not allow the water container to run dry, otherwise air will be supplied to the patient causing discomfort.
• To prevent free-flow of water to the patient, do not open the pump lever when the XXX is connected to an endoscope which is inserted into the patient. Ensure the XXX is positioned below patient level.
• If any section of water tube from the pump to the water container is blocked or kinked, the flow rate will be noticeably reduced. Check the water tube for kinks or blockages, and should the slightest irregularity be suspected - do not use.
• Should the XXX be operated with a blocked endoscope, damage to the endoscope and/or water tube may occur. In this event, care must be taken when disconnecting the fluid path as the system may be pressurised. To assist in depressurising the system, the pump head should be opened to allow water back into the bottle. This must only be carried out with the endoscope removed from the patient. Replace the water tube and reprocess the water bottle and water bottle cap before the unit is reused.
• Inspect the XXX-222 for obvious signs of wear or damage, and should the slightest irregularity be suspected - do not use. Replace in accordance with its instructions for use.
• Before each use, inspect the water container and cap for obvious signs of wear or damage and should the slightest irregularity be suspected - do not use.
• Always remove and empty the water container before moving the equipment. Care should be taken to obtain a firm grip underneath the body of equipment before moving. The water container must never be used as a hand hold or carrying handle.
• Store and use the XXX within the environmental conditions described in Chapter 9 'Specification' (page 35); failure to do so may lead to equipment malfunction or failure.

Translation - Finnish
Tärkeää tietoa — lue ennen käyttöä


• Käytä vain yhdessä XXX -sarjan gastrointestinaalisten endoskooppien kanssa.
• XXX-1111 vesiletku tulee vaihtaa päivittäin - vaihtamatta jättäminen voi johtaa tulehduksiin potilaalla sekä laitteen toimintakyvyn heikkenemiseen.
• Käsittele XXX-222 jokaisen käytön jälkeen tuotteen mukana toimitettavien valmistajan ohjeiden mukaisesti.
• XXX-3333 ja XXX-3334 tulee vaihtaa jokaisen potilaskäytön jälkeen. Vaihtamatta jättäminen kasvattaa tulehdusriskiä.
• Tarkista kaikkien lisävarusteiden viimeinen käyttöpäivä pakkaustarrasta. Älä käytä mitään lisävarusteita annetun viimeisen käyttöpäivän jälkeen.
• Älä anna vesisäiliön käydä kuivana, muutoin potilaaseen joutuu ilmaa, mikä aiheuttaa epämukavuutta.
• Estääksesi veden vapaan virtaamisen potilaaseen, älä avaa pumpun vipua XXX:n ollessa kytkettynä potilaaseen vietyyn endoskooppiin. Varmista, että XXX on asetettu potilaan tason alapuolelle.
• Jos pumpun ja vesisäiliön välisen vesiletkun mikään osa on tukkeutunut tai mutkalla, veden virtaus pienenee huomattavasti. Tarkista vesiletku tukosten ja mutkien varalta. Jos epäilet pienintäkään poikkeavuutta, älä käytä letkua.
• XXX:n käyttäminen tukkeutuneen endoskoopin kanssa voi aiheuttaa vahinkoa endoskoopille ja/tai vesiletkulle. Tässä tapauksessa nesteväylä tulee irrottaa varovasti, sillä järjestelmässä voi olla painetta. Järjestelmän paineen laskemiseksi pumpun pää tulee avata, jotta vesi pääsee takaisin pulloon. Tämä tulee tehdä vasta kun endoskooppi on irrotettu potilaasta. Vaihda vesiletku ja käsittele vesipullo ja vesipullon korkki ennen yksikön uudelleen käyttöä.
• Tarkasta XXX-222 kulumisen tai vahingoittumisen merkkien varalta, ja jos epäilet pienintäkään poikkeavuutta, älä käytä letkua. Vaihda käyttöohjeiden mukaisesti.
• Tarkasta vesisäiliö ja vesisäiliön korkki ennen jokaista käyttöä kulumisen tai vahingoittumisen merkkien varalta, ja jos epäilet pienintäkään poikkeavuutta, älä käytä.
• Poista ja tyhjennä vesisäiliö aina ennen laitteen siirtämistä. Ennen laitteen siirtämistä varmista, että sinulla on luja ote laitteen rungon alta. Vesisäiliötä ei tule koskaan käyttää kädensijana tai kantokahvana.
• Varastoi ja käytä XXX:a kappaleessa 9 "Määrittely" (sivu 35) kuvailtujen ympäristöolosuhteiden mukaisesti. Ohjeiden noudattamatta jättäminen voi johtaa laitteen toimintahäiriöön tai hajoamiseen.

English to Finnish: Installing a car lift
Source text - English
5. Lift Setting: Position columns in bay using dimensions shown in Fig. 1a, 1b or Fig. 2a, 2b. With column lying on the floor, two people can lift the top of the column and walk towards the base. As the column approaches vertical, one of the two people should move to the opposite side of the column and assist in slowly setting the column flat on its base. Both column base plate backs must be square on center line of lift. Notches are cut into each base plate to indicate center line of lift. Using appropriate equipment, raise carriage to first latch position. Be sure locking latch is securely engaged.
Note: For X Series lifts place column with power unit mounting bracket on vehicle passenger side of lift.
6. Concrete and Anchoring: Concrete shall have a compression strength of at least 20N/mm2 and a minimum thickness of 125mm in order to achieve a minimum anchor embedment of 95mm. When using the standard supplied 20mm x 170mm lg. anchors, if the top of the anchor exceeds 75mm above the floor grade, you DO NOT have enough embedment. Drill (10) 20mm dia. holes in concrete floor using holes in column base plate as a guide. See Fig. 6 and Fig. 7 for hole depth, hole spacing, and edge distance requirements.

Translation - Finnish
5. Nostimen asennus: Aseta pilarit paikalleen käyttäen kuvissa 1a, 1b tai 2a, 2b annettuja mittoja. Kaksi henkilöä voi nostaa maassa makaavan pilarin yläpään ja kävellä pilarin jalustaa kohti. Kun pilari on lähes pystyasennossa, toisen kahdesta henkilöstä tulisi siirtyä pilarin vastakkaiselle puolelle ja auttaa asettamaan pilari hitaasti pystyyn jalustan varaan. Pilarin molempien pohjalaattojen takaosien tulee olla kohtisuorassa nostimen keskilinjaan nähden. Molemmissa pohjalaatoissa on leikattu lovi, joka osoittaa nostimen keskilinjan. Nosta kehikko lukitussalpojen ensimmäiseen asentoon käyttäen asianmukaisia varusteita. Varmista, että lukitussalpa on kiinni.
Huom: X-sarjan nostimissa aseta pilari, jossa virtayksikkö sijaitsee, ajoneuvon matkustajapuolelle.
6. Betoni ja ankkurointi: Betonin puristuslujuuden tulee olla vähintään 20 N/mm2 ja minimipaksuuden 125 mm, jotta ankkuri uppoaa vähintään 95 mm:n syvyyteen. Jos käytät standardinmukaisia 20 mm x 170 mm:n ankkureita, ja ankkurin yläpää on yli 75 mm lattian pinnasta, uppoamaa EI OLE riittävästi. Poraa (10) halkaisijaltaan 20 mm:n reikää betonilattiaan käyttäen pilarin pohjalaattaa ohjaimena. Katso lisätietoja reikien syvyyden, sijoittelun ja reunan etäisyyden vaatimuksista kuvista 6 ja 7.

More
Master's degree - University of Tampere
Years of translation experience: 20. Registered at ProZ.com: Sep 2004. Became a member: Feb 2009.
Finnish to English (MA Translation Studies, Tampere Uni, verified)
English to Finnish (MA Translation Studies, Tampere Uni, verified)

Finnish Association for Translators & In
Adobe Acrobat, Adobe Photoshop, Catalyst, FrameMaker, Indesign, Microsoft Excel, Microsoft Word, RoboHelp, Passolo, Powerpoint, SDL TRADOS, SDLX
http://www.rosmerinternational.com
CV available upon request
Tiina Häkkinen endorses ProZ.com's Professional Guidelines.
Bio
I'm a freelance translator residing in Finland. Altogether, I have been in the translation business for 16 years. During this time, a vast amount of texts from a variety of subject areas have passed through my hands, ranging from business, marketing, tourism and travel to IT, Telecommunications, Education, Electronics and Medical.
I specialize in audiovisual translation (i.e. subtitling TV programs, films, corporate videos, video games and other audiovisual material. My other areas of specialization include software localization and hard-of-hearing subtitling.

Your text is important - and it is equally important to me to get the message across in another language while preserving the tone of the original text.
So if it is high-quality and consistent translations that you are looking for, along with pleasant and effortless communication, look no further.
Keywords: Finnish translator, html, xml, Trados, Wordfast, web site localization, subtitling, editing, proofreading, finland, translation, technical writer
Profile last updated
May 7, 2019