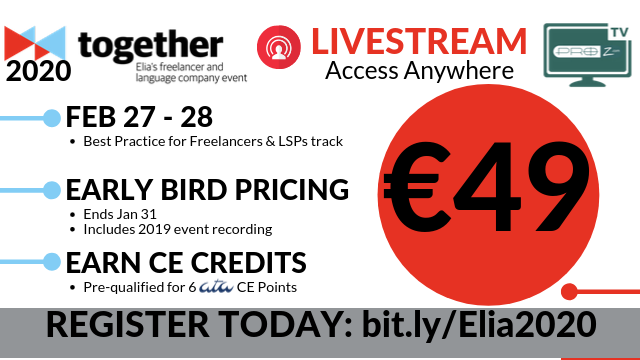 As a benefit of membership ProZ.com Plus members will receive free access to the Together 2020 livestream and recordings of key sessions.
This event has been pre-approved for 4 ATA CE Credits ProZ.com Plus members must start certificate time logging feature above video player.
Don't miss this exciting in-person/Livestream hybrid event - view from the comfort of your home or office!
We see Together as a win-win.
Launched in Barcelona in 2016, Together is a two-day event that brings together professionals from across the industry for an open dialogue on industry trends, to learn mutually-relevant new approaches, to update technical skills and, ultimately, serve our end clients better. Most importantly, it's a friendly, collaborative environment in which to develop lasting relationships.
The theme for our fifth edition of Together is —most appropriately— Better Together and will feature two tracks:
Best Practice for Freelancers and LSPs - LIVESTREAM
Looking Ahead: Trends and Tools - IN PERSON ONLY