Sworn-in and publicly appointed translator for French and Arabic language
<a rel="nofollow" rel="nofollow" href="https://www.proz.com/profile/1474804"><img border="0" src="https://www.proz.com/pro-tag/badge/1474804/1/Certified%20PROs.jpg" height=175></a>
Personal Data
Name: Jörg Lukas
Address: Steinstraße 66, 04275 Leipzig, Germany
Pricing



Arabic

French

General (conversation, greetings, letters)

0,10 € per word source text

0,08 € per word source text

Technical and Scientific (high research effort)

0,14
€ per word source text

0,10
€ per word source text

Documents, Certificates etc. (sworn)

55 € per page
Professionalism?
Let's face an inkonvenient truth: translation industry is a greedy quagmire of fraud, fake and scam. Most so called "translators" are not qualified at all, and many "agencies" are just letter-boxes with a fancy address. What belongs together, comes together! Scammers operate with stolen CVs and an impressive vita to generate jobs for 2-Cent-Google-translators with ridiculously low rates and an astronomic output.
See the magic of the market! Poor translations help to spot low quality companies with low quality products. Buy cheap, buy twice.
Professionalism!
First of all, the upper limit for quality translation is 2000 words source per day. This includes human translation as well as machine translation post editing. It's all about quality, not quantity. Unrealistically tight deadlines and continuous rush jobs are a sign of bad management. 
Second: According to Louis R. Cerna, the lower limit of profitability is 0,22 € per word source text, including additional costs for printing and postage. This is also referred to in the BDÜ salary survey for Germany. 
Half of his effective working time, a translator is occupied with customer acquisition, administration and further professional development. If an agency manages all additional tasks including formatting or DTP, he can fully concentrate on translating. This division of work has an impact on the pricing process. Nevertheless, peanuts are for monkeys.
Sample
A real translation reads naturally and pleasantly. There are no hints toward the source. The recipients should not realize they read a translated text! The following link leads to one of my very first projects. I am still quiet proud of this sample:
https://int.strasbourg.eu/de/oekologischer-reichtum-auenwaelder
CAT-Tools: SDL Trados Studio and Memsource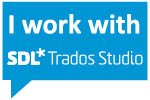 Experiences 
Medical:
Antibiotics, bone substitute material, intramedullary plugs, lactic acid interference screws, joint replacement for shoulder, hip and ankle, oncology, nutritional supplements. 
Technical:
Elevator emergency call, paper bag machine, welding fume exhaust system, fire safety system, concrete reinforcement, flexography, humidification, packaging material. 
Tourism:
Strasbourg, Chateau Chambord, Mansfeld Castle, Monte Veritá Hotel, TGV.
Adv.: Sun glasses, mattresses, perfume. 
Other: Nutrition, press articles, erotic novels, esoterism, life style magazines. 


Education
About a thousand candidates apply for 1 of the 100 places at the IALT every year. Prospective students must pass an aptitude test before enrollment to make sure only the most talented individuals with highly developed verbal skills take up translation studies here.
B. A. Translation at Leipzig University (IALT)
Bachelor's thesis about the impact of EU medical legislation on content and structure of leaflets in France and Germay.
Fields of studies: French and Arabic language, history, culture and literature, Islamic law, applied linguistics, technical language, terminology. 
Subsidiary studies and exams in life sciences, (zoology, botany, genetics), civil engineering and pharmaceutics (nosology, pharmacology, pharmacotherapy).
IALT (Institute of Applied Linguistics and Translatology) is a member of CIUTI, EMT, FIT and EULITA.
Urkundenübersetzung
Gemäß DlomG LSA bin ich als staatlich anerkannter, allgemein beeidigter und öffentlich bestellter Übersetzer für die französische und die arabische Sprache dazu befugt, die Richtigkeit und Vollständigkeit einer Übersetzung aus dem Arabischen oder dem Französischen ins Deutsche durch Unterschrift und Stempelabdruck zu bestätigen.

Für ein optimales Ergebnis bei Übersetzungen aus dem Arabischen benötige ich:
Einen Scan des Dokuments mit Vorder- und Rückseite im pdf-Format und einer Auflösung von 300 dpi als E-Mail-Anhang.
In der E-Mail den Namen des Dokumenteninhabers in lateinischen
Buchstaben - so, wie er in den ersten europäischen Dokumenten
geschrieben wird.
Für die korrekte phonetische Transkription
nach DIN 31635 in der E-Mail gegebenenfalls die Namen der ausstellenden Beamten oder
Behördenmitarbeiter in lateinischen Buchstaben - so, wie sie klingen.
Gegebenenfalls schlecht lesbare handschriftliche Eintragungen wie Ortsnamen oder Bemerkungen auf Arabisch mit Computer geschrieben in der E-Mail.
Eine Postadresse für die Lieferung der Übersetzung.
Kosten: 55,00 € pro Seite inklusive Paypal-Gebühren und Porto. Der Eingang des Betrages auf meinem PayPal-Konto gilt als Auftragsbestätigung. Die Kontoverbindung teile ich Ihnen auf Anfrage mit. Lieferung innerhalb von etwa 7 Tagen.
Bei Übersetzungen für Behörden fallen gemäß § 11 JVEG folgende Kosten an, mindestens jedoch 15 €:
Grundhonorar für elektronisch erfasste, editierbare und einfache Texte wie Word-Dokumente: 1,55 € je Normzeile.
Nicht elektronisch erfasste, einfache Texte: 1,75 € je Normzeile.
Besonders schwierige elektronisch erfasste, editierbare Texte: 1,85 € je Normzeile.
Besonders schwierige, nicht elektronisch erfasste oder nicht editierbare bzw. besonders erschwerte sowie eilbedürftige Texte: 2,05 € pro Normzeile.
Laut OLG Frankfurt am Main liegt ein Redaktionsfehler im Wortlaut von § 11 JVEG vor, weil es keine Texte gibt, die nicht elektronisch zur Verfügung gestellt werden könnten, aber dennoch editierbar wären (Vgl.: https://openjur.de/u/755019.html).

Zum Schmunzeln:
Wenn Du nicht Expert Electric Gerät LX 4300 Du so bleiben und nicht open machen LX 4300 Du nicht innen. Beware vor Gefahr! High Voltage und Heiss. Wenn nach open Fehler join and move uncorrectly mehr Gefahr und Angst Heiss und Electric - Shock. Nur Expert open Gerät LX 4300! Deutschland ist TÜV Rheinland.