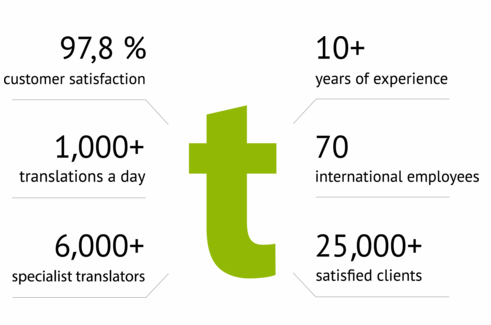 tolingo - Your international business partner
Make the most of our experience and high-quality services performed by our global network of over 6,000 specialist translators for all world languages working on kinds of translation assignments. You can also make use of our handy tolingo webshop, our cutting-edge technology and our personal consultation services to ensure the success of your translation projects.
tolingo – a collaborative visionary and pioneer
tolingo is one of the most renowned and successful translation agencies in Germany – a fact which motivates us in our work across every division of our company every day and helps drive us to constantly improve the services we offer to our clients. A human touch is crucial, whether in terms of our employees' respectful, open interaction with one another at our headquarters in Hamburg, our consultations and service meetings with our clients, or the close, productive working relationships we enjoy with our specialist translators and industry experts all over the world. We strive for collaborative success and partnerships on equal footing without losing sight of the expectations we've set for ourselves or the standards and goals we're determined to meet. This is how we've been able to transform from a little translation agency into a globally present provider with a sophisticated portfolio of services – with market-leader status in our sights. 
Working with tolingo - Join us!
tolingo is a full service translation agency offering you a virtual workplace for the following services: Translation, Proofreading, Editing, Galley Proofreading, Post-Editing, SEO Translation/ Ad-Words Translation, Transcription, Transcreation, Subtitling, Copywriting, Name Checking etc. 
We are looking to expand our freelance pool with qualified and dedicated linguists. If you are considering working for tolingo, just send your application (CV and certificates) to [email protected] and we will get back to you as soon as possible. For further information about your benefits and our requirements, please visit 
https://www.tolingo.com/en/translator-applications/