***
***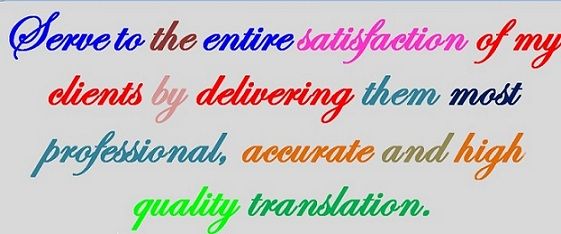 Recently Completed Projects
1. Levi's Training Modules (7 Modules, Manager's Guide, Stylists training, Scenarios)
2. GSK's all HSE contents
3. Murree Brewery Juices Product packaging Translation "Apple, Mango, Guava, Pineapple"
4. Translation of 5 Google Apps
5. Twitter 100% acceptance Ratio
6. Military contents (Guerrilla war, survival at sea and into enemy territory)
7. Microsoft Windows Azure English > Punjabi Shahmukhi
8. UK Insurance and Accident Claims (10k)
9. CIBC Canada whole website, Banking products, Ads, Info Material, forms, Press Releases
10. "What is Holocaust" UN Brochure
11. "Keller" News letter editing
12. Chevron – All Policy documents
13. One of largest Forex Operators "ORBEX" 53k/w translated
14. Leading global telecom Company 35k/w
15. Educational Contents (PW) translated 26k/editing 78k
16. Microsoft (Hancom) Project 20/w
17. Canadian Bank ads & related stuff: 8, 700/w
18. Financial Data 10,000/w - delivered
19. Dublin Museum brochure 4,580/w
20. Google Apps 5000/w
21. UK, Court Case (decree for divorce) 10,700
22. Leading Forex Company (EXNESS) 16-30,000/w
23. Medical Leading Company (clinical trials) 22,000/w
24. Punjab Oil Mills corporate documents and Press Releases
25. Google Tagging Project - delivered
26. Turkish University Website 4,885/w - delivered
27. Financial Reports/Microfinance bank of Pakistan 22,300/w
28. EU (Immigration Forms) Survey Form 5,000/w
29. USA Foreign Ministry web articles 11,000/w
30. Birmingham Court Case/Legal documents 23,000/w
31. HSE doc (Al-Khayat) 31,000/w
32. Nokia Project more than 50k/w translated
33. Clinical Trials (Pfizer) 200000/w
34. Diabetics Booklet 20,000/w
35. Samsung Translated 100/k words
36. Nottingham Court Case 13,000/w
37. Bone Morrow Transplant booklet 30k
38. Tourism complete website
39. Skype service and web
40. Safety Investigation Manual 17,850/w
41. E-Learning (distance learning) 40,000/w
42. Dementia Booklet 18, 000/w
43. Bereavement Booklet 6,500/w
44. Memory Loss Booklet 11,700/w
45. HeartWare-Patient_Handbook_ 13,045/w
46. Healthy Start 9,211/w
47. Constipation: 7,580/w
SDL TRADOS 2014 (compatible with trados 2011, 2009 & 2007), TWS/XLIFF EDITOR, WORDFAST PRO, Idiom, LocStudio & XTM/GTT
Translating is an Art, every linguist has his own experiences, understanding, exposure and above all, creativity to grasp the essence of a text, quality and accuracy comes through all of these aspects.
If quality and accuracy matter for you? choose one of the best linguists in this pair.
Now get rid of ordinary/average quality, and get premium quality, error-free translations at very competitive/lower rates/
Being among, and one of the top linguists in my language pair, is a top priority, so I care more with a focus on the quality, accuracy, consistency, requirements of my clients. QUALITY and ACCURACY is my passion and determination with believe to serve to the entire satisfaction of my clients. I do my best and work hard to make "once a client, forever a client", that's why, having a large clientele base in recent years, some even working with me for the last 4 to 5 years on regular and project basis.
I deliver error-free translations, which does not require to be proofread separately.
(Can handle and work on all types of files)
Senior English <> Urdu/Punjabi Translator, Native in Urdu and Native level expertise for Punjabi (Pak), I have 11 years' experience in the field of Translation, Localization, Interpretation, Proofing, Creative Writing and as Consultant Linguist. I am on the panel of more than 20 leading global linguist firms and have worked for many important global projects which include:
LEGAL: NOTARY ATTESTATION / TRUTH CERTIFICATE also AVAILABLE
* Everyday Translation of 2 to 3 documents (as In-charge Classified/
translations) includes
* FIR/ Legal Reports/Court Proceedings & Decisions/Claims/Power of Attorneys/Land Ownership documents
* Annual Reports and official Notices
* Educational Certificates
* Marriage Contracts/Birth Certificates/ID Cards
* Legal Agreements, Tender Notices, AGM
Medical & Health: work for NHS, UK:
* Medicine Testing & Medical Trials (FT, BT, Validation, editing)
* Medicine Information Leaflets
* Disease symptoms, diagnosis, precautions, treatments
* Medical Survey, Medicine Assessment Tests
* Bone Marrow Transplant booklets
* LVAD (Left Ventricular Device) booklet
* HeartWare Booklet
* Constipation
* WAYM
* Arthritis & You
* Facet & Keep Well
* Bereavement Booklet
* Migraine
* Post Mortem Booklets
Business & Finance/Marketing:
* Consumer Product Information/Manuals
* Market Surveys, Launch of Product, Press Releases
* FFC Documentary – Urdu Version, New Corporate Head Office – One of the prestigious clients
* Survey Forms, Market Analysis, Annual & Quarterly Reports, AGMs minutes etc.
* Linguist/Quality checker (Urdu) for Havalon Surveys
IT, Software Localization: Hardware and websites includes:-
* Microsoft Windows 8 and Microsoft Language Portals
* HeyWood Software
* MoneyGram System
* Translated http://www.pakrevolution.org/ complete site
Education, Literature, Journalism:
* Subtitling/Translation (Movies)
* Press Releases
* Prospectus (for Masters. M.Phil. & PhD Programs) for NUST
* Book "Colors of Mehran" written by Pir Mukkaram Hussain Shah
* Translation of Time magazine and other articles for newspapers
UNO & Other Organizations:
* Translation (& editing) UNO's (120 pages/A4) training booklet "Training course for Re-conciliators" (Gender Justice through the Reconciliation Project).
* Police Training Manual of Investigation for Punjab Police
* Translation (Editing): UNO (200 Pages/A5) booklet "Gender and Education in Rural Pakistan"
Miscellaneous:
* Tourism, travel, hospitality
* Autobiography
* Regular Translator for many clients within Pakistan and New York, London and Dubai based clients
* PBM, FFC, Lafarge Pakistan, PTCL
* Government Ministries & Departments' Notices, Tender notices, Official Circulars, Announcements & Other materials
I am also working for a leading advertising agency in Islamabad 'EverNew Concepts, as Senior Linguist, In-Charge Classified (Translation & Proofreading) +Creative Manager. My responsibilities include ensuring the highest quality of translations, timely delivery and supervising & guiding junior translators. I am also responsible to generate promotional ideas and write copy for different public and private sector clients.
Best Regards:
Saghir Ahmed
Senior English<>Urdu/Punjabi Translator/Linguist/Localizer/Creative Manager
RED Communications Arts (red.com.pk)

Green Trust Tower, 4th Floor, Jinnah Avenue, Islamabad
Tel: + 92 (51) 2813077 Fax: + 92 (51) 2813088, Cell: 0300 533 7956
[email protected], [email protected], SKYPE: Saghir_51
pk.linkedin.com/pub/saghir-ahmed/52/6b0/792