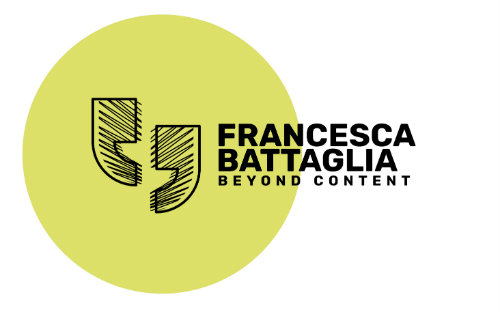 https://www.fbattagliatranslations.com/
Your English To Italian Localization Pro
Professional, loyal, and reliable … the perfect addition to your team
Since 2001, I've worked as a
professional translator, graduating SSIT School for Translation and
Interpretation of Milan and entering the world of transcreation and
localization. Companies, translation agencies and website developers across the
world rely on me to convey their message to the Italian audience and help
solidify long-term partnerships.
I specialize in online content,
marketing texts, gaming, creative transcreation, SEO transcreation, fashion,
cosmetics, and technical translations.
My heart and mind also lie in
the field of exotic pets — a field in which I have extensive experience. Over
the years, I have cooperated with numerous associations, veterinarians, and
experts throughout Italy, acquiring terminology and clients in fields such as
pet sitting services, pet product producers and pet food.
What I Specialize In
English-Italian
Localization, Transcreation & Translation
Bring your
product to life in Italy
I don't just translate. I go
beyond words and create content with meaning. Because your success is my
success.
Why Me?
For starters, we'll make an
excellent team. I strive to develop a strong bond with every one of my clients
so that I can absorb the clients' style, assimilate their products, and convey
their message effectively.
Here are some other reasons why:
- B.A. in English>Italian and French>Italian Translation
- 19 years' experience
- A host of happy customers
- Dedicated to your success
- Committed to becoming a loyal member to your team
My Fields of Expertise
- Marketing
- Gaming
- Technical
- Beauty & Cosmetics
- Fashion
- Pets
Marketing
Don't let dull cntent drive people away.
From your newsletters to your
leaflets to your social media content, I'll use catchy puns, magnetic
headlines, and informative yet entertaining content to keep your audience's
eyes peeled.
I can even work with you to
create the most spellbinding slogan or product name. Because name is
everything!
Because I've been doing this
for almost 20 years, you can count on me to capture the Italian market and
develop a brand you're proud of.
Gaming
Hit the play button.
Gaming is a thriving industry
with plenty of room for expansion. You just need to make the next move.
I've helped localize a slew of
games for gaming companies wanting to break into the Italian-speaking market.
Bearing in mind everything from language to culture to politics, I create the
kind of game Italians want to play — and will enjoy playing.
Drawing from two decades of
experience and my B.A. in Translation, I win every time.
Technical
Simplify your success.
Important materials such as
technical manuals, data sheets, surveys, and user guides MUST be clear,
concise, free of ambiguity, and should not leave the end user clueless.
Understanding how to use something should not be a difficult task. And if it
is, expect it to get neglected.
Native Italian with extensive
knowledge of the English language, I know what Italians will read and what
they'll abandon. Let me make sure it's the former for your product.
Beauty & Cosmetics
Italians love beauty, but not all beauty brands.
That's why you need to win
their hearts with your brand. How to do that? First, by presenting a product
that's well-translated and easy-to-read. Second, by providing marketing
materials that sing to the Italian audience.
Whatever you need translating
or localizing — beauty products, brochures or articles — I'm here to help you
find your home in Italy's beauty and cosmetics market.
Fashion
If it's not chic, it's chao!
Fashion catalogs, brochures or
website articles — Italian fashionistas won't pay attention unless they're A)
written in a language they understand and B) magnetic through and through.
It's like when you enter a
boutique and that little black dress catches your eye. You want it. You have to
have it. It's already yours.
I'll make your target clients
feel the same way about your products. I will install that desire within them
through captivating content.
Pets
Prioritize the pet-loving community.
I've been a key figure in the Italian ferret community
for 10 years now. Leading several non-profit associations for ferrets in need
as well as in the exotic pet environment, helping animals is what I do best —
besides translation, transcreation, and localization of course!
I worked for over five years
with some of the best SIVAE exotic veterinarians in Italy and other
associations to create events and campaigns and to help benefit the animal
community.
Thus, your pet website or pet
food product needs to convey that same sense of compassion in its content.