Professional Dari, Farsi (Persian) & Hazaragi Translator and DTP Specialist
The Right Quality, All The Way Through
My name is Amanollah Zawari. Born from an Iranian mother and an Afghan father, I am a native Farsi, Dari and Hazaragi speaker with near-native fluency in English and Pashto.

I was living in Iran until recently. I hold a B.S in Electronics from Shiraz University and I finished my M.A studies in the field of MBA at Tehran University, Iran. Currently, I am settled in United States and work as a full-time freelance translator, available 18 hours a day.


I have more than 10 years of invaluable translation experience during which I have worked for many valued national and international clients around the world. I specialize in several fields and I am a guru of major CAT and DTP tools. For further information about my services, clients, and sample translations, you are kindly requested to visit other pages of my personal website.
Rates
"Quality" is the theme of my job and in order to ensure a high quality and error free output, I regularly ask a colleague of mine to check my translations. My rates are never the cheapest but affordable and in line with the volume, text difficulty and deadline. Finally with a speed of 4000 words per day, I am available to manage the tightest deadlines.
Services
 

Translation

Proofreading

Editing

Subtitling

Voice-over

Localization

DTP
Languages  
Native speaker of Dari, Farsi & Hazaragi
Near-native Fluency in English and Pashto
Language Pairs  
English-Dari                                  Dari-English
English-Farsi (Persian)             Farsi (Persian)-English
English-Hazaragi                         Hazaragi-English
English-Pashtu                             Pashtu-English
Personal Data
Name: Amanollah Zawari
Date of birth: 25, December, 1975
Cell phone:
Country: United States
Nationality: Afghan
Payment Methods: Moneybookers, Paypal and Bank Transfer
E-mail: [email protected] / [email protected]
Address: 7315 Brompton St, Apt # 238, Houston, TX 77025
Education:
BS Graduate of Electronics, Shiraz University (1993 - 1997)
MBA, University of Tehran (2007- 2010)
MCSE Certificate on Windows Server 2003 (2004)
Network+ Certificate
Translation Certificate from NATO-ISAF
Membership
Expertise
Automotive

Military and Defense

Marketing

Medical (manuals and medications)

Computer and IT

Engineering (Chemical, Biomedical, Electrical and Mechanical)

Finance and Business

Project Management and MBA

Journalism

Legal

Telecommunications

Religion

Oil and Gas
Translations
Eng <> Farsi 
1. Nokia Academy PowerPoint Training Pamphlets for Nokia Corporation (50,000 words)
2. Scotia Bank Web site Localization (http://farsi.startright.scotiabank.com/startright/landing-page.html)
3. Translation of the book: Four-Handed Dentistry: A Handbook of Clinical Application and Ergonomic Concepts
4. Aggrastat (Tirofiban) drug information and Guide (20,000 words)
5. International Finance Corporation (IFC) and Business Edge's training guides on marketing and motivation (35,000 words)
6. The Complete Guide to Driving Licenses, Ordered by Trafikverket (Swedish Transport Agency)
7. The Workers' Educational Association (WEA) Guides to Financial and Other Entitlements
8. Translation of a software platform for Huawei Telecommunication company (700k)
9. Translation of i-mate manuals into Dari and Farsi (some 25k)
10. Translation of a marketing brochure for NNT, Japanese Telecom Company
11. Garmin GPRS Navigation
12. Translation and proofreading of a manual for HTC on its Diamond II mobile phone, (25k)
13. Epson Printers Manual ordered by Epson CO. (35k)
14. Radiation Therapy Booklet ordered by BC Cancer Foundation, Canada (20k)
15. Brochures and Newsletters on Tuberculosis ordered by NHS (18k)
16. A Booklet on Thalassaemia disorders ordered by 16. NHS (12k)
17. Diabetes Day to Day Booklet ordered by NHS 17. (34k)
18. MS In Focus Leaflet ordered by 18. Multiple Sclerosis International Federation (Issue 7) (110k)
19. Sexual Harassment & Hate Crime Leaflets ordered by civilrights.org (50k)
Eng <> Dari Translations 
1. Caterpillar Backhoes, Loaders and Motor Graders Manuals ordered by CAT (more than 800,000 words)
2. FordTansit- Owner's Manual ordered by Ford (73000 words)
3. Harris Tactical Radios and Defence Communications ordered by Harris Company (100,000 words)
4. Sub machine Gun M92, Automatic Rifles and Light Gun Machines ordered by Zastava Arms (80,000 words)
5. The Special Inspector General for Afghanistan Reconstruction (SIGAR)'s Quarterly Report to Congress (550,000 word) (http://www.SIGAR.mil/ReportToCongress.asp)
6. Translation of ISAF Leadership Biographies for NATO
7. Translation of Employment Contract for Aegis Afghanistan Limited Company
8. Standard Terms and Conditions for Fixed Price Contracts Outside of the USA by Sendia Corporation (20,000 words)
9. Translation of i-mate manuals into Dari and Farsi (some 25k)
10. Tutorials for US Military in Afghanistan ordered by US Military (200k)
11. Navigation System's Manual ordered by US Military (40k)
12. Helicopters Operator's Manual ordered by US Military (120k)
13. Tanks Operator's Manual ordered by Abrams CO. (80k)
14. CE Bus Operator's Manual ordered by IC Corporation (US) (30k)
15. Motor Engine for Backhoo Loaders ordered by Volvo (60k)
16. Statements, Power of Attorneys, Incident Diaries, Review Care Plans for different agencies (150k)
17. Translation of a few Movies or different agencies (70k)• Military and Defense
Software and CAT Tools
MS Office
Open Office
SDL Trados
Corel Draw X3  
QuarkXPress                     
Wordfast Pro
Adobe Acrobat Professional 
Adobe Photoshop CC
Adobe Illustrator CC
Adobe InDesign CC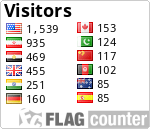 Free counters