Soy
traductora autónoma de español e inglés al ruso
, residente en Barcelona desde 2001 hasta 2014, actualmente vivo en Alicante.
Nací en San Petersburgo y desde los ocho años empecé a estudiar español en el colegio especializado en lenguas extranjeras. Me licencié en
Comercio y Márketing
(2003) por la Universidad Estatal de Economía y Finanzas de San Petersburgo donde aparte de las materias de ámbito económico y jurídico, continué con los estudios del español como lengua de negocios, traduciendo los artículos de prensa económica, márketing y logística al ruso tanto del español como del inglés.
En 2001, viajé a Barcelona con un programa de intercambio estudiantil, donde además realicé prácticas en empresa de estudios de mercado y agencia de traducción. Mi formación en Barcelona incluye
Máster Oficial en Estudios de Traducción
por Universidad Pompeu Fabra, 3 años de
Filología Hispánica
por Universidad de Barcelona, aparte de varios cursos especializados.
En 2012, he profundizado mis conocimientos de localización de software, realizando un curso
Translation Technology: Software Localization
por Imperial College London.
He trabajado durante 4 años como traductora part-time, compartiendo esta labor con el trabajo en departamento de gestión en empresa privada, siempre prestando mis servicios de soporte multilingüe.
Amplia experiencia en traducción de los documentos jurídico-económicos y textos turísticos.
Mis principales campos de especialización
:
• marketing/estudios de mercado
• negocios/comercio
• finanzas
• publicidad
• contratos
• inmuebles
• turismo
• gastronomía
• transporte
• manuales de instrucciones
• localización
• subtitulación
Herramientas TAO
:
• SDL Trados Studio 2014
Certification
• Passolo Essential 2011
• También poseo licencia de MemoQ 5.0, que he utilizado en algunos proyectos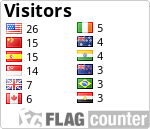 I'm a
Freelance Translator of Spanish and English into Russian
, I was living in Barcelona since 2001 until 2014 and now I live in Alicante.
I was born in St. Petersburg and from the eight years I began to study Spanish in the school specializing in foreign languages. I graduated in
Commerce and Marketing
(2003) by St. Petersburg State University of Economics and Finance, where apart from the fields of economic and legal, I continued with studies in Spanish as a business language, translating economic, marketing & logistics news articles into Russian from both Spanish and English.
In 2001, I traveled to Barcelona with a student exchange program, where I also was a trainee in market research company and translation agency. My background in Barcelona includes
Masters in Translation Studies
by the University Pompeu Fabra, 3 years of
Hispanic Studies
by University of Barcelona, in addition to several specialized courses. In 2012, I have deepened my knowledge of software localization, following a course in
Translation Technology: Software Localization
by Imperial College London.
I worked for 4 years as a part-time translator, sharing this work with my duties as a Management department officer in a private company, always providing my multilingual support services.
Large experience in translating legal documents and tourist texts.
My main areas of expertise
:
• marketing / market research
• business / trade
• finance
• advertising
• contracts
• real estate
• tourism
• gastronomy
• transport
• Instruction Manuals
• localization
• subtitling and more
CAT tools
:
• SDL Trados Studio 2014
Certification
• Passolo Essential 2011
• I also have MemoQ 5.0 license, which I used in some projects