Hello and welcome to my profile!
I am a full-time freelancer, UK-based Arabic speaker, with 7
years of experience in English<>Arabic translation. I obtained my
Bachelor's degree in languages from Ain Shams University, Egypt, in 2010, and a
PG Diploma in Media and Literary Translation from the American University in
Cairo (AUC), in 2014.
In 2017, I moved to the UK and immediately resumed my
professional journey with translation, where I joined the Translators
Association (TA, SoA), and IAPTI, as well as the ITI London Regional Group,
where I get the chance to attend workshops on the technicalities of translation
and translation tools, such as SDL Trados, with which I work. I am also
currently attending the Poetry Translation Workshop by the Poetry Translation
Centre, a beautiful chance to boost my literary translation career.
In parallel with translation, I am also a creative writer
who published two books in English and Arabic, of poetry and short stories,
respectively. I write in both languages because I have a passion for both, and
they both feed my linguistic skills to serve my career in translation.
I am available to work any time and any day of the week +
weekends. I am also very flexible with deadlines to meet your needs, and I am
known to never have missed a deadline in my career.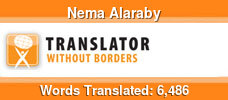 English to Arabic volunteer translator