Hello,
Looking for someone who can adapt
your voice
into Turkish while reflecting your vision and elevating your presence? Let's start by tailoring a solution which specifically addresses your needs.
I'm a professional English-Turkish translator and content writer specialized in Marketing, Finance, IT, e-Commerce, and Gaming fields. I have been providing industry-leading companies with high quality localization, transcreation and content provision services since 2010. I aim to fully understand the original content, and deliver the same information, message and emotion in Turkish, whether it requires marketing creativity or technical literacy. Furthermore, I have full understanding of SEO which I apply to all web translations and content by conducting extensive research in order to help your brand to shine out in search engine results.
Please feel free to contact me to receive a free quote on your projects or further information regarding my professional background.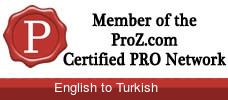 Areas of Expertise & Interest
-
English to Turkish Translation, Localization, Transcreation
•
Internet Translations
: Website Localization, Website Content, e-Commerce Platforms, Legal Content (T&C, Privacy Policy, ToU, etc.)
•
Marketing & Business Translations
: Digital Marketing Materials (landing pages, banners, mailers, social media posts, video scripts), Sales Scripts, Ad Copies, Business Websites, Product Descriptions, Service Descriptions, Business Proposals, Market Research, Brochures, Surveys, Communications
•
Financial Translations
: Forex, Cryptocurrencies, Investments, Financial Reports, Financial Markets Analysis, Investment & Trading Education
•
IT Translations
: SaaS, User Products, Mobile Apps, User Interfaces, Hardware Manuals, Cyber Security
•
Gaming Translations
: Online Gaming & Betting, Video Games (PC & Console), Browser Games, Mobile Games, Facebook Games
•
Artistic & Scientific Translations
: Fiction & Non-fiction Literary Works, Social Science Research & Articles, Life Sciences
Features
:
• Over 9 years of experience in providing high quality work
• No machine translations unless specifically requested
• Expertise in all types of web content
• Full understanding and support on Search Engine Optimization
• Great attention to detail and 110% accuracy
• True perfectionist & proactive
• Always open for communication before, during, and after project
Literary Translations
:

• 500 (500)
by Matthew Quirk
/ 2012 - Domingo Publishing /
Online Purchase
• Polar Star (Kutup Yıldızı)
by Martin Cruz Smith
/ 2012 - Epsilon Publishing /
Online Purchase
• Looking Backward 2000-1887 (Geri Bakış 2000-1887)
by Edward Bellamy
/ 2014 - Doxa Publishing /
Online Purchase
• The Finkler Question (Finkler Sorunu)
by Howard Jacobson
/ 2016 - Pegasus Publishing /
Online Purchase
• Alvin Journeyman (Kalfa Alvin)
by Orson Scott Card
/ Altıkırkbeş Publishing / Not yet published
• Heartfire (Kalp Ateşi)
by Orson Scott Card
/ Altıkırkbeş Publishing / Not yet published
Services:

• English to Turkish Translation
• Turkish to English Translation
• English to Turkish Localization
• English to Turkish Transcreation
• English Content Writing
• Turkish Content Writing
• Search Engine Optimization (On-Site)
• Financial Markets Analysis & Insights