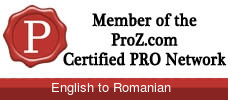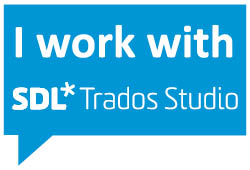 Mission Statement

Local knowledge is the key to having a successful international campaign.
If you want to succeed in today's world of global commerce and ever-changing technology, you need to communicate effectively across languages and cultures. And that requires a partner that understands both language and the marketplace.
Having work experience in the most diverse environments (language teaching/education, management, technical, sales) – I acquired both a substantial cultural baggage, as well as in-depth knowledge of the local market, customer behavior and preferences, all of which have enabled my work to go beyond simply translating words from one language to another, and to offer, in exchange, meaningful messages to the targeted audience.

My goal is simple: improve the communication process.
To achieve that, I place great importance on every facet of creating a translation that is:
- linguistically correct,
- culturally adapted, and
- technically appropriate.
And after more than 15 successful and rewarding years of work in the field of language and localization services, an experience backed by serious higher education in reputable universities in both languages and technical fields, the quality I guarantee with every project I complete is not only a matter of personal pride – 
it's a promise!
*
*      *
Among the numerous customers who have entrusted me with their projects more than once over the years, I have had the pleasure to work for: Google, Samsung, Symantec, NetApp, Sony, Olympus, Canon, Nikon, Sharp, Nokia, Lenovo, Activision, Opel, Renault, Bentley, The European Parliament, various European schools.
Some of my projects and end clients:- Google:
reviewer and language quality validator for over 10 years, for Google professional products such as AdWords, AdSense, Analytics, DoubleClick for Publishers, Ad Designer, Google Affiliate, DIVE, Insights for Search, Programmable Ads, Rich Media, and consumer products such as YouTube, Maps, Gmail.
Over 7 million words reviewed and edited in over 3500 projects.
- Netflix: Lead linguist in the Romanian localization project
- Samsung: User's manuals and marketing campaigns for TV sets, DVD/Blu-Ray players, Home Theater systems.

- PlayStation® and PC Games localization and manual translation (for major game developers and publishers – Activision & EA Games), games for Facebook and Google Play Store (including LQA and live functional testing).

- Renault: translation of training software for test bed staff. Areas covered include mechanical engineering, electronics, gas analysis, measurement and diagnosis.
Translation of new vehicles (between 2010 - 2020) description and marketing materials, manuals, Renault.ro website content.

- Opel: Service manuals for various Opel models.
- Bentley: marketing brochures.

- Olympus, Sony, Canon, Nikon, Sharp, Nokia, Lenovo, Epson: manuals for digital cameras (compact and DSLR), multifunctional printers/copiers, projectors, TV sets, mobile phones and smartphones, as well as other electronics from these manufacturers (~500,000 words, ongoing collaboration).

- AREVA – global leader in nuclear energy and renewable energies: translation and review/editing of high voltage equipment manuals.

- NetApp: technical translation and white paper, B2B marketing.

- Symantec: review & localization for Symantec software products.

- EuroparlTV, the TV station of the European Parliament: translation of video materials (over 100 episodes so far, ongoing collaboration).

*
*      *
Feedback from clients:
"Hi Florin,
It's been a great pleasure working with you. You've proven to be a conscientious and fast worker. We would certainly wish to work with you for future updates of our online service."

"Dear Florin,
I'll be happy to provide you with a reference. You are an excellent translator and a true professional and I would be glad to recommend your services to your prospective collaborators..."
P.B.


"Excellent and professional service delivered on time. Florin helped us at a very short notice and it has been a pleasure to work with him. THANK YOU!"
R.V.


"Smooth communication - Great respect of message conveyed and deadline - We definitely recommend him"
G.B.


"Florin is a very good and reliable professional. Florin has an extremely good command and knowledge of Romanian. He has very good writing skills. We warmly recommend him."
P.C.


(*For further reference details, please see the WWA (Willingness to Work Again) section, at the top of this page.)