Where do I come from?
I set up my own business back in 2009 as an English into French translator... I have a strong linguistic background: two long expatriations in anglophone countries (UK and US), British education (BA, MA and CELTA), and I worked as an EFL teacher before becoming a translator. I also passed the Institute of Linguists' Diploma in Translation in 2009, earning two merits (General and Literature papers) and one distinction (Social Science paper).
Before moving into languages in 2004, I worked for a few years as an HR Manager within international companies.
What can I do?
I can translate a wide variety of documents. My main fields are HR, Social Science, and International Organisations, but I can also work on different topics. Here are some exemple of documents I've translated in my main fields of expertise:
European Union
:
- reports on EU policies, translation of notifications, messages, impact assessments and regulations for the European Commission, DG Entreprise (100 000+ words translated to date, very technical contents),
- translation of evaluation assessments, programme reports and brochures for the DG Employment, Social Affairs & Inclusion and for the DG Resarch and Innovation (80 000+ words translated to date),
- translation of European poll reports (80 000 words).
International Organisations and NGOs
:
- translation of websites, official reports, training documents, compliance assessments, evaluation tools and guidance sheets for ILO's projects in various developing countries (100 000+ words translated to date, working conditions and economic development fields),
- Translator Without Borders volunteer translator: translation of documentation in the international aid area (+/- 50 000 words translated to date).
Human Resources
:
- translation of training documents for employees and managers of an international sports company (80 000 words translated),
- translation of a career management tool for an international IT company (50 000 words translated),
- translation of induction and training manuals for various European companies (50 000 words),
- translation of websites, internal bulletins, press releases relating to HR.
How do I do it?
My priority when translating a text, beyond accuracy is to stay faithful to your work while adapting to the cultural background of the recipient. To say it differently, I drink tea while reading a British text, and switch to coffee when I rewrite it in French ;) That's a real challenge, and what makes my work more interesting! I also research extensively to be sure to get the most out of your text. I create glossaries when working on technical documents, and use different EU databases for technical or policy related translations.
Is it expensive?
My rates are available upon request, but I'm fairly flexible and will work around your budget, so do not hesitate to contact me!
What could your next step be?
Want to learn more? Just send me an email and I'll answer it shortly. Alternatively, you are welcome to visit my website at
Frog Translation
I am looking forward to working with you!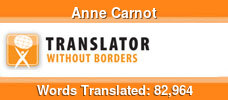 English to French volunteer translator