1. Profile
I am a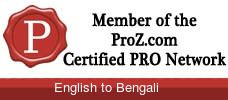 • Native Bengali, Hindi <>English Translator, Editor & Proof-reader, PROZ PRO, Worked as Bengali translator in Radio Moscow for 9 years
Certified Russian<>English translator/Interpreter(Chemical, Oil and Gas domain)
• PhD in Chemistry, 27 years experience as research scientist in Indian Oil Corporation (Largest oil refining company in India).
• Associate Member of American Translators Association (ATA)
• Featured translator for TEKOM, Netherlands(http://www.tekom.nl/vertaalbureau/talen/hindi/sanjay/
• Worked as translator in Radio Moscow for 9 years
• Founding Member of Indian Translators Association(http://www.itaindia.org/members_list.pdf)
• Member Indian Scientific Translators Association (ISTA)
• Platinum member Proz.com.
• Founder www.Indianscripts.com
• Linkedin www.linkedin.com/in/indianscripts
I also Provide translation into Konkani language through my site www.indianscripts.com
2. Fields of expertise
o Chemical, Oil and Gas
o Computers: General; Software Localization
o Business: Advertising & Public Relations, Marketing; Printing & Publishing, Tourism & Travel
o Arts & Humanities: General; Journalism; Literature
o Law: Patents, Trademarks & Copyrights; agreements in general,
o Medicine
o Entertainment: General; Multimedia; Music; Television & radio
o Social sciences: General; Education; International development;
3. Special skills
o Team work with other translators on large projects (2 months or more).
o Leading of translation teams.
o Works with on-line glossaries.
o Glossary building experience.
o Experience, promptness, quality and reliability.
o Daily output: about 1,500-2000 words
4. Education/expertise in Russian translation and Interpretation
• Russian (Certified by Russian Higher Attestation Council)
1972 – 1984, Russian Friendship University Moscow, Russia
• MSc with honours (Excellent grade)
• MPhil in Physical Chemistry
• PhD in Chemistry
• Certified Interpreter in Russian language
• 28 years Experience in Russian translation and interpretation
• Worked as interpreter in many business/government/non government meetings, Conferences, seminars etc. Acted as interpreter for many visiting dignitaries (including Deputy prime minister of a CIS country)
• Published a total of 23 papers including 10 papers in in high technology areas
• Co-authored 19 Indian/US patents including drafting, filing and prosecution with USPTO and Indian Patent Office, data research and white space analysis in Oil and Gas domain.
5. Awards
• Petroleum Management award (Ministry of Petroleum, Govt of India) for
• Scholarship for undergraduate and post graduate studies at PF University, Russia
• Distinction (Otlichnik-Excellence award by University, Moscow, Russia) during the whole career.
6. Member of professional bodies
American Translators Association
Indian Translators Association
Indian Catalysis Society
Indian Society for Analytical Scientists
In case you need references please write to me at
[email protected]