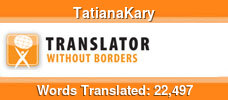 English to Russian volunteer translator
I am also a
professional translator
:
I am a native Russian freelance translator and offer quality translations/ interpretations from English into Russian and vice versa.
Main areas of specialisation are Medicine (Academic and Alternative), Health Care, Psychology, Law (general), Religion, Folklore and Linguistics.
I feel responsibility for the work I do, and respect deadlines. My work style is precise, I carefully choose the words and verify all the terms I meet. I'm a university translation teacher and I give the finishing touches to the texts every day, so I can edit and proofread not only my own translations.
For more details on my translation experience, please see my CV.
Thank you for your time and I am looking forward to hearing from you.
Я переводчик-фрилансер, русский язык - мой родной язык. Выполняю качественные устные и письменные переводы на английский и с английского языка.
Мои области специализации: медицина (традиционная и альтернативная), здравоохранение, психология, юриспруденция, религия, фольклор и лингвистика.
К работе отношусь ответственно, всегда придерживаюсь сроков. В переводах люблю точность, бережно отношусь к слову, перепроверяю все термины. Я преподаю перевод в университете, где ежедневно полирую студенческие тексты, поэтому могу редактировать переводы, и не только свои собственные.
Ниже дана информация о моих основных проектах и размещены резюме на русском и английском языках.
Спасибо, что уделили время. Надеюсь на сотрудничество.
Do not hesitate to ask for a free short sample translation or editing!
Freelance translator since 2000
INTERPRETATION PROJECTS
*Interpretation at the 6th International Theoretical and Practical Conference on Compulsory Enforcement of Judicial Acts and Acts of Other Authorized Bodies, Ulan-Ude September, 2015
*Interpretation at Joint Science and Education Conference "ARCTIC DIALOGUE IN THE GLOBAL WORLD", June 16-17, 2015
*Interpretation for South Korean Physicians negotiation at Buryat State University Buryatia, Russia May. 2015
* Interpretation for AMERICAN MEDICAL ASSOCIATION'S STEPS FORWARD PROGRAM at Ulan-Ude TB Dispensary and Health Ministry (Buryatia, Russia) June, 2013
TRANSLATION PROJECTS
ACADEMIC
*Translation of selected works from Buddhist Philosophy project "Maps of the Profound: Jam-Yang-Shay-Ba's Great Exposition of Buddhist and Non-Buddhist Views on the Nature of Reality", by Jeffrey Hopkins
BUSINESS & INTERNATIONAL RELATIONS
*Supervising of English translation of Buryat State University website, 2013
*Translation of official business correspondence of Buryat State University with international partners 2013-2015
MEDICAL
*Translation of private medical documents 2000-2017
EDUCATION
Certified English Language Teacher, Irkutsk Linguistic University, Irkutsk, Russia (1982-1987)
I always look forward to meeting new customers with the determination to meet and exceed their expectations.
*******************************************
CLIENT TESTIMONIALS
*******************************************
Whenever I hire Tatiana, I know for sure that the deadline will be met and the job will be top quality. She's really committed to the final results and accuracy.
- Aryna Abidueva, Assotiate Professor of Buryat Institute of Educational Politics