Versatile experience in English into Bulgarian and Bulgarian into English translation. University degree in English language and literature with a minor in German. Native Bulgarian speaker who has lived and worked in the USA for seven years. I have specialized in literature, film subtitling, social sciences, EU, economics, marketing, medicine, legal texts, tourism and travel, ecology, sports, games, have done translations in various other fields, and I am always looking for new challenges.
Having taught English and American literature and translation helps me with my literary translations, too.
After winning a contest in 1987, I did simultaneous interpreting of lectures on economics and social sciences for foreign students at the Academy of Social Sciences and Social Management for two years.
I have done translations for different organizations, companies and clients from Europe, the USA, Australia and Israel. I have also done proofreading and copyediting of literary critique in English for the Research and Education Association in Piscataway, NJ, USA.
I have interpreted for the Bulgarian Sports Federation - consecutive and simultaneous interpreting, Bureau Translations - numerous translations on diverse subjects (for example, the Statutes of the Bulgarian Fishing and Hunting Union) and consecutive interpreting at international congresses and meetings. I translated three Walt Disney feature films and several Paramount feature films for an American company; Pink Floyd's
The Wall
for an underground magazine; multiple articles on economics and business management; numerous translation and editing projects on clinical research and others.
I wrote a paper on E. Poe's The Fall of the House of Usher.
Attention to detail and striving for perfection is my main goal.
My translations are usually accompanied by thorough research work and my Bulgarian-English translations are proofread by a native English speaker which is included in the price.
Some recent translations:
- Two short stories by Povey Balkanski:
Shining Beaches
and
Motionless Infinity
, BUL>EN;
-
Political Instability: Electoral Coups in America and Bulgaria.
- Translation without borders;
- Abridgement and translation of the four volumes of the chronicles of a family from the 18th until the 20th century - BUL>EN;
- Numerous translation and editing projects on clinical research - EN>BUL and BUL>EN;
- Six video games - EN>BUL;
- Three articles on the war in Yugoslavia and the Balkan musical traditions - EN>BUL;
- Seven Bulgarian folk songs - BUL>EN;
- Translation of the documents for a public procurement contract award - BUL>EN;
- Three Walt Disney feature films, one for Fox and several feature films for Paramount, EN>BUL;
- A film script, based on Dimitar Dimov's
Doomed Souls
– 110 pages for Gergana Mellin, USA – BUL>EN;
- Subtitles for a documentary for Globaltext, Sweden, EN>BUL;
- A patent in the field of immunology for Tetrapod, Germany, EN>BUL;
- The Business Standards booklet of a company for Clark Translations, USA, EN>BUL;
- A picture dictionary for ECTACO, USA, EN>BUL;
-
http://liternet.bg/publish18/b_h_rogers/
- Four of my translations of the award-winning American author Bruce Holland Rogers' short stories, published in LiterNet e-magazine – EN>BUL;
- Numerous translations on sports, games, casino for British clients - EN>BUL;
- Website translation and localization for New Market Translations, USA, EN>BUL;
- Multiple translations for the HELP campaign, launched by the European Commission, such as a quiz, brochures, leaflets, posters and letters for B&S, Belgium, EN>BUL;
- A newspaper article for London Translations, UK, BUL>EN;
- Pharmaceutical texts for GLEY, Germany, BUL>EN
-
Young People: For a Life without Tobacco
- A European Youth Manifesto for B&S, Belgium, EN>BUL
- A court decision for Probicon, Germany, EN>BUL
- An English-Bulgarian voice phrasebook for ECTACO, USA, EN>BUL
-
The Winning Life - An Introduction to Buddhist Practice
, EN>BUL
- Website editing and translation:
www.millionartists.com
, Canada - EN>BUL
- Bourbon food recipes for Clark Translations, USA, EN>BUL
- A manual and installation instructions for In Real Time Translation, UK - EN>BUL;
- Shell Global Service Standards 2006 - a questionnaire for eTranslate.biz, Australia, EN>BUL
- Website translation for DemiArret ILLP, USA, EN>BUL
- American Whiskey - A Primer for Clark Translations, USA, EN>BUL
- Health questionnaire for EstEnter Translations, Netherlands, BUL>EN
- Cleveland Bay - an article for LIBERO, UK, EN>BUL
- Website translation for C.E.O Inc., Canada, EN>BUL
- Hepatocellular Transplantation - First Case in Bulgaria, BUL>EN
- Japanese Feasts and Traditions, EN>BUL
- Liver Cell Transplantation in Bulgaria, BUL>EN
- Evaluation of Healthy Ageing on the Basis of Cell-Surface Phenotypes, BUL>EN
- 160 pages of Lecture notes on General Ecology by Dr. J. Robinson, EN>BUL
- 70 pages on Solid Waste Management - same author, EN>BUL
- A summary of a master-of-science thesis: Air Quality Observation, Control and Information in the City of Sofia, BUL>EN
Rates are negotiable.
Discount for large projects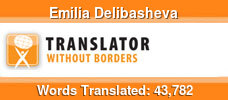 English to Bulgarian & Bulgarian to English volunteer translator