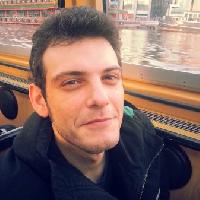 Member since May '15
Working languages:
English to Dutch
Italian to Dutch
French to Dutch
Roberto Befera
ENG/FR/IT to DUT, 5 years of experience



Hengelo, Overijssel, Netherlands

Local time:

14:59 CET (GMT+1)




Native in

: Dutch (Variants: Flemish, Netherlands)

Feedback from
clients and colleagues
on Willingness to Work Again

2

positive reviews

(1 unidentified)


Your feedback
Words matter
Freelance translator and/or interpreter
This person has a SecurePRO™ card. View now.

This person is not affiliated with any business or Blue Board record at ProZ.com.
Translation, Editing/proofreading, Website localization, Software localization, MT post-editing, Subtitling
Specializes in:
Poetry & Literature
Medical (general)
Finance (general)
Medical: Pharmaceuticals
Law: Patents, Trademarks, Copyright
Marketing / Market Research
Business/Commerce (general)
Law: Contract(s)
Engineering (general)
Accounting
More
English to Dutch - Standard rate: 0.07 EUR per word
Italian to Dutch - Standard rate: 0.07 EUR per word
French to Dutch - Standard rate: 0.07 EUR per word

EUR
Questions answered: 2, Questions asked: 2
1 entry



More
PayPal, Wire transfer | Send a payment via ProZ*Pay
Sample translations submitted: 2
Italian to Dutch: Dialogo della moda e della morte
Source text - Italian
Moda. Madama Morte, madama Morte.
Morte. Aspetta che sia l'ora, e verrò senza che tu mi chiami.
Moda. Madama Morte.
Morte. Vattene col diavolo. Verrò quando tu non vorrai.
Moda. Come se io non fossi immortale.
Morte. Immortale? Passato è già più che 'lmillesim'anno che sono finiti i tempi degl'immortali.
Moda. Anche Madama petrarcheggia come fosse un lirico italiano del cinque o dell'ottocento?
Morte. Ho care le rime del Petrarca, perché vi trovo il mio Trionfo, e perché parlano di me quasi da per tutto. Ma in somma levamiti d'attorno.
Moda. Via, per l'amore che tu porti ai sette vizi capitali, fermati tanto o quanto, e guardami.
Morte. Ti guardo.
Moda. Non mi conosci?
Morte. Dovresti sapere che ho mala vista, e che non posso usare occhiali, perché gl'Inglesi non ne fanno che mi valgano, e quando ne facessero, io non avrei dove me gl'incavalcassi.
Moda. Io sono la Moda, tua sorella.
Morte. Mia sorella?
Moda. Sì: non ti ricordi che tutte e due siamo nate dalla Caducità?
Morte. Che m'ho a ricordare io che sono nemica capitale della memoria.
Moda. Ma io me ne ricordo bene; e so che l'una e l'altra tiriamo parimente a disfare e a rimutare di continuo le cose di quaggiù, benché tu vadi a questo effetto per una strada e io per un'altra.
Morte. In caso che tu non parli col tuo pensiero o con persona che tu abbi dentro alla strozza, alza più la voce e scolpisci meglio le parole; che se mi vai borbottando tra' denti con quella vocina da ragnatelo, io t'intenderò domani, perché l'udito, se non sai, non mi serve meglio che la vista.
Moda. Benché sia contrario alla costumatezza, e in Francia non si usi di parlare per essere uditi, pure perché siamo sorelle, e tra noi possiamo fare senza troppi rispetti, parlerò come tu vuoi. Dico che la nostra natura e usanza comune è di rinnovare continuamente il mondo, ma tu fino da principio ti gittasti alle persone e al sangue; io mi contento per lo più delle barbe, dei capelli, degli abiti, delle masserizie, dei palazzi e di cose tali. Ben è vero che io non sono però mancata e non manco di fare parecchi giuochi da paragonare ai tuoi, come verbigrazia sforacchiare quando orecchi, quando labbra e nasi, e stracciarli colle bazzecole che io v'appicco per li fori; abbruciacchiare le carni degli uomini con istampe roventi che io fo che essi v'improntino per bellezza; sformare le teste dei bambini con fasciature e altri ingegni, mettendo per costume che tutti gli uomini del paese abbiano a portare il capo di una figura, come ho fatto in America e in Asia; storpiare la gente colle calzature snelle; chiuderle il fiato e fare che gli occhi le scoppino dalla strettura dei bustini; e cento altre cose di questo andare. Anzi generalmente parlando, io persuado e costringo tutti gli uomini gentili a sopportare ogni giorno mille fatiche e mille disagi, e spesso dolori e strazi, e qualcuno a morire gloriosamente, per l'amore che mi portano. Io non vo' dire nulla dei mali di capo, delle infreddature, delle flussioni di ogni sorta, delle febbri quotidiane, terzane, quartane, che gli uomini si guadagnano per ubbidirmi, consentendo di tremare dal freddo o affogare dal caldo secondo che io voglio, difendersi le spalle coi panni lani e il petto con quei di tela, e fare di ogni cosa a mio modo ancorché sia con loro danno.
Morte. In conclusione io ti credo che mi sii sorella e, se tu vuoi, l'ho per più certo della morte, senza che tu me ne cavi la fede del parrocchiano.' Ma stando così ferma, io svengo; e però, se ti dà l'animo di corrermi allato, fa di non vi crepare, perch'io fuggo assai, e correndo mi potrai dire il tuo bisogno; se no, a contemplazione della parentela, ti prometto, quando io muoia, di lasciarti tutta la mia roba, e rimanti col buon anno.
Moda. Se noi avessimo a correre insieme il palio, non so chi delle due si vincesse la prova, perché se tu corri, io vo meglio che di galoppo; e a stare in un luogo, se tu ne svieni, io me ne struggo. Sicché ripigliamo a correre, e correndo, come tu dici, parleremo dei casi nostri.
Morte. Sia con buon'ora. Dunque poiché tu sei nata dal corpo di mia madre, saria conveniente che tu mi giovassi in qualche modo a fare le mie faccende.
Moda. Io l'ho fatto già per l'addietro più che non pensi. Primieramente io che annullo o stravolgo per lo continuo tutte le altre usanze, non ho mai lasciato smettere in nessun luogo la pratica di morire, e per questo vedi che ella dura universalmente insino a oggi dal principio del mondo.
Morte. Gran miracolo, che tu non abbi fatto quello che non hai potuto!
Moda. Come non ho potuto? Tu mostri di non conoscere la potenza della moda.
Morte. Ben bene: di cotesto saremo a tempo a discorrere quando sarà venuta l'usanza che non si muoia. Ma in questo mezzo io vorrei che tu da buona sorella, m'aiutassi a ottenere il contrario più facilmente e più presto che non ho fatto finora.
Moda. Già ti ho raccontate alcune delle opere mie che ti fanno molto profitto. Ma elle sono baie per comparazione a queste che io ti vo' dire. A poco per volta, ma il più in questi ultimi tempi, io per favorirti ho mandato in disuso e in dimenticanza le fatiche e gli esercizi che giovano al ben essere corporale, e introdottone o recato in pregio innumerabili che abbattono il corpo in mille modi e scorciano la vita. Oltre di questo ho messo nel mondo tali ordini e tali costumi, che la vita stessa, così per rispetto del corpo come dell'animo, e più morta che viva; tanto che questo secolo si può dire con verità che sia proprio il secolo della morte. E quando che anticamente tu non avevi altri poderi che fosse e caverne, dove tu seminavi ossami e polverumi al buio, che sono semenze che non fruttano; adesso hai terreni al sole; e genti che si muovono e che vanno attorno co' loro piedi, sono roba, si può dire, di tua ragione libera, ancorché tu non le abbi mietute, anzi subito che elle nascono. Di più, dove per l'addietro solevi essere odiata e vituperata, oggi per opera mia le cose sono ridotte in termine che chiunque ha intelletto ti pregia e loda, anteponendoti alla vita, e ti vuol tanto bene che sempre ti chiama e ti volge gli occhi come alla sua maggiore speranza. Finalmente perch'io vedeva che molti si erano vantati di volersi fare immortali, cioè non morire interi, perché una buona parte di sé non ti sarebbe capitata sotto le mani, io quantunque sapessi che queste erano ciance, e che quando costoro o altri vivessero nella memoria degli uomini, vivevano, come dire, da burla, e non godevano della loro fama più che si patissero dell'umidità della sepoltura; a ogni modo intendendo che questo negozio degl'immortali ti scottava, perché parea che ti scemasse l'onore e la riputazione, ho levata via quest'usanza di cercare l'immortalità, ed anche di concederla in caso che pure alcuno la meritasse. Di modo che al presente, chiunque si muoia, sta sicura che non ne resta un briciolo che non sia morto, e che gli conviene andare subito sotterra tutto quanto, come un pesciolino che sia trangugiato in un boccone con tutta la testa e le lische. Queste cose, che non sono poche né piccole, io mi trovo aver fatte finora per amor tuo, volendo accrescere il tuo stato nella terra, com'è seguito. E per quest'effetto sono disposta a far ogni giorno altrettanto e più; colla quale intenzione ti sono andata cercando; e mi pare a proposito che noi per l'avanti non ci partiamo dal fianco l'una dell'altra, perché stando sempre in compagnia, potremo consultare insieme secondo i casi, e prendere migliori partiti che altrimenti, come anche mandarli meglio ad esecuzione.
Morte. Tu dici il vero, e così voglio che facciamo.

Translation - Dutch
Mode. Dame des doods, Dame des doods!
Dood. Wacht je beurt af, en dan zal ik verschijnen zonder geroepen te worden.
Mode. Dame des doods!
Dood. Loop naar de hel. Ik kom wanneer je het niet verwacht.
Mode. Alsof ik niet onsterfelijk ben!
Dood. Onsterfelijk? "Het 1000ste jaar is al voorbij" sinds het tijdperk
der sterfelijken eindigde.
Mode. De dame is dus behalve Petrarkist ook nog een 15de of 18de eeuwse Italiaanse poëet.
Dood. Ik hou van Petrarca omdat hij over mijn triomf dichtte, en naar mij verwijst. Maar ik moet vertrekken.
Mode. Blijf! In naam van de liefde die je koestert voor de zeven hoofdzonden. Blijf even en kijk naar mij.
Dood. Ik kijk.
Mode. Herken je me niet?
Dood. Je weet toch dat ik slecht zie en ik ben m'n bril vergeten. De Engelsen maakten er geen op maat voor mij en indien ze dat toch deden zou ik toch niet weten wat ik ermee moest doen/aanvangen.
Mode. Ik ben de mode. Jouw zus.
Dood. Mijn zus?
Mode. Ja. Herinner je je niet dat we beiden geboren zijn uit Verval?
Dood. Alsof ik, de ergste vijand van het Geheugen, me dat nog kan herinneren!
Mode. Ik wel. En ik weet ook dat we beiden evenveel voordeel halen uit de voortdurende destructie op aarde. Hoewel jij het op jouw manier doet en ik op de mijne.
Dood. Tenzij je tegen jezelf of iemand in je keel aan het praten bent, spreek luider, en formuleer je woorden beter. Als je begint te mompelen met die lichte spinnenstem van je zal ik je nooit begrijpen; want je zou moeten weten dat mijn gehoor al even slecht is als mijn zicht.
Mode. Alhoewel het tegen de gewoontes ingaat, omdat ze in Frankrijk niet spreken om verstaan te worden, zal ik aangezien we zusters zijn spreken zoals jij dat wenst zodat we de ceremonies/begroetingen achterwege kunnen laten. Ik zeg dat onze gemeenschappelijke aard en gewoonte is om de aarde voortdurend te vernieuwen. Je valt het leven van een man binnen, en brengt alle mensen en naties van begin tot einde ten val; terwijl ik mezelf voor het grootste deel van de tijd bezighoud met baarden, hoofdjurken, kostuums, meubelen, huizen, e.a. te beïnvloeden.
Het is waar, ik doe dingen die gelijkaardig zijn aan jouw opperste actie. Ik doorprik oren, lippen, en neuzen en zorg ervoor dat ze verscheurd worden door versieringen die ik van hun verwijder.
Ik druk de huid van de mens in met hete ijzeren zegels, onder de schijn van aanbidding. Ik pers de hoofden van kinderen samen met drukverbanden en andere middelen; ik maak er een gewoonte van om aan alle inwoners van een land hoofden met dezelfde vorm te geven, zoals in regio's in Amerika en Azië. Ik martel en maak mensen kreupel met kleine schoenen. Ik smoor vrouwen met korsetten die zo hard spannen dat het lijkt alsof hun ogen van hun hoofd beginnen; en zo haal ik nog duizenden soortgelijke grappen uit. Ook overtuig en dwing ik mensen regelmatig om talloze uitputtingen en ongemakkelijkheden te doorstaan, en vaak ook echt lijden; en sommige sterven zelfs roemelijk uit liefde voor mij. Dan zwijg ik nog over de hoofdpijnen, verkoudheden, alle soorten vergiftingen, ziektes--- dagelijks, anderdaags en 4-daags- die mensen krijgen door hun gehoorzaamheid aan mij. Ze zijn bereid om te rillen van de koude, of te smelten van de hitte gewoonweg omdat het mijn wil is dat ze hun schouders met wol en hun borsten met katoen bedekken. Eigenlijk, doen ze alles wat ik van ze verwacht ongeacht hun eigen lijden.
Dood. De waarheid is dat ik geloof dat je mijn zus bent; een bewijs in de vorm van een geboortecertificaat zou me daar niet meer van kunnen overtuigen. Maar hier zo stilstaan verlamt me. Dus, al je wilt, laat ons vertrekken. Je moet wel niet treuzelen omdat ik snel doorstap. Je kan me dan alles onderweg vertellen. Rekening houdend met onze relatie zal ik als je me niet kunt bijhouden beloven dat als ik sterf je al mijn kleren en gaven erft als nieuwjaarscadeau.
Mode. Als we een race hielden zou ik niet weten wie van ons zou winnen. Want als jij loopt, galoppeer ik en terwijl stilstaan jou verlamt, betekent het voor mij de dood. Dus laat ons vertrekken en we zullen onderweg praten.
Dood. Zo zij het. Aangezien je dezelfde moeder had als ik, moet je me dienen op een bepaalde manier en helpen met m'n zaken.
Mode. Dat heb ik al gedaan—meer dan je je kan voorstellen. En bovenal, wie andere gewoontes voortdurend tenietdoet en wijzigt heeft nooit de gewoonte van de dood veranderd; het is voor deze reden dat het overwonnen heeft vanaf het begin van de wereld tot nu.
Dood. Inderdaad, een groot mirakel, dat je nog nooit gedaan hebt wat je niet kon!
Mode. Waarom kan ik dat niet? Nu toon je hoe onwetend je wel bent voor de kracht van de Mode.
Dood. Wel, wel: we hebben genoeg tijd om hierover te praten als je de gewoonte aanleert om niet te sterven. Maar op dit moment, wil ik je dat je me helpt zoals een lieve zuster, in het assisteren om mijn taak lichter en sneller te maken dan het tot nu toe geweest is.
Mode. Ik heb al enkele inspanningen vermeld die voor jou een bron van profijt zijn. Maar ze zijn nietsbeduidend in vergelijking met degenen waarover ik je nu zal vertellen. Beetje bij beetje, en zeker in moderne tijden, heb ik verwaarlozing en opspraak gebracht aan die pogingen en oefeningen die lichaamsgezondheid promoten; en ik heb ontelbare anderen vervangen die het lichaam op welke wijze dan ook verzwakken en het leven verkorten. En waar je vroeger geen andere bezittingen had behalve graven en kluizen, waar je botten en stof zaaide , die maar een verdord zaad zijn, heb je nu goedgelegen eigendommen, en mensen die een soort van bruikleen zijn vanaf het moment dat ze geboren worden, maar wel niet geclaimd door jou. En meer nog, jij die er voordien voor koos om gehaat en beschimpt te worden, leeft op dit moment, dankzij mij, hooggeschat en geprezen door alle mensen van genie. Zo iemand verkiest jou boven het leven, en houdt je in zo'n hoog aanzien dat hij je aanroept en jou aanschouwt als z'n laatste hoop. Maar dat is niet alles. Ik besefte dat de mens een soort van vaag idee had over het leven na de dood, wat zij onsterfelijkheid noemen. Ze beelden zich in dat ze verder leven in de gedachten van hun genoten, en achter deze herinnering zochten ze met ijver. Natuurlijk was dat in realiteit niet meer dan verbeelding, want wat kon het hun schelen of ze na hun dood verder leven in de gedachten van mensen? Ze kunnen evengoed angst hebben voor besmetting in het graf! Toch, voor het geval dat angst hebben voor deze fantasie misschien bevooroordelend lijkt voor jou omdat het aan je eer en je reputatie afdoet, heb ik de mode afgeschaft van het zoeken naar onsterfelijkheid, en het recht erop, zelfs indien het verdiend is. Zodat nu, wie er ook sterft er zeker van mag zijn dat hij gewoon dood is, en dat elk deeltje van hem in de grond terechtkomt, net zoals een kleine vis die wordt verzwolgen, tot op het bot. Deze belangrijke zaken hebben mijn liefde voor je teweeggebracht. Ik ben ook in mijn inspanning geslaagd om je kracht op aarde te vergroten. Meer nog dan daarvoor, ben ik gretig om dit werk verder te zetten.
Inderdaad, de reden dat ik je wou zien vandaag was om je een voorstel te doen. Namelijk, dat we in de toekomst niet apart moeten werken, maar gezamenlijk zodat we kunnen plannen en uitvoeren ten goede van onze respectievelijke doelstellingen.
Dood. Dat is verstandig gesproken, en ik ben bereid je voorstel te aanvaarden.

English to Dutch: Focus on the environment in the weaner corner
General field: Medical
Detailed field: Livestock / Animal Husbandry
Source text - English
XXX
XXX
NO.
6 • 5 JUNE 2020
HIGHER SURVIVAL RATE
Focus on the environment in the weaner corner
Wanted:
Method of identifying sows carrying App
One way of reducing the infection pressure from Actinobacillus pleuropneumoniae (App) in a herd may be to take out those sows that are carrying the bacterium and thus at risk of infecting their offspring.
This will require the ability to identify these sows.
This study examined whether the relationship between the presence of App in the tonsils and trachea and the levels of antibodies in the blood of sows could be a means of identifying infectious sows.
XXX
XXX
XXX
XXX
XXX
XXX
Picture 1.
Chronic changes in the pleural sac, which lead to pleural scarring and may require trimming of the chest wall.
Picture 2.
Lung changes seen in peracute App infection.
The clinical course may be so rapid that the pig may die without any preceding symptoms.
PHOTO:
XXX
Infection with Actinobacillus pleuropneumoniae serotypes 2 (App2) and 3 (App3) primarily affects Swedish pigs during the period from weaning to slaughter.
The infection primarily causes inflammation of the pleural sac (Picture 1), which can be seen at slaughter, but it can also cause outbreaks of acute pneumonia (Picture 2) with high mortality.
The App bacteria are found in the tonsils of the sow, from where they are spread to the suckling piglets, probably during the suckling period itself.
The piglets have some protection against App through antibodies in the colostrum, the duration of which is proportional to the level of antibodies in the sow's blood.
Provided that this protection exceeds the infection pressure, the piglets will remain healthy and, therefore, the offspring of sows with high levels of antibodies will be infected later than the offspring of sows with low levels of antibodies.
If the infection pressure is low, the piglets can then withstand an App infection without developing clinical disease.
However, a high infection dose from the sow can lead to the disease breaking out as early as during the suckling or growth period.
These are often followed by outbreaks during the finisher period, as well as high incidences of slaughter abnormalities referring to pleural scarring.
In these herds, it has been possible to detect the presence of the bacterium in the tracheae of up to 90 per cent of the pigs at the end of rearing.
However, it is important to remember that, although App occurs in most herds, at low infection pressure it is not associated with disease or with a high incidence of pleural scarring.
Equally, a high incidence of pleural scarring may occur even without the presence of App.
For this reason, it is always important to make a correct diagnosis where there is a high incidence of pleural scarring at slaughter.
THE AIM:
IDENTIFYING SOWS
An increasing trend can be seen in the Swedish national slaughter database for registrations of chronic pleural scarring in finishers, young sows and sows.
Registrations by personnel at the Swedish National Food Agency (Livsmedelsverket) currently stand at around 17 per cent (see Figure 1).
Serious outbreaks of App infection mean increased animal suffering, increased use of antibiotics and increased production costs.
There are, therefore, powerful reasons to prevent App infections.
One way to achieve this is to start a new production using SPF (Specific Pathogen-Free) pigs, which have a very high health status and are free of, among other things, App.
In practice, however, a switch to SPF pig production has rarely been made as it requires taking out one's own herd and replacing it with SPF pigs.
Figure 1.
Proportion of registrations of pleural scarring in connection with slaughter of finishers, young sows and sows during the period 2005–2018 (Swedish National Slaughter Database).
Prevalence % 18
Sows Young sows Finishers
Another method is to perform medical disinfection of adult animals, whereby all breeding stock is moved and treated with antibiotics while at the same time the pens are emptied and disinfected.
This, too, is very costly.
Furthermore, the scientific foundation for the disinfection of herds against App is limited.
Vaccination, too, can be used to reduce the extent of App.
Another way of reducing the infection pressure in a herd may be to take out those sows that are carrying the infection and thus at risk of infecting their offspring.
In fact, it has previously been demonstrated that sows may be asymptomatic carriers of App bacteria.
The aim of this project, therefore, was to examine whether it would be possible to identify sows that are at risk of transmitting App infection onwards within a herd.
THREE HERDS TESTED
Three integrated herds with a high incidence of pleural scarring as registered on slaughter were included in the study.
Cull sows from the three herds (ten sows per herd) were tested at a slaughterhouse at the time of slaughter.
The sows examined had, on average, had 3.4 litters.
After slaughter, samples were collected by ESwab from the tonsils and trachea; these were then analysed using a PCR technique for the presence of App (App2 and App3), Mycoplasma hyopneumoniae (M hyop), Pasteurella multocida (Pm), Mycoplasma hyorhinis and influenza.
To prevent contamination of the tonsils, the sows were slaughtered without scalding.
In addition to ESwabs, blood samples were taken from all individuals to look for the presence of antibodies to the same infectious agents.
Finally, the lungs were inspected and the prevalence of pleural scarring and other lung abnormalities registered.
RESULTS OF THE STUDY
The results of the examinations show variations in the occurrence of the infectious agents, not only among sows but also among herds.
See fact box and Figure 2.
The findings from the lungs from extended slaughter checks are presented in Table 1.
As the table shows, no lung changes at all were registered in two sows per herd.
Pleural scarring was registered in seven to eight of the ten sows in each herd, but in the majority of cases this extended to less than ten per cent of the lung field.
Table 1 also shows the slaughter lesion statistics relating to pleural scarring for the herds during the last year before the examination was performed.
Table 1.
Results of extended slaughter checks and disease registrations at time of slaughter.
Herd 1
Herd 2
Herd 3
Extended slaughter checks on 10 sows
n = 10
n = 10
n = 10
Sows without tongue abnormalities
2
2
2
Mycoplasma-like change
1
-
-
Pleural scarring 10% of lung field
2
4
2
No. of finishers
n = 3,360
n = 5,157
n = 18,579
Proportion of finishers with pleural scarring at slaughter during the year prior to the examination (variation among batches)
22.4% (13–39%)
41.1% (27–44%)
64.2% (58–71%)
Herds 2 and 3 had more than double the average registered pleural scarring compared with the averages for the slaughterhouses.
The proportion of pleural scarring differed significantly among the three herds examined.
In 2019, there were no respiratory tract problems or treatments for respiratory tract infections among adult pigs in any of the three herds sampled.
NO CLEAR PATTERN
This study showed that App bacteria were present to a large extent in the tonsils of sows from all three herds, while no bacteria could be detected in the trachea.
It was also not possible to demonstrate any correlation between the presence of bacteria in the tonsils and the presence of antibodies in blood samples.
Despite the low levels of antibodies to App2 and App3, the two commonest serotypes in Sweden, it was possible using PCR techniques to detect App in the tonsils of essentially all sows in these herds.
These findings could indicate that low levels of antibodies increase the risk of colonisation of the tonsils by App, while the low levels of antibodies pointed to a low infection pressure.
The fact that App was detected in the tonsils of fewer animals (six out of ten) in Herd 3, which had higher levels of antibodies to both App2 and App3, could provide corroboration of a protective effect from high antibody levels.
In Herd 3, however, App was detected in the tonsils of those animals with the highest levels of antibodies, which showed that high levels of antibodies do not in themselves prevent the presence of App in the tonsils.
Rather, the absence of treatments for respiratory tract infections in sows, along with the absence of App in the tracheae in all three herds, indicated that, in practice, the sows had developed protection against App infection.
In other words, they were living in balance with the infectious agent.
However, it should be noted that App-like lesions were registered on extended slaughter checks in 70–80 per cent of the sows at herd level, and that App was frequently present in the tonsils.
As no pattern could be seen between levels of antibodies to App and the presence of App in the tonsils, it does not appear that there would be any possibility of distinguishing infectious sows from non-infectious individuals using a blood test.
In practice, therefore, all sows should be considered potential sources of App infection.
CONCLUSION
App bacteria were present to a large extent in the tonsils of sows from all three herds, while App could not be detected in the trachea.
Several sows were carrying App bacteria in the tonsils without it being possible to detect any antibodies to App in the blood.
It is therefore not possible to identify which sows risk sustaining an App infection in a herd through blood testing alone.
As App was never detected in the tracheae of the sows, such testing would not appear to provide any added value.
Conversely, in growing animals samples from the trachea may provide increased information on the App status of a herd.
The results showed that the infection pressure with regard to App infections differs among herds, and that each herd thus appears to be unique.
Before choosing whether or not to vaccinate, it is therefore recommended to perform testing in order to determine both the right diagnosis and when the animals have produced antibodies.
This is in order to search for the optimal time for vaccination.
Figure 2.
Differences between herds
Seropositive App2
Seropositive App3
App in tonsils
Herd 1 Herd 2
In Herd 1, all sows were seronegative to App2, i.e. they had no antibodies to App2 in the blood, and only three sows were seropositive to App3.
However, App was detected in the tonsils of all 10 sows.
In Herd 2, 5 out of 10 sows had antibodies to App2 and 8 had antibodies to App3.
Here, App was detected in the tonsils of all sows apart from one (a fourth-parity sow).
This sow had no antibodies to App2 or App3.
Herd 3
In Herd 3, antibody levels to both App2 and App3 were higher than in the other herds.
Here, all sows were seropositive to App2 and only two sows were seronegative
to App3.
App was detected in the tonsils of the six sows with the highest levels of antibodies
to App2 and App3, but not among the four sows that had lower levels of antibodies (one
first-parity sow, one second-parity sow and two third-parity sows).
ILLUSTRATION:
XXX
Examination results
Actinobacillus pleuropneumoniae (App)
In total, antibodies to App2 could be detected in the blood of 15 out of 30 sows (50 per cent), and to App3 in 13 (43 per cent).
App was detected in the tonsils of 25 of the 30 sows, but not in the trachea.
Mycoplasma hyopneumoniae (M hyop)
Antibodies were detected in 25 out of 30 sows (83 per cent).
M hyop was detected in the tonsils of two of these 30 sows (seven per cent), and in both these sows M hyop was also detected in the trachea.
Pasteurella multocida (Pm)
Antibodies were detected in 15 out of 30 sows (50 per cent).
Pm was detected in the tonsils of 23 of the 30 sows (77 per cent).
Pm was also detected in the tracheae of two of these 23 sows (nine per cent), though not in any other sow.
Influenza
Antibodies were detected in 21 out of 30 sows (70 per cent), but influenza was not detected in the tonsils or tracheae of any of them.

Translation - Dutch
XXX
XXX
NR.
6 • 5 JUNI 2020
HOGERE OVERLEVINGSKANS
Focus op het milieu in de speenhoek
Gezocht:
Methode om zeugen te identificeren met App
Een manier om de infectiedruk van Actinobacillus pleuropneumoniae (App) te verminderen bij een kudde kan zijn om de zeugen te verwijderen die besmet zijn met de bacterie en zodoende het risico lopen om hun nakomelingen te besmetten.
Dit zal vereisen dat deze zeugen worden geïdentificeerd.
Deze studie onderzocht of de relatie tussen de aanwezigheid van App in de amandelen en luchtpijp en de concentraties antilichamen in het bloed van zeugen een manier kan zijn om besmette zeugen te identificeren.
XXX
XXX
XXX
XXX
XXX
XXX
Afbeelding 1.
Chronische veranderingen in de borstvlieszak, die leiden tot littekenvorming en mogelijk het trimmen van de borstkas vereisen.
Afbeelding 2.
Veranderingen in de long waargenomen bij peracute besmetting met App.
Het klinische verloop kan zo snel zijn dat het varken kan sterven zonder enige voorafgaande symptomen.
FOTO:
XXX
Besmetting met Actinobacillus pleuropneumoniae serotypes 2 (App2) en 3 (App3) treft voornamelijk Zweedse varkens tijdens de periode van spening tot slachting.
De infectie veroorzaakt voornamelijk ontsteking van de borstvlieszak (Afbeelding 1), wat kan worden waargenomen bij slachting, maar het kan ook uitbraken van acute longontsteking (Afbeelding 2) veroorzaken met een hoog sterftecijfer.
De App-bacteriën worden waargenomen in de amandelen van de zeug, en van daaruit verspreiden ze zich naar de speenbiggen, waarschijnlijk tijdens de zoogperiode zelf.
De biggen hebben enige bescherming tegen App via antilichamen in de biestmelk en de duur daarvan is evenredig aan de concentratie antilichamen in het bloed van de zeug.
Als deze bescherming de infectiedruk overschrijdt, zullen de biggen gezond blijven, en daardoor zullen de nakomelingen van zeugen met een hoge concentratie antilichamen later worden besmet.
Als de infectiedruk te laag is, kunnen de biggen een besmetting met App weerstaan zonder een klinische ziekte te ontwikkelen.
Echter kan een hoge infectiedosis van de zeug ertoe leiden dat de ziekte al uitbreekt gedurende de zoog- of groeiperiode.
Deze worden opgevolgd door uitbraken tijdens de afmesting, maar ook een hoge frequentie van afwijkingen tijdens de slachting die betrekking hebben op pleurale littekens.
Bij deze kuddes was het mogelijk om de aanwezigheid van de bacterie te detecteren in de luchtpijp bij 90 procent van de varkens op het einde van de opfokperiode.
Het is echter belangrijk om te onthouden dat, hoewel App zich voordoet bij de meeste kuddes, bij een lage infectiedruk het niet in verband wordt gebracht met een ziekte of met een hoge frequentie pleurale littekens.
Tegelijkertijd kan er zich zelfs een hoge frequentie pleurale littekens voordoen zonder de aanwezigheid van App.
Voor deze reden is het altijd belangrijk om een correcte diagnose te stellen waar er zich een hoge frequentie pleurale littekens voordoet bij de slachting.
HET DOEL:
IDENTIFICEREN VAN ZEUGEN
Een stijgende trend kan worden waargenomen in de Zweedse Nationale Databank Slachtingen voor registraties van chronische pleurale littekens bij slachtvarkens, jonge zeugen en zeugen.
Registraties door het personeel van het Zweedse Nationale Voedselagentschap (Livsmedelsverket) bedraagt momenteel ongeveer 17 procent (zie Figuur 1).
Ernstige uitbraken van besmettingen met App betekenen verhoogd dierenleed, verhoogd gebruik van antibiotica en verhoogde productiekosten.
Er zijn, daarom, zwaarwegende redenen om besmettingen met App te voorkomen.
Een manier om dit te bereiken is om te starten met een nieuwe productie via SPV- (Specifieke Pathogeen- Vrije) varkens, die een hoge gezondheidsstatus hebben en vrij zijn, van onder andere, App.
In de praktijk is een omschakeling naar SPV-varkens echter zelden voorkomend omdat de kudde moet worden vervangen met SPV-varkens.
Figuur 1.
Het aandeel van de registraties van pleurale littekens in relatie met de slachting van slachtvarkens, jonge zeugen en zeugen tijdens de periode 2005-2018 (Zweedse Nationale Databank Slachtingen).
Prevalentie % 18
Zeugen Jonge zeugen Slachtvarkens
Nog een methode is om een medische desinfectie uit te voeren bij volwassen dieren, waarbij het volledige fokdierenbestand wordt verplaatst en behandeld met antibiotica, terwijl op hetzelfde moment de hokken worden leeggemaakt en gedesinfecteerd.
Dit is ook zeer duur.
Bovendien is de wetenschappelijke basis voor de desinfectie van kuddes tegen App beperkt.
Vaccinatie kan ook worden gebruikt om de omvang van App te beperken.
Een manier om de infectiedruk van een kudde te verminderen, kan zijn om de zeugen te verwijderen die besmet zijn en zodoende het risico lopen om hun nakomelingen te besmetten.
Het werd overigens eerder aangetoond dat zeugen asymptomatische dragers kunnen zijn van de App-bacterie.
Het doel van dit project was daarom om te onderzoeken of het mogelijk zou zijn om zeugen te identificeren die het risico lopen om de App-bacterie over te dragen binnen een kudde.
DRIE KUDDES GETEST
Drie geïntegreerde kuddes met een hoge frequentie pleurale littekens zoals geregistreerd bij slachting werden opgenomen in de studie.
Slachtzeugen van de drie kuddes (tien zeugen per kudde) werden getest in een slachthuis op het moment van slachting.
De onderzochte zeugen hadden gemiddeld 3,4 nesten.
Na de slachting werden de stalen verzameld door Eswab van de amandelen en luchtpijp; deze werden daarna geanalyseerd met gebruik van een PCR-techniek op de aanwezigheid van App (App2 en App3), Mycoplasma hyopneumoniae (M hyop), Pasteurella multocida (Pm), Mycoplasma hyorhinis en influenza.
Om besmetting van de amandelen te voorkomen, werden de zeugen geslacht zonder verbranding.
Naast ESwabs werden bloedstalen afgenomen bij alle individuen om te zoeken naar de aanwezigheid van antilichamen tegen dezelfde infectieuze agentia.
Tenslotte werden de longen onderzocht en de prevalentie van pleurale littekens en andere longafwijkingen geregistreerd.
RESULTATEN VAN DE STUDIE
De resultaten van de onderzoeken tonen variaties aan in de verschijning van infectieuze agentia, niet alleen bij zeugen, maar ook bij de kuddes.
Zie feitenvak en Figuur 2.
De bevindingen van de longen door uitgebreide controles bij de slachting worden weergegeven in Tabel 1.
De tabel toont aan dat er geen veranderingen aan de longen werden geregistreerd bij twee zeugen per kudde.
Pleurale littekens werden geregistreerd bij zeven tot acht op de tien zeugen bij elke kudde, maar in het merendeel van de gevallen werd dit uitgebreid naar minder dan tien procent van het longveld.
Tabel 1 toont ook de statistieken van letsels tijdens de slachting met betrekking tot pleurale littekens voor de kuddes tijdens het laatste jaar voor het onderzoek werd uitgevoerd.
Tabel 1.
Resultaten van uitgebreide controles bij de slachting en registraties van ziekte op het moment van slachting.
Kudde 1
Kudde 2
Kudde 3
Uitgebreide controles bij de slachting bij 10 zeugen
n = 10
n = 10
n = 10
Zeugen zonder tongafwijkingen
2
2
2
Mycoplasma-achtige verandering
1
-
-
Pleurale littekens 10% van het longveld
2
4
2
Aantal slachtvarkens
n = 3.360
n = 5.157
n = 18.579
Aandeel van slachtvarkens met pleurale littekens bij de slachting tijdens het jaar voorafgaand aan het onderzoek (variatie in batches)
22,4% (13-39%)
41,1% (27-44%)
64,2% (58-71%)
Kuddes 2 en 3 hadden meer dan het dubbel van het gemiddeld aantal geregistreerde pleurale littekens in vergelijking met de gemiddelden voor de slachthuizen.
Het aandeel pleurale littekens verschilde aanzienlijk bij de drie onderzochte kuddes.
In 2019 waren er geen luchtwegproblemen of behandelingen voor luchtweginfecties bij volwassen varkens bij de drie onderzochte kuddes.
GEEN DUIDELIJK PATROON
Deze studie toonde aan dat de App-bacteriën in grote mate aanwezig waren in de amandelen van zeugen bij alle drie kuddes, terwijl er geen bacteriën konden worden gedetecteerd in de luchtpijp.
Het was ook niet mogelijk om het verband aan te tonen tussen de aanwezigheid van bacteriën in de amandelen en de aanwezigheid van antilichamen in bloedstalen.
Ondanks de lage concentraties antilichamen tegen App2 en App3, de twee meest voorkomende serotypes in Zweden, was het mogelijk om PCR-technieken te gebruiken om App te detecteren in de amandelen van grotendeels alle zeugen in deze kuddes.
Deze bevindingen konden erop wijzen dat lage concentraties antilichamen het risico op kolonisatie van de amandelen verhoogd bij App, terwijl de lage concentraties antilichamen wezen op een lage infectiedruk.
Het feit dat App werd gedetecteerd in de amandelen van minder dieren (zes op tien) in Kudde 3, die hogere concentraties antilichamen had tegen zowel App2 en App3, kan bevestiging bieden van een beschermend effect van hoge concentraties antilichamen.
In Kudde 3 werd App echter gedetecteerd in de amandelen van deze dieren met de hoogste concentraties antilichamen, waaruit bleek dat hoge concentraties antilichamen de aanwezigheid van App in de amandelen niet verhindert.
Veeleer de afwezigheid van behandelingen voor luchtweginfecties bij zeugen, samen met de afwezigheid van App in de luchtpijp bij alle drie kuddes, toonde aan dat, in de praktijk, de zeugen bescherming hadden ontwikkeld tegen besmetting met App.
Met andere woorden: ze leefden in evenwicht met het infectieuze agens.
Het dient echter te moeten worden opgemerkt dat App-achtige letsels werden geregistreerd bij uitgebreide controles tijdens slachting bij 70-80 procent van de zeugen op het niveau van de kudde, en dat App vaak aanwezig was in de amandelen.
Omdat er geen patroon kon worden waargenomen tussen de concentraties antilichamen tegen App en de aanwezigheid van App in de amandelen, ziet het er niet naar uit dat het mogelijk is om besmette zeugen te onderscheiden van niet-besmette individuen, met gebruik van een bloedtest.
In de praktijk moeten alle zeugen daarom worden beschouwd als mogelijke bronnen van besmetting met App.
CONCLUSIE
De App-bacteriën waren in grote mate aanwezig in de amandelen van zeugen bij alle drie kuddes, terwijl er geen bacteriën konden worden gedetecteerd in de luchtpijp.
Tal van zeugen hadden App-bacteriën in de amandelen zonder dat het mogelijk is om antilichamen tegen App in het bloed te detecteren.
Het is daarom niet mogelijk om alleen maar met een bloedtest zeugen te identificeren die het risico lopen op een besmetting met App in een kudde.
Omdat App nooit werd gedetecteerd in de luchtpijp van de zeugen, lijkt dergelijk onderzoek geen toegevoegde waarde te verschaffen.
Anderzijds kunnen bij dieren in groei stalen van de luchtpijp meer informatie verschaffen over de App-status van een kudde.
De resultaten toonden aan dat de infectiedruk met betrekking tot besmettingen met App verschilt van kuddes, en dat elke kudde bijgevolg uniek lijkt te zijn.
Alvorens te kiezen wel of niet te vaccineren, wordt het daarom aangeraden om testen uit te voeren om zowel de juiste diagnose te bepalen, maar ook wanneer de dieren de antilichamen hebben geproduceerd.
Dit heeft als doel te zoeken naar de optimale tijd voor vaccinatie.
Figuur 2.
Verschillen tussen kuddes
Seropositief App2
Seropositief App3
App in amandelen
Kudde 1 Kudde 2
Bij Kudde 1 waren alle zeugen seronegatief voor App2, d.w.z. ze hadden geen antilichamen tegen App2 in het bloed, en slechts drie zeugen waren seropositief voor App3.
App werd echter gedetecteerd in de amandelen van alle 10 zeugen.
Bij Kudde 2, hadden 5 van de 10 zeugen antilichamen tegen App2 en 8 hadden antilichamen tegen App3.
App werd hier gedetecteerd in de amandelen van alle zeugen behalve bij een (zeug in de vierde pariteit).
Deze zeug had geen antilichamen tegen App2 of App3.
Kudde 3
Bij Kudde 3 waren de concentraties antilichamen tegen zowel App2 en App3 hoger dan bij de andere kuddes.
Hier waren alle zeugen seropositief voor App2 en slechts twee zeugen waren seronegatief
voor App3.
App werd gedetecteerd in de amandelen van de zes zeugen met de hoogste concentraties antilichamen
tegen App2 en App3, maar niet bij de vier zeugen die lagere concentraties antilichamen hadden (zeug
in de eerste pariteit, een zeug in de tweede pariteit en twee zeugen in de derde pariteit).
ILLUSTRATIE:
XXX
Onderzoeksresultaten
Actinobacillus pleuropneumoniae (App)
In totaal konden antilichamen tegen App2 worden gedetecteerd in het bloed bij 15 van de 30 zeugen (50 procent), en tegen App3 bij 13 (43 procent).
App werd gedetecteerd in de amandelen bij 25 van de 30 zeugen, maar niet in de luchtpijp.
Mycoplasma hyopneumoniae (M hyop)
Antilichamen werden gedetecteerd bij 25 van de 30 zeugen (83 procent).
M hyop werd gedetecteerd in de amandelen bij twee van deze 30 zeugen (zeven procent), en bij beide zeugen werd ook M hyop gedetecteerd in de luchtpijp.
Pasteurella multocida (Pm)
Antilichamen werden gedetecteerd bij 15 van de 30 zeugen (50 procent).
Pm werd gedetecteerd in de amandelen bij 23 van de 30 zeugen (77 procent).
Pm werd ook gedetecteerd in de luchtpijp bij twee van deze 23 zeugen (negen procent), maar niet bij andere zeugen.
Influenza
Antilichamen werden gedetecteerd bij 21 van de 30 zeugen (70 procent), maar er werd geen influenza gedetecteerd in de amandelen of luchtpijp.

More
Master's degree - Erasmushogeschool Brussel
Years of experience: 6. Registered at ProZ.com: Apr 2015. Became a member: May 2015.
N/A
English to Dutch (Erasmushogeschool Brussel, verified)
Italian to Dutch (Erasmus School of Brussels, verified)

N/A
Adobe Acrobat, DivXLand Media Subtitler, memoQ, MemSource Cloud, Microsoft Excel, Microsoft Office Pro, Microsoft Word, Passolo, Powerpoint, SDL TRADOS, Smartcat, Wordfast
English (PDF)
Roberto Befera endorses ProZ.com's Professional Guidelines.
Meet new translation company clients
Meet new end/direct clients
Network with other language professionals
Learn more about translation / improve my skills
Get help on technical issues / improve my technical skills
Learn more about additional services I can provide my clients
Learn more about the business side of freelancing
Stay up to date on what is happening in the language industry
Help or teach others with what I have learned over the years
Buy or learn new work-related software
Improve my productivity
Bio
A multilingual , reliable translator with a passion for languages and with native fluency in English, Dutch and Italian . Proven to be skilled to translate written documents in any of the mentioned languages to the other seamlessly and who also has a C1 level language knowledge of French. An eager learner who is open to new ideas and communicates clearly & effectively with people from all social & professional backgrounds.
Well versed in cross cultural differences and mannerisms that are very essential in order to translate effectively. You can reach me by email on
[email protected]
or by phone on 0031623741417
Keywords: italian, dutch, english, french, gaming localization, subtitling, translation, proofreading, revision
Profile last updated
Nov 11, 2020