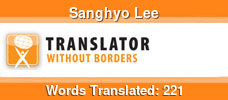 Hi, I am Sanghyo. I am a native Korean, full-time translator of English-Korean-English.
With an extensive knowledge and work experience in the field of Education, Contemporary Art and Design, Website design, Film production, Hotel business, Retail industries, etc., I have translated more than 150,000 words and proofread about 1,000,000 words over the past two years.
Based on the following knowledge and background, I offer my clients clear, accurate and culturally appropriate translations:
• 6 years of working and studying in the UK
• Broad range of knowledge and work experience in education, art and design, business, marketing, etc.
(e.g., Academic papers, Research proposals, Marketing materials, Artist statements and Exhibition reviews)
• Good working knowledge of higher education, especially in the field of art and design, in both UK and South Korea
(Teaching techniques, Learning resources and overall Education system, etc.)
• Proficient in various computer applications including MS Office, Wordfast, Fluency, Subtitle Edit, Adobe Photoshop and Illustrator.
• Broad interests and knowledge of Film, TV shows(UK, US, South Korea), International affairs, International Law, Environmental issues, etc.
• Collaborations with a wide range of international companies and professionals