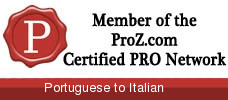 Contact details:


E-mail: [email protected]
Website: https://eleonoramaggi3.wixsite.com/website
Language Pairs: 
Portuguese(PT,BR)>Italian
English>Italian
I'm a native Italian speaker, and I translate from English and Portuguese (PT/BR) to Italian.
I am a passionate Portuguese specialist translating since 2015, being an active student at my University. I've been to Brasil, and now I'm living in Lisbon. I love traveling, and after many journeys abroad, I have refined my English.
I translate mainly in the literature field, but I have a scientific background (chemistry, physics, and medicine) and a great passion for films, comics, and video game-related contexts.
At the moment, I'm specializing in video games, law, and subtitling. 
 

FIELDS OF EXPERTISE: 
- LITERATURE: books, romance, poetry, blogs, art, culture, etc.
- MARKETING: business communication, advertising, travel, tourism sites, comics, etc. 
- EDUCATIONAL: science, medicine, physics, chemistry, biology, geography, sports, etc.
- TECHNICAL/IT: safety procedures, user manuals, training materials, business plans, software, video games, etc.
- LAW: contracts, sentences, certificates, diplomas, CVs, etc.
Please note that the fields of expertise above are not comprehensive and are shown for illustrative purposes. 



RATES AND CONDITIONS 

My basic rate (negotiable) for professional translations depends upon:
- Target and source language
- Total word count
- The degree of the technicality of terminology
- Deadlines 

I use the most up-to-date CAT tools on the market, as WordFast, Memsource, MemoQ, and others.
Certified Translator from Linguist Training, Accredited Examination Centre for the Chartered Institute of Linguists (CioL). 
Feel free to ask for my CV to obtain more information.