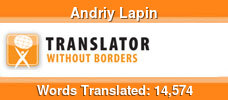 _
I've recently relocated to Poland to do a Master's course in Empirical and Theoretical Linguistics (hence, in-depth knowledge of syntactic theory, understanding of statistics, corpus linguistics, and scientific methodology in general).
Solid linguistic knowledge, a keen interest in current translation trends and teaching advanced English and Legal English courses to my students will certainly stand you in good stead. So will my
seven years' experience
with large and smaller translation agencies — both in Ukraine (Advanced International Translations, famous for its translation management systems) and abroad (
Wolfestone /United Kingdom/, Acclaro /USA/, Kolesnik Traductions /France/, RR Donnelley /USA/, ViewGlobally /Lithuania/, Technicis /France/
, etc.).
Formerly
senior translator / interpreter with Pravex-Bank, part of Intesa Sanpaolo Group—the third largest banking group in Europe
, I was in charge of the full spectrum of linguistic support that a financial institution might need, including
oral / consecutive interpreting
at high-profile meetings, negotiations with business and public sector;
translating
myriad intrabank documents, such as CRM statements, legal opinions, loan applications, certificates, official messages for the National Bank of Ukraine, lots of purely legal translations (court decisions, contracts, etc.) and banking policies (Lending Policy, Procurement Policy, Repossession Procedure, etc.) issued by Intesa Sanpaolo for its international subsidiaries. Besides translation, my duties included
proofreading
and
quality assessment
, as well as coaching junior translators.
LANGUAGE AND TRANSLATION CONTESTS I HAVE WON:
National English language olympiads
(successively, 2006­ to 2008);
Fourth Translation/Interpreting Contest for Young Professionals
(Kyiv, December 2012);
National Ukrainian Translation/Interpreting Contest
(Kyiv, May 2013);
Literary Contest of the Russian Wodehouse Society
(August 2013);
Translator of the Quarter
at Wolfestone Translation.
ACADEMIC CREDENTIALS:
I hold a
cum laude
Master's Degree in
Translation Studies
(English and French) as well as a diploma in
Legal Studies
, besides a variety of
internationally acclaimed certificates from Cambridge
:
CAE, CPE
(for passing the most demanding general English examinations (levels C1 & C2 of the European Framework),
ILEC
(a certificate in Legal English, passed with 'A with Merit' mark), and
TKT
(Teaching Knowledge Test, the highest grade for all three modules). In 2013, I completed a
course in trial techniques organized by Leavitt Institute
within the BUILD Project for Ukraine, for which I have a certificate of attendance.
BOOK TRANSLATIONS:
I have recently translated the best-selling book on economics,
"Economics: The User's Guide"
by Ha-Joon Chang, published in Ukraine by Nash Format Publishers in autumn 2016:
_
PROJECT HIGHLIGHTS:
-translating/editing of
The Encyclopedia of Olympic Games 1972-2000
by Serhiy Bubka et al.;
-
Dropbox
localization (Web, Email, mobile apps) for Ukrainian users;
- translation of procurement documents for
Kazan Heat Power Plant
;
- localization of
Yahoo mobile apps
;
- translation of
HP
manuals into Russian;
- Proofreading
Microsoft Office Help site
localised into Russian;
- localization of
Duolingo
—a free language-learning and crowd-sourced text translation platform—into Ukrainian;
- editing a safety sheet for
Firmenich
, a Swiss chemical manufacturer. Comment from the project manager:
"Please note that client expressed a high satisfaction with the quality of your editing."
- translation of an installation and commissioning manual for a fan to be installed at
Reftinskaya GRES
—Russia's most powerful thermal power station;
- translation of
joystick manuals
from French into Russian for
Gemini
and
EasyJoy
;
- translation of
thermostat manuals
from English into Russian and Ukrainian for
OJ Electronics A/S
;
- translation of a
technical description
of a combat management system for a combatant ship for
Elbit Systems Ltd
;
- localization of
buydeeper.com
website into Russian and Ukrainian and translation of
Deeper Fishfinder Sonar
manual into Russian;
- translation of press release materials for
Gemalto—world leader in digital security
, from French into Russian;
- legal materials of a
court case for tax evasion in France
, from French into Russian;
-
translation of marketing materials for Ultrawave
, a company that offers innovative ultrasound technology for a variety of cleaning applications, from English into Russian;
- legal editing and proofreading of a
non-disclosure agreement between Hewlett-Packard Russia and its counterpart
;
- translation of a sibling assessment report and family court materials for
Staffordhire Legal Services
from English into Russian;
- proofreading a lengthy curriculum vitae of
a distinguished British lawyer, member of the International Law Commission of the United Nations
(EN>UKR);
- translating promotional materials for
Wikimedia Foundation
from English into Ukrainian;
- translation and editing of a paper prepared by
Tony Blair Associates
on strategic options for development of Aktau Seaport in Kazakhstan (EN>RU);
-
Dell
: translation of marketing materials from English into Russian and vice versa;
-
Tetronics
: a large-scale technical translation project, furnace system documentation;
-
Boeing
: promotional materials for "The Age of Aerospace" series (EN>RU);
-
Renault
: large badges of promotional materials and technical specifications for Renault, including Z.E., Megan, and Master product ranges; translation and proofreading (EN>UKR);
-
Adidas
: e-learning materials for Ukrainian store managers (EN>UKR).
...
I am familiar with different CAT tools, ranging from the most familiar (
such as SDL Trados Studio 2009, 2011, memoQ, Idiom Worldserver, Translation Worldspace
) to the lesser known (such as Translation Tiger, a specific requirement from a client). For translations in the banking environment, I usually resort to
SmartCAT
—ABBYY's recent solution; otherwise, my tool of choice is
SDL Trados Studio 2014
.
Given my current academic interests, I also work with a range of
corpus linguistics tools
(such as CorpusSearch) and regularly apply R (a popular statistical environment) to linguistic data.
Whatever the occasion, a fully equivalent and culturally relevant translation will be delivered in time.
Respectfully,
Andriy Lapin