Thank you for stopping by to read my profile!
Highly qualified French to English Translator (native British English speaker) with previous experience in multiple industries. My aim is to help clients to cross language and cultural boundaries and get their message across to an English-speaking audience on paper or online, whilst retaining the intent, tone and register of the original French.
Here's what my clients say:
"Exceeded expectations"
"Excellent translation"
"Handled very well"
"I just wish we received more French translation jobs so that we could work with you more regularly!"
"Consistently excellent"  
Qualifications:
• BA (Hons) French with Applied Computing (First) - King's College London
• Diploma in Translation (FR>EN) - Chartered Institute of Linguists
• Associate Member of the UK Chartered Institute of Linguists - ACIL
Experience:
• 20 years as an IT programmer, systems and business analyst
• Experience in multiple industries
• Mid-range enterprise business systems – IBM iSeries, relational databases, high volumes of data
• Finance – unit-linked pensions, life assurance, investments
• Insurance – underwriting, policy administration and claims
• Paper manufacturing – shop floor automation, reel handling, labelling, stencilling
• Air traffic control – European standards for aircraft separation
• Pipework engineering – steel pipework and components for industrial applications
Skills:
• Strong written communication
• Ability to adapt writing style to convey messages in different styles and to different audiences
• Meticulous attention to detail
• Passionate and fully qualified linguist
• Highly IT literate
Some of my recent projects:
• Translation of numerous websites for small businesses
• Translation of a series of poetic descriptions of photographs
• Translation of internal documents for insurance company
• Translation of website for financial product provider
• Translation of web articles for French NGO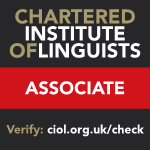 My rates are negotiable and dependent on the subject matter of the translation. 
https://www.suziewithers.com/