Quick Facts
Master degree in the English language
True IT expert with programing and webmastering expertise
Can work with most of the common file types including AutoCad and code files
Accurate and natural translation
---
Updates
10/2/2016: Yes, I am still working as a translator.
9/2/2010: I joined the American Translators Association (membership no. 251522).
6/4/2010: I am the proud translator of many games sold at Apple App Store.
2/28/2010: I joined the core Google Translation Team.
10/14/2009:Get the latest version of
GT4T
! GT4T is a tool for translators that seamlessly integrates Google Translate into any text application. Now you can make Google Translate work for you. Select a phrase, hit a shortcut, and the phrase will be immediately replaced with its translation. Definitely save your time on typing and checking dictionaries.
Read more!
12/17/2008: I am proud to be the editor for the
friendfeed.com
Chinese localization project.
The news release
12/18/2008: For over two years, I have been following through the shooting of the Bollywood and Warner Brothers movie
Chandni Chowk to China.
I translated the script, actor and staff resumes, schedules, and everything!
---
Dallas Cao, the 4th proz.com translation contest winner for English to Chinese pair.
Visit my site at
http://dallascao.com/
Click
here
to check out WWA (Willingness to Work Again) entries I received from my clients.
Click
here
for a list of my project history.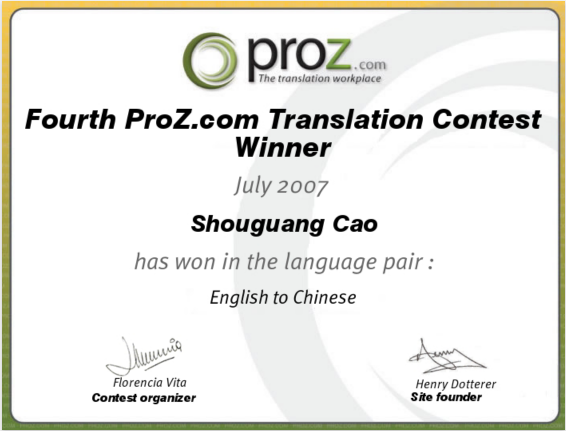 http://www.proz.com/?sp=contests&view=full_certificate&ctlid=334&entity_id=664014&contest_id=8
I am also an amateur programmer and I make small computer programs occasionally. My recent program is an
application that searches and replaces multiple Word files
.
Click
here
to send me a mail. I use my cell phone to receive email and I will always respond to your mail almost instantly.
"we consider you to be one of our top people and you will get first shot at any upcoming projects."
---William Farrell,
GTLMedia
"Dallas Cao is punctual, responsible, and provides very accurate and efficient service as a translator. I highly recommend him."
---Sally. M. Yeh, USA.
"After looking at your work, we really believe that you are a valuable oyster pearl!"
---Mareks Kaminskis, Talent Manager,
Text Appeal Ltd
You are the Best!
---**Ms. Wang, USA.
---
Millions of words translated since 1998.
Recent clients including Microsoft, Time Warner, Michelin, Photonfocus and Bristol-Myers Squibb.
Accurate and fluent translations
True IT expert with programming, network administration and webmastering experiences
Comprehensive understanding of computer science including computer graphics and computer cryptology.
---
**Ms. Wang is an international artist. I have worked for her for over two years.
---