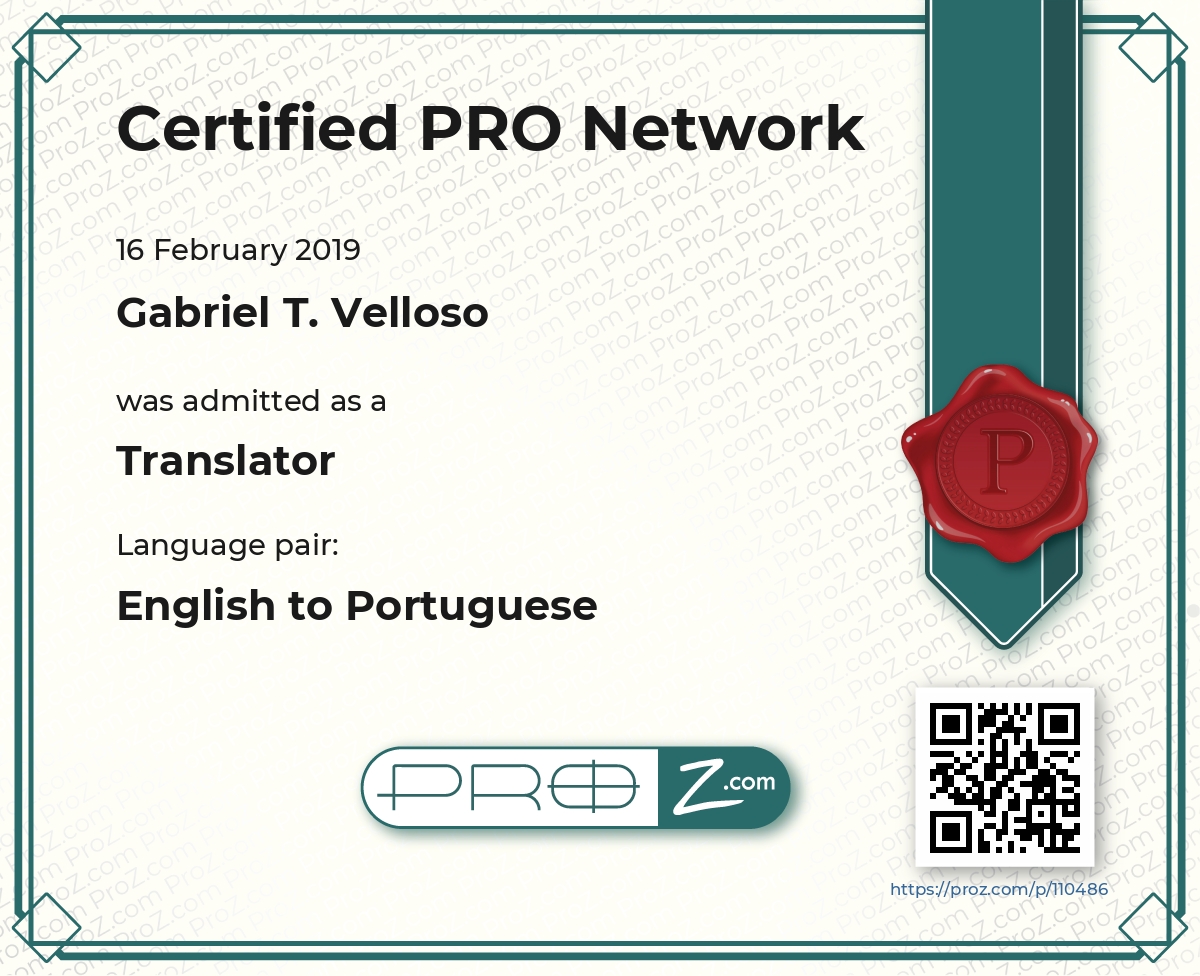 Translation is about communication. In the global society we live in it is crucial to effectively communicate with others. That's where Translation comes in, improving communication.
I value quality and efficiency in order to facilitate the communication process. I cultivate a commitment to my work and a meticulous attention to detail that makes every project special. I see these characteristics as competitive advantages in any work. 
The search for the most appropriate word, to convey the message in all its entirety, in all its complexity, the translation process in itself is rewarding to me. This passion is reflected in this commitment to quality both as a translator and as an interpreter.
-------------------------------------------------------------------------------------
I have been involved with the English language for 29 years now. I have been working as a professional translator 2004 and as an Interpreter since 2005.
I am a bachelor in Linguistics and Translation Studies by the University of Brasilia, a Brazilian Federal Institution.
I am a member of the ProZ.com Certified PRO Network (CPN), an environment consisting entirely of screened professionals. To learn more about the CPN, click here: Certified PRO Network Information 
I am also a member of the ProZ.com pool of interpreters, a specialized group of screened experts from the industry's database. You can find my interpreter pool profile here: Interpreter Pool Profile. To learn more about the Pools, click here: ProZ Pools Information
Moreover, I have been involved with Foresight, Innovation and Strategy for the past 13 years. I have won the World Future Society Intern of the Year award while working there in Bethesda, MD, USA. I currently hold a post graduate degree in Foresight, Strategy and Innovation and am taking a PhD in Technology Assessment in Portugal. I have also worked for 4 years as Research Staff at the Institute of Technology Assessment and Systems Analysis of the Karlsruher Institute of Technology in Karlsruhe, Germany.
I have also been a musician for 20 years now, having released some records in Europe and South America.
-------------------------------------------------------------------------------------
Adding up all these experiences, in addition to my international experience living and working in several countries throughout Europe and the Americas further give me deeper cultural and linguistic knowledge which is crucial for finding good words and communicating well.

My main areas of work are Science (Social and technological and Journalism. Most specifically Technology, Foresight, Futures, Innovation, Strategy, Aerospace/Astronautics. I have also working experience with Tourism, Marketing and Literature.
I look forward to working with you soon!
Thank you for taking your time to read this.