Noura Tawil
Professional Native Arabic Translator, 8 years of experience
Medical - Pharmaceuticals - Marketing - Healthcare - Cosmetics - Arts - Pedagogy 
---
Naturally Translated!
---
Member of the IAPTI (Member Nº 2235)
.

.
Photo: Latakia, Syria
.
My Services:
With a combination of high professionalism and excellent communication skills, I'm often described by my regular clients as "
easy to work with
", a badge that I proudly wear!
- English to Arabic Translation:
Mainly in the specialty fields that you can see on the running text above. I treat each text with great care and full attention, and I don't hesitate to turn down a job offer if I felt that it can't be done perfectly for any reason; therefore, once I accepted your job offer, it means I'm confident that it fits well within my capabilities, specialties, and schedule; and that you won't worry about quality or accuracy.
- Monolingual Arabic Proofreading/Editing:


Monolingual Proofreading
includes correcting your Arabic text for spelling, grammatical mistakes, inconsistencies, as well as odd or wrong compositions.

Monolingual Editing
backed with 14 years of passionate practice in the writing domain, this service includes all of the above, PLUS improving style and fluency towards an Arabic text that flows naturally.
* Please note that these two monolingual services DO NOT include checking the original translation's accuracy (If the text is a translation). However, sending me the source text can help in queries.
- Romanization Specialist:

I have thoroughly studied and practiced the rules of Arabic text
Romanization
according to
The Library of Congress
tables
(ALA-LC)
, which is the one and only FULLY reversible Romanization method for Arabic texts.
This skill is especially needed for Arabic learning software and applications.
.
.
Awarded for Linguistic & Translation Excellence:
.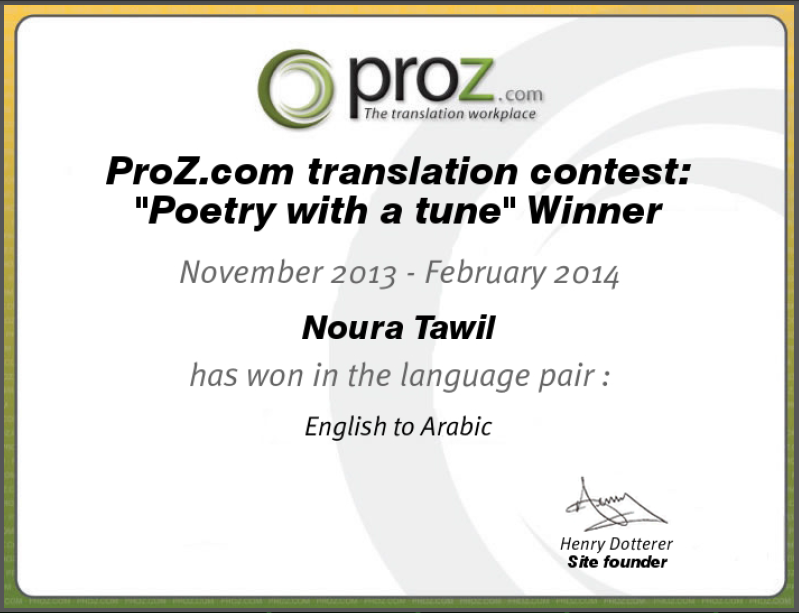 .
Rates:
My rates should be visible to you on this profile page if you are logged in as an
"Outsourcer"
. Otherwise, you can simply ask me for a quote by clicking the small envelope "Send Email" at the top of this page. I'll be here to reply soon!
A Certified PRO Translator
In 2013, I was awarded the
PRO Network Certificate
at ProZ.com after completing all professional and linguistic requirements.
How it all started:
The beginning of my professional life was as a PHARMACIST, then it got inevitably driven into my linguistic life-long passion, I shifted routes, giving up the white coat.
Many sources flowing into the mighty Translation River
I'm fortunate to have multiple talents in arts and literature, a very good command of English, a variety of genuine cultural and scientific interests, and an in depth Arabic linguistic knowledge.
Over the years, I learned to employ all these capabilities in producing a creative and sound Arabic writing style that will communicate your message and documents into a live Arabic translation that looks just like an original Arabic work.
- A proved successful career with international foundations, manufacturers and institutions, as well as pioneer initiatives such as
'REEVO' - An international online Live Education Network
'AAMAL' The Syrian Organization for the Disabled -Damascus
Geneva Business School (GBS) in Switzerland
'Al Mafraq Hospital' Abu Dhabi, UAE
'L'Oréal ®' Paris,
'Two major cosmetics companies' USA,
Roche,
'AstraZeneca',
'Novartis'
and many others.
- Health & Medical articles writer for
Al Arabi Magazine مجلة العربي
, a renowned cultural Kuwaiti magazine distributed all over the Arab world.
- Story, Theater, and Article Writer since 1997
** One of my published articles in Al Arabi Magazine "Menopausal Depression", Issue 627, February 2011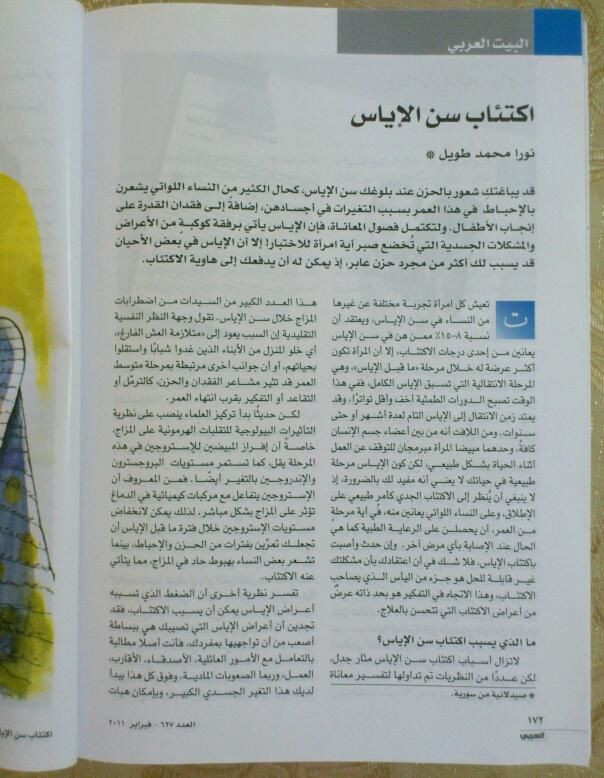 28 years of education in a few lines:
Bachelor's degree in Pharmacy (Tishreen University, Latakia, Syria, 2002).
NLP Diploma from The American Board of Neuro-Linguistic Programming (2010)
Fine Arts Degree from "The Plastic Arts Center In Latakia – Syrian Ministry of Culture, 2011"- A 2 years study degree. Specialties: Painting, Graphics, and sculpturing.
Story, Theater, and Article Writer since 1997 "Oops! That's not an education! But since the bullet points will probably attract your eyes; I thought of sticking this info right here :)"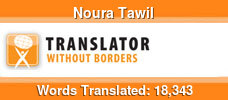 English to Arabic volunteer translator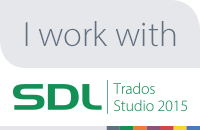 You & Me:
I'm glad you made it to the end of my introduction! I'm ready to encounter new translation challenges, and look forward to building a new and long term business relationship with you.
So, what can I do for you today?
Let me know by:
clicking the small envelope
that says (Send Email) at the top of this page.
Or take the short route and
send an email to:
[email protected]
I'll be there to reply soon!
Noura
مع كل الودّ
نورا طويل