Hungarian native, US citizen, freelance translator, 24 years of professional experience in translation and editing;
• Associate Member of the
American Translators Association (ATA)
(2000-)
• Certified PRO Member (English-Hungarian, Hungarian-English) at
ProZ.com
(2002-)
• Charter Member of the
National Language Service Corps (NLSC)
(2011-)
• Associate Member of the
American Bar Association (ABA)
(2015-)
• Translator, editor, and senior project manager for
Translators without Borders
, non-profit (2010-)
• Translator, editor, language lead, and translation coordinator for
Wikipedia:WikiProject Medicine Translation Task Force
(2012-)
• State Language Exam in English, Center for Foreign Languages (ITK) of Eötvös Loránd University, Budapest, Hungary (1983)
Professional experience
• Primarily specializing in laws/contracts; also in finance/business, corporate governance, media & journalism. Several years of translation experience in the field of power generation and distribution; clinical trials, healthcare; court documents, immigration, probate, restitution, personal & academic records
• Former Managing Editor for
Central Europe Review (CER)
, award-winning online magazine;
• Editor of
Out of the Ghetto - A Study of the Roma in Hungary
, Gusztav Kosztolanyi's e-book
• Reviewer of
Terminology of Civil Law - A polgári jog terminológiája angolul
, by Anglofon Studio / ARX Office Kft
• Justice / Ethical Reasoning Independent Course at Harvard Law
Primary fields of expertise
• Laws / Contracts
• Business / Finance
• Media laws
• Power industry
• Corporate governance
An incomplete list of end-clients
:
•
United States
: The White House, Department of Justice, AES Corporation, CalEnergy, NABI, Hungarian Consulate General, Philips, i3 Research, Angiotech, Dometic, Noni International, PricewaterhouseCoopers, Ernst & Young, Narcotics Anonymous World Services, Leggett & Platt, Hewlett-Packard, Bayer Corp., Pfizer Inc.
•
United Kingdom
: AES Electric, National Grid, British Energy, the Department of Trade & Industry, British Broadcasting Corporation (BBC), Arthur Andersen, Stroock & Stroock & Lavan, Allen & Overy, Watson, Farley & Williams, Dames & Moore
•
Hungary
: State Privatization & Holding Co., Hungarian Power Companies, the Energy Commission of the Hungarian Parliament, Miners Trade Union, Hungarian Energy Office, Borsod Power Plant, Tisza II Power Plant, Paks Nuclear Power Plant, Hungarian Television, Napi Gazdaság, Volvo, Kimberly Clark, Private Moon Studios, SONY Hungary, HP Hungary, EGIS Pharmaceuticals PLC, Eötvös Károly Policy Institute, Standards Media Monitor
Rate structure for English>Hungarian and Hungarian>English translation
:
• tight deadline, complex, legal/financial/technical: $0.14--$0.16 per source word
• normal speed, complex, legal/financial/technical: $0.12--$0.14 per source word
• normal speed, generic text: $0.10--$0.12 per source word
• generous deadline AND high volume: $0.10 per source word.
Editing/proofreading: $0.03--0.05 per source word or $25 to $35 per hour.
Hourly rate translation/editing: $25 to $35, depending on the above factors.
Typical turnaround
: 2,000--2,500 words per day (regular rate); 3,500 words per day (rush rate);
Software
: Mac OS X, Win 7, Win XP Professional, MS Word, MS Excel, MS Powerpoint, Adobe Acrobat, SDL Trados Studio 2011;
Volunteering & Causes:
TWB – Translators without Borders
The Right to Knowledge Award (December 2012)
People who rock the industry (March 2013)
The Humanitarian Communicator Award (January 2014)
Wikipedia – WikiProject Medicine
WikiProject Medicine – Translation Task Force
GoodPlanet Foundation
The FAIRstart Project
TWB / MultiLingual News
English>Hungarian / Hungarian>English
Translation / editing / proof-reading
Specialty fields: legislation, laws, contracts, litigation, media regulation, power industry, business, finance, investment, company law, corporate governance, journalism, healthcare, clinical trials, immigration, probate, restitution, personal & academic records, birth/marriage/death certificates, licenses, addiction, recovery, Internet, arts, and more...
Angol>Magyar / Magyar>Angol
Fordítás / szerkesztés / korrektúra
Szakterület: jogszabályok, törvények, szerződések, peres ügyek, médiaszabályozás, energia ipar, üzlet, pénzügy, befektetés, társasági jog, vállalatirányítás, újságírás, egészségügy, klinikai vizsgálatok, bevándorlás, hagyaték, kárpótlás, okiratok, születési/házassági/halotti anyakönyvi kivonatok, engedélyek, bizonyítványok, diplomák, függőség, felépülés, privatizáció, internet, művészetek, egyéb...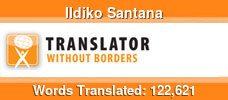 English to Hungarian & Hungarian to English volunteer translator