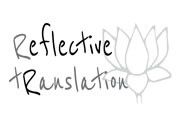 http://www.reflectivetranslation.com
Translating worLds!
Freelance Authorised Translator and Interpreter
/Translation / Transcreation / Localisation / Subtitling / Proofreading / Editing / Transcription / Interpreting/Аvailable for urgent translations and on holidays and weekends
Profile:
Native Macedonian speaker;

Near-native English speaker;

General erudition and intimate familiarity with the three cultures: Macedonian, English and Swedish.
Authorisation:
Authorised by the Basic Court "Skopje 1" in Skopje for
English >< Macedonian (since 1997)
Swedish >< Macedonian (since 2005).
Memberships:
Chartered Institute of Linguists, UK – http://www.iol.org.uk/linguist/translator3.asp?r=find_translator&ID=3490
Translation and professional web-portals:
Translators Cafe - http://www.translatorscafe.com/cafe/member75765.htm
Linked In - http://www.linkedin.com/pub/rodna-ruskovska/7/473/122
Areas of specialisation:
Law (general, customs, taxation, contracts, criminology);
Advertising (translation of copy) and Marketing;
Medical (general, occupational health and industrial hygiene, psychiatry, public health education and promotion, alternative medicine, healing and health);
IT (general);
Education (higher education, life-long learning, policies);
Technical (manuals, electrical and home appliances);
Human resources (policy);
EU affairs (legislation, institutions, politics);
Social Sciences (anthropology, development studies, political science, sociology, international relations, communication);
Arts (culinary arts, design and applied arts, film and cinema);
Humanities and Women's studies;
Poetry and Literature
Work method and quality statement:
I translate the meaning of the sentence, rather than the literal meaning of the words and pay particular attention to provide internal cohesion of the text produced by the translation, both semantically and formally;
I always tend to produce constructions that are very likely to be produced by a native speaker.
The translations go through this process:
translation + terminology research and verification + preparation of glossary (use of CAT);
check of translation accuracy and terminology consistency;
proofreading by a qualified proofreader;
check and acceptance/rejection of changes made by the proofreader, consultation on critical points and issues; final check and read-through - for readability and natural flow.
LINKS to some of my translations available online:
• www.blesok.com.mk/tekst.asp?lang=eng&tekst=288&str=2
• http://jasnakoteska.blogspot.com/2008/05/jasna-koteska-expansion-of-subject-2005.html
• http://www.ncbi.nlm.nih.gov/pubmed/19452788?ordinalpos=2&itool=EntrezSystem2.PEntrez.Pubmed.Pubmed_ResultsPanel.Pubmed_DefaultReportPanel.Pubmed_RVDocSum (SWE – ENG)
• http://www.transcript-review.org/en/issue/transcript-35-macedonia/jasna-koteska
• http://mk.globalbility.org/
• http://www.youtube.com/watch?v=ne04D5OF7zw&feature=channel
Clients*
EU institutions and projects
Swedish judicial institutions
International tax, customs and insurance institutions
International and national medical industry
International tire industry
International advertising industry
International hygiene industry
International home appliances industry
Subtitling industry
Localisation industry
International IT industry
*only a general list is available in order to protect my clients' identity and comply with the non-disclosure agreements
Ongoing projects:
Translation of monthly TV schedules and highlights, programme and episode title, synopsis  Subtitling projects, subsequent translation and QC, ENG-MAC;
Translation of transcreation projects for a major printer and imaging products producer, a major cleaning products producer, a major cosmetics producer, ENG-MAC
Translations for the Swedish Judicial System
Translation of medical projects for a medical technology development company,
medical devices, ENG-MAC
Literary translations: Den vidunderliga kärlekens historia, 
Carl-Johan Vallgren
, novel, translation, SWE-MAC