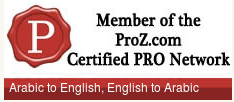 Summary
I am a native speaker of Arabic as the target language holding BA academic degree in languages and translation working in the translation industry as a highly professional translator, editor, and proofreader with a solid background and experience in religious, legal and medical areas of expertise since 2006 to present.
I also have a good experience in the training field as a professional trainer with many onsite and online sessions, lectures and workshops on localization and CAT Tools mainly Trados, Wordfast, and MemoQ besides Quality Assurance Tools mainly Xbench QA Tool.
In addition, I am an accredited translator by ETLA since 2016, SDL Post-Editing Certified, a member of the ProZ.com Certified PRO network from English to Arabic and vice versa, a Plus member at Proz.com, and a member of its pharmaceutical pool.
Background
Throughout the period starting from 2006 till the moment, I have been contributing to the translation and localization of hundreds of projects. I have worked as a full-time, part-time and self-employed translator for various language service providers and direct clients. So, I am extremely ambitious in my career and can work efficiently either individually or within a team.
Specialty
I specialized mainly in religious, legal and medical translations. However, my work may include all the following areas of expertise:
• General Translations
• Religious Texts
• Legal Contracts
• Medical & Healthcare
• Pharmaceutical Leaflets
• Educational Materials and Courses
• Human Resources and Human Development
• Financial Documents and Statements 
• User Manuals
• Technical Materials (Software & Hardware)
Services
Translation – Revision - Editing - Proofreading – MT Post-Editing - Project Management - Training - Linguistic Quality Assurance (LQA) - Linguistic Consultation
Basic Computer Software
I master using the updated and advanced versions of the following among others:
• Windows 10
• Microsoft Office package (Including Microsoft Word, Microsoft Excel, Microsoft PowerPoint)
• Adobe Acrobat (Professional version)
• Camtasia
• Snagit
Desktop CAT Tools & Cloud-Based Translation Tools
• SDL Trados 2007 (Translator's Workbench, TagEditor)
• SDL Trados Studio (2009, 2011, 2014, 2015, 2017, 2019)
• SDL Passolo (2007, 2009, 2011, 2015, 2016, 2018)
• SDLX
• Wordfast Professional
• MemoQ
• Transparent TMS
• Smartling
• Idiom Workbench
• Translation Workspace (TWS)
• Memsource
• XTM
• Crowdin
QA Tools
• Xbench - LTB - Verifika
Professional Memberships & Certificates
·  A member of Proz.com Certified PRO Network in both pairs English <> Arabic
• SDL MT Post-Editing Certified
• An Administrative member of The Arab School of Translation (AST) as a certified trainer
• An active member of The Egyptian Translators & Linguists' Association (ETLA) as an accredited translator (Accreditation No. 317-16)
• A former affiliated member of the Egyptian Translators Association (EGYTA)
Awards of accreditations
• Certificate of Appreciation from AST as a CAT Tools Trainer (2018)
• ETLA Accreditation as a general, legal, medical translator (2016)
• Recommendation Letters from ETLA and AST as a professional translator (2014)
Personal Skills
I'm a professional, well-organized, flexible, and reachable person paying great attention to details. So, I do my best to exceed or, at least, meet the client's expectations.
My own professional philosophy says: "Deal with each project, task or file as if it is the first and last one to do your best in every job".
Thank you for taking the time to read this summary about me, for more details feel free to contact me.
Thanks & Best Regards
Hassan Bekhit Hassan
Senior Translator, Editor, and Proofreader
Mobile: 0020 111 555 7370
Email: [email protected]
LinkedIn: LinkedIn Profile
Skype: Hassan Bekhit.Translator