I'm NOT an agency – "L'Angolo Grafico" is just a professional firm brand name

• Treat your translation provider as a partner in your international communication strategy.

• Recognize that you're purchasing a specialized, highly complex service, and NOT a commodity or mass-produced articles.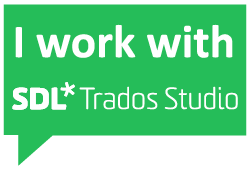 • Art/History of Art and Architecture
• Legal
• Marketing & Advertising
• Medical
• Software/Hardware manuals/localization
• Tourism
• Professional Graphics/DTP
Since 1977 I have offered a high quality service in translation, copy-editing, text management, publishing consultancy and graphic design.
Throughout this period I have developed and broadened my expertise, updating my skills and operational tools and using the latest technology to meet the requirements of my clients. I have also created a pool of select free-lance collaborators that have been operating with me for several years. This has enabled me to tailor my activity to the needs of large commercial companies, major publishing houses and advertising agencies. I have successfully completed short-, middle- and long-term projects in the fields of technical, medical and commercial publishing, computer publishing (SW and HW) and art publishing. We specialize in these last two.
Most of my orders are '
turn-key
' products, i.e. I take charge of the complete production process from manuscript or electronic file through to a product that is ready to be published on the Web or sent to film for printing purposes.
This process may involve some or all of the following: translation (if needed), copy-editing and proof-reading, graphic design and lay-out (where required) integrated with non textual elements (digitalized images), and the generation of the final medium for publication on the Web or for offset printing (PostScript or PDF files).
Moreover, if you serch the Web
here
, you will find several
public domain references about my published works as translator and/or editor in chief
.
I can, of course, also offer the following individual services.
• Translation
As native speaker of Italian, I can guarantee translation into Italian from English, Portuguese, Spanish and French. The final files can be delivered in .DOC, .RTF, .XLS (MS Excel), .PS, .EPS, .PDF formats produced by most common software tools, ready to be transferred to a desktop publishing system. Whilst recognizing the usefulness of some CAT tools, I strongly believe that the skills of professional translators are irreplaceable.
Moreover I entered into partnership with professional native freelance colleagues to provide translation services in other languages (e.g. Russian, Belarusian, Chinese), assuring, in any case, confidentiality and non-disclosure requirements.
• Copy-editing and proof-reading
Before being published on the Web or in print, texts need to be read for the reliability of the information they contain (with the prior agreement of the author), for faithfulness to the original text, if a translation, and for consistency of presentation and style. There then follow various stages of proofreading in order to eliminate any typographical errors. This is where our long editorial experience is particularly important. Electronic tools may be suitable for some purposes, but there is no substitute for the professional expertise of copy-editors and proofreaders.
• Multilingual graphic design, lay-out and DTP
Since 1980, computer science applied to desktop publishing and graphics has made giant leaps. As previously mentioned, we have always kept up with innovations, in order to reach an operating standard that, today, allows us to offer our clients whatever solutions and services they may need in this field.
• Multilingual text-image integration
By using appropriate software, we can correctly integrate text and graphics, whether they are images or other elements that are part of the text.
This brief introduction cannot give a full picture of the complete satisfaction we have given to my publishing, commercial and advertising agency clients, but, if contractual obligations allow, I am always ready to quote examples to prospective clients.
Please do not hesitate to contact me for further information on my services and availability.