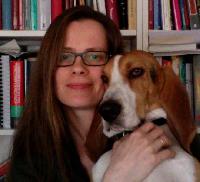 Working languages:
Swedish to Norwegian
Danish to Norwegian
English to Norwegian
Ragnhild Tønnessen
editing, proofing, review and revision



Norway

Local time:

04:21 CEST (GMT+2)




Native in: Norwegian (Variants: Nynorsk, Bokmål)
Freelance translator and/or interpreter,

Verified site user
This person has a SecurePRO™ card. Because this person is not a ProZ.com Plus subscriber, to view his or her SecurePRO™ card you must be a ProZ.com Business member or Plus subscriber.

This person is not affiliated with any business or Blue Board record at ProZ.com.
Translation, Editing/proofreading, MT post-editing
Specializes in:
Linguistics

Education / Pedagogy

Psychology
More
PRO-level points: 47, Questions answered: 13, Questions asked: 14
Sample translations submitted: 3
| | |
| --- | --- |
| | English to Norwegian: ENTRY_3431 |

Source text - English
All travel is now merely a means of moving a camera from place to place, all travellers are ruled by the all-powerful lens. Visitors old-fashioned enough to wish only to stand and look with their anachronistic eyes are shoved aside by the photographers, who take it for granted that while they do their ritual focusing, nothing else may move or cross their vision. Those peculiar souls without a camera must step aside for those more properly occupied, must wait while the rituals take place, and must bide their time while whole coaches stop and unleash upon the landscape the Instamatic God. And the populations of whole countries seeing themselves cannibalised, swallowed up, vacuumed into the black-ringed staring eye, wrench what they can from the cannibals. You want picture my house, my camel? You pay.

None of this would matter, perhaps, if anything worthwhile was being accomplished. If all the constant busyness and clicking produced, at its end, what had not existed before, images of beauty captured or truth told. But, sadly, this isn't so. The camera is simply graffiti made respectable.

The camera is the means by which we stamp ourselves on everything we see, under cover of recording the Wonders of the World already wonderfully
recorded by professionals and on sale at every corner bookshop and newsagent. But what use to show Aunt Maud, back home, postcards of the Tuscan landscape, since we are not in the picture to prove that we were there?

No stretch of rocks has verity unless I am within it. No monument exists
but for my wife, leaning against it. No temple is of interest without my face beside it, grinning. With my camera I appropriate everything beautiful, possess it, shrink it, domesticate it, and reproduce it on my blank sitting-room wall to prove to a selected audience of friends and family the one absolutely vital fact about these beauties: I saw them, I was there, I photographed them, and, ergo, they are.

from "Amateur Photography: the World as it isn't and our Fred" by Jill Tweedie in the Guardian
Translation - Norwegian
Det å reise er berre blitt ein måte å flytte eit kamera frå ein stad til ein annan på. Alle reisande blir styrte av den same allmektige kameralinsa. Dei turistane som er så gammaldagse at dei berre ønsker å stå og sjå med dei anakronistiske auga sine, blir skove til sides av dei som vil ta bilde, og som reknar det for sjølvsagt at når dei står der og gjer fokuseringsritualet sitt, er det ikkje noko som skal flytte seg eller komma inn i synsfeltet deira. Særingane utan kamera må vike for dei som har meir passande gjeremål. Dei må vente mens rituala blir utførte, og må gi tol mens heile busslaster stansar og sender kompaktguden sin utover landskapet. Og heile folkegrupper ser seg sjølv etne opp, svelgde ned og sogne inn i det svartkanta stirrande auget. Dei triv til seg det dei kan frå menneskeetarane. Du vil bilde mitt hus, min kamel? Du betale.

Ikkje noko av dette ville ha spelt noka rolle kan hende, om ein oppnådde noko som var verdifullt. Om all denne travle klikkinga til slutt leidde til noko som ikkje hadde funnest før. Bilde som fanga noko vakkert eller fortalde noko sant. Men dessverre, det er ikkje slik. Kameraet er ganske enkelt heiderleggjort graffiti.

Kameraet er reiskapen vi bruker for å stemple oss sjølv på alt vi ser, under dekkje av å eviggjere verdas underverk, enda det allereie er framifrå gjort av profesjonelle og til sals i kvar ein liten bokhandel eller aviskiosk. Men kva nytte har vi av å vise tante Kari der heime prospektkort over landskapet i Toscana når vi ikkje sjølv er på bildet og kan bevise at vi var der?

Ikkje noko klippeområde er sant om ikkje eg er i det. Ikkje noko monument eksisterer for noko anna enn at kona mi skal kunne lene seg mot det. Ikkje noko tempel har interesse om ikkje ansiktet mitt gliser ved sidan av det. Med kameraet mitt tar eg i eige alt som er vakkert. Eg rår over det, eg krympar det, eg tem det, og omlagar det på min eigen tomme stuevegg for å vise for eit utval tilskodarar av vener og familie det som er den absolutt mest vesentlege kjensgjerninga ved desse praktfulle syner: Eg såg dei. Eg var der. Eg fotograferte dei. Altså er dei.
Swedish to Norwegian: Utdrag fra: En livsverdenstilnærming for helsevitenskapelig forskning
Detailed field: Philosophy
Source text - Swedish
Detta avstånd får sin närmare förklaring av att objektivismen förstår världen som objektiv-absolut, som en värld i sig själv, medan den värld som människor lever sina liv i, livsvärlden, är subjektiv-relativ, en värld som alltid upplevs i relation till något subjekt, dvs. ur något konkret perspektiv, med en viss betydelse osv. (Husserl 1976 b, § 34). Den objektivt-absoluta världen är i grund och botten en teoretisk konstruktion, hävdar Husserl, som principiellt inte kan erfaras, men som skjuts in under erfarenheterna och sedan anges utgöra deras förutsättningar. Den subjektivt-relativa världen är däremot ett universum av åskådlighet och ursprunglig evidens. Alla tankekonstruktioner får därför sin prövning i livsvärlden.
[…]
Världen är den helhet i vilken tingen framträder och får sin mening (1927, § 18), och deras främsta och vanligaste framträdelseform är som don eller tyg, dvs. att vara till för att användas (1927, § 15). Denna användning av orden "don" och "tyg" överensstämmer med språkliga uttryck som skrivdon, fiskedon, skodon, verktyg och fartyg. Donen är relaterade till en agents ombesörjande och deras sätt att ge sig tillkänna som don är genom att vara till hands. Ombesörjandet anpassar sig till varje dons specifika för-att och leds av en kringsyn som beaktar donens sammanhang med andra don. Heidegger säger att
"ju mindre vi bara tittar på hammaren och ju mer energiskt den används, desto ursprungligare blir förhållandet till den och desto tydligare framträder den som det den är, nämligen som don. (1927, s. 69)"

Translation - Norwegian
Denne avstanden får sin nærmere forklaring i at objektivismen forstår verden som objektiv-absolutt, som en verden i seg selv, mens den verden som menneskene lever sine liv i, livsverden, er subjektiv-relativ, en verden som alltid oppleves i relasjon til et subjekt, dvs. ut fra et konkret perspektiv, med en viss betydning osv. (Husserl 1976b, § 34). Den objektiv-absolutte verdenen er i bunn og grunn en teoretisk konstruksjon, hevder Husserl, som prinsipielt ikke kan erfares, men som skyves inn under erfaringene og siden angis å utgjøre deres forutsetninger. Den subjektiv-relative verdenen er derimot et univers av anskuelighet og opprinnelig evidens. Alle tankekonstruksjoner må derfor prøves i livsverdenen.
[…]
Verden er den helhet som tingene framtrer i og får sin mening i (1927, § 18), og deres fremste og vanligste framtredelsesform er som redskaper eller -tøy, dvs. å være til for å brukes (1927, § 15). Denne anvendelsen av ordene "redskap" og "tøy" stemmer overens med språklige uttrykk som skriveredskap, fiskeredskap, skotøy, verktøy og fartøy. Redskapene er relatert til en aktørs omgang med dem, og deres måte å gi seg til kjenne som redskaper er gjennom å være tilhånden. Den besørgende omgangen tilpasser seg til hvert redskaps spesifikke for-at og ledes av et omsyn som tar i betraktning redskapets sammenheng med andre redskaper. Heidegger sier at
"jo mindre vi bare kikker på hammeren, og jo mer iherdig den blir brukt, dess mer opprinnelig blir forholdet til den, og dess tydeligere framtrer den som det den er, som redskap." (1927, s. 69; vår oversettelse. )

English to Norwegian: a chapter from the book
Detailed field: Linguistics
Source text - English
Suppose, for instance, that during an election campaign you read in a newspaper that 'critics derided the new election manifesto as nothing more than a purée of other parties' ideas'. This phrase is clearly metaphorical, since by anyone's standards a purée is properly made of apples or potatoes, not of ideas. But although this particular metaphor is not very common, it is still unlikely to strike anyone as a great artistic achievement, or as something entirely out of the ordinary. The reason must be that 'purée of ideas' belongs to a larger context which is familiar. Even if you have not come across the phrase 'purée of ideas' before, you will certainly have encountered many similar images that use food terms to describe abstract ideas, thoughts, and emotions. People speak of troubles brewing, anger simmer¬ing, resentment boiling, fanaticism fermenting, employees seething (literally: 'boiling') with discontent. People chew over new sugges¬tions and digest new information; the masses swallow whatever lies the newspapers feed them; students regurgitate facts at the examination; children gobble up the latest Harry Potter book; fans devour reports of their idols' private lives. We can have sweet dreams, bitter hatreds, sour relations, or half-baked ideas; and all this can give some food for thought. So there is a well-established link in our mind between the two domains, which unites all the individual images into a broader conceptual metaphor: 'ideas are food'. And thus when we hear a phrase like 'purée of ideas', the image does not sound so surprising, because it fits neatly into this familiar frame.
Translation - Norwegian
Sett at du under en valgkamp leser følgende i avisa: "kritikerne hånte det nye valgprogrammet for ikke å være annet enn en sufflé av løfter". Dette uttrykket er klart metaforisk siden man må bruke egg for å lage skikkelig sufflé, og ikke løfter. Men det er mer: denne spesielle metaforen er ganske uvanlig (og sannsynligvis er dette første gang du ser den). Likevel kan det godt være den ikke slår deg som en stor poetisk bragd eller noe helt utenom det vanlige. Grunnen er i så fall at den hører med i en større sammenheng som vi er godt vant med. Selv om du ikke har kommet over "sufflé av løfter" før, så har du møtt mange liknende eksempler. Språket vårt er fullt av metaforer som bruker begreper som har med mat og spising å gjøre til å beskrive abstrakte ideer, tanker og følelser. Vi kan si lapskaus av vyer, sammenrøre av ideer, å brygge på noe, koke av sinne, fanatismen gjærer, de ansatte syder av misnøye. Vi fordøyer ny informasjon, massene svelger rått hva som helst av løgner som løssalgspressen måtte finne på å mate dem med, studentene gulper opp ferdigtygde svar til eksamen, ungene sluker den nye Harry Potter-boka. Vi har bittert hat, søt glede og sur svie, og ikke minst snakker vi om næring for sjelen. Altså ser vi at det i sinnene våre er en veletablert forbindelse mellom disse to domenene. Alle enkeltmetaforene går sammen i en videre og overordna "begrepsmetafor": TANKER ER MAT. Når vi da hører en frase som "sufflé av løfter", selv om det er for første gang, så passer bildet fint inn i denne velkjente ramma.
More
Master's degree - University of Oslo
Years of experience: 16. Registered at ProZ.com: Aug 2006.
N/A
Swedish to Norwegian (University of Oslo)
Danish to Norwegian (University of Oslo)

NFF
OmegaT, MS Office applications, Wordfast
http://www.ordhagen.no
Ragnhild Tønnessen endorses ProZ.com's Professional Guidelines (v1.1).
Bio
Specialization
Editing textbooks and academic prose for publishers or others who are in need of similar standards of accurateness and wellformedness.
Working fields
Editing, proofreading, revision, review and translation of a broad range of text-types for academics, students or the general public.
Education
Higher university degree (cand.philol.) in Nordic linguistics from the University of Oslo (i.e. 2 years specialization on top of university degree of 4 years studies). My lower degree was earned through 90 credits Norwegian and Nordic languages and literature, 60 credits general psychology and 90 credits French studies (language, literature, history etc.), with smaller specialization in translation practice and theory. I am also an educated teacher for adults and ages 13 and up (30 credits pedagogy, 15 credits Norwegian as a first language, 15 credits French as a foreign language, 30 credits comparative culture studies and Norwegian as a second language).
Keywords: translation, copywriting, proofreading, editing, norwegian, swedish, danish, scandinavian, english, textbooks, academic prose, nynorsk, bokmål, bokmal, bokmaal, education, pedagogy, pedagogics, psychology, literature theory, language, languages, linguistics, teaching,
Profile last updated
Aug 14, 2013