ATTENTION:
I communicate on business matters only from the email accounts containing my personal domain which is ROZWARZEWSKA.COM
Anyone who contacts you on my behalf from free email accounts like GMAIL.COM, HOTMAIL.COM and alike is a scammer. Those messages are not valid and should be ignored.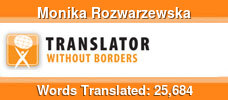 Major achievements:
1993 to Present - English to Polish Publication Translator
Translated a variety of English language books, promotional materials, technical texts and web pages, covering an array of topics. A partial list of work includes:
Book Translations:
Rebis Publishing House:
- Dr. Spock's Baby and Child Care by Benjamin Spock
- Pregnancy Questions & Answers by BabyCare.com editors
- What to Expect When You're Expecting by Heidi Murkoff (two editions)
- What to Expect The First Year by Heidi Murkoff
- What to Expect Before You're Expecting by Heidi Murkoff
- What To Eat When You're Expecting by Arlene Eisenberg (two editions)
- Pregnancy Calendar by Heidi Murkoff
- The Demanding Child by Janet Poland
- The Sensitive Child by Janet Poland
- When Parents Love Too Much by Laurie Ashner & Mitch Meyerson
- Perfect Public Speaking by Paul McGee
- The Perfect CV by Max Eggert
- The Complete Idiot's Guide to Tennis by Trish Faulkner
Parragon Publishing:
- Elvis Presley (Unseen Archives) by Marie Clayton
- A Guide To Meditation by Lorraine Turner
- Popular Freshwater Tropical Fish by John Dawes
- The Fish and Seafood Cookbook: From Ocean to Table edited by Susanna Tee
- Perfect Fish & Seafood
- Sauces And Dips. An inspirational Collection of Classic And New Recipes
- The Book of Pilates by Joyce Gavin
- A Beginner's Guide To Origami by Nick Robinson
JK Publishing:
- Neymar – A Father-Son Talk
- 2014 FIFA World Cup Brazil Official Book
Imbir:
- The Encyclopedia of Art for Young People by Ian Chilvers
BBC Books:
- Good Food: 101 Pasta And Noodle Dishes by Jeni Wright
Adamantan:
- The Xenophobe's Guide to the English by Antony Miall and David Milsted
- The Xenophobe's Guide to the Chinese by Zhu Song
PADI Emergency First Response: Primary and Secondary Care, Participant Manual
Other achievements:
Promotional and Marketing Texts for Major Companies and Brands including:
* Carl Zeiss
* BioFire
* bioMérieux
* Universal Music Poland
* Tesco
* TK Maxx
* Dolby
* Castrol
* Ford
* Philips
* Colgate-Palmolive
* Lipton
* Sony
* Electrolux
* Callan School of English
* Oracle / Siebiel
* Arena
* Nike
* Trek
* Orange
* Nokia
* HTC
* Sony Ericsson
* Moët Hennessy
* Pilsner Urquell
* Heineken
* Moneybookers - Skrill
* Ukash
* Durex
* Shell
* Rentokil
* Sportingbet
* Liberty Global
* All Star Hostel (London)
* Avery Dennison
* Benefit (cosmetics)
* 4Life (health and wellness products)
* Timken (manufacturer of tapered roller bearings and mechanical seamless steel tubing)
* Modul System (one of the biggest European producers of racking systems)
* Inflight Service's Euroshop (a chain of duty-free shops in Eastern Europe)
* Kitchen Aid (household appliances)
* Drobiarstwo Opolskie (Poland's third largest poultry company)
* Duda (major Polish meat processing plant)
* Polmos Poznań (major Polish distillery)
Games localization:
* EdgeWorld: https://www.kabam.com/edgeworld/play
* a regular translations provider for EA/Origin, translating contents of all of their games (including Sims, Dragon Age, Medal of Honor, Battlefield 3 and many more)
Website localizations:
*
Stonehenge | English Heritage
* Bongo International (bongous.com)
*
Stickerkid
*
JoJo Mama Bébé
* GoodPlanet
* Booked.net
* Pia Rossini
Audio guides:
* Malta and Gozo
* Scottish Parliament
* Benares (Canada)
EU Projects:
* EU Daphne Programme II 2004-2008
* European Union publication about Socrates – Comenius project for schools
* translator for STOP VIOLENCE project concerned with preventing domestic violence
* experience in translating other European Union projects
Other Translations/Interpreting jobs:
* Video training of Kaizen method
* Codes of Conduct for several international companies
* MSDS
* Press releases (London Olympics, FIFA World Cup and other major events)
* audio and audiovisual translations
* numerous projects concerned with tourism (including tour guides to Greece, Malta, Great Britain and Canada)
* for various institutions and organizations in Great Britain and Ireland (schools, hospitals, councils etc.)
* online casinos, sports betting and other gambling
* show business press conferences and martial arts and yoga events
* translating and creating contents for TV teenagers – oriented programs broadcasted on Viva Music Channel
* Panorama Muzyki (Polish Music Website)
* aquarististic webpage (for Malawian Cichlids Keepers)
* Sister Cites Programs - Brighton, Colorado, USA and Ziebice, Poland; Camas and Hillsboro, Washington, USA and Krapkowice, Poland
* Twinning Partnership between Borough of Kirklees and Bielsko-Biała
* simultaneous interpreting at an international seminar "Strengthening Democratic Local Government And Growing the Economy"
* experience in translations/interpreting for agriculture/farming industry
* manuals of medical appliances
* descriptions of wines (labels, cards, leaflets etc.)
* interpreter at Poznan International Fair
* long-term cooperation with translation agencies from Poland and abroad; providing translations in various fields of expertise
I am proud to have my contribution to Translators Without Borders.
Some of my non-profit projects:
* Wikimedia
* for Fair Start - translating to provide a fair start to orphans worldwide (FAIRstart)
* GoodPlanet web page localization
* CAFE (Centre for Access to Football in Europe)
Translations for non-profit organizations
Issues such as:
* missing children
* drugs
* domestic violence
Attendances at Professional Conferences and Trainings:
* V Conference of Translation and Localization Market in Poland (Warsaw, October 2012)
* IV Conference of Translation and Localization Market in Poland (Poznan, March 2011)
* Training in audiovisual translations: dubbing (Association of Polish Translators and Interpreters, Warsaw, June 2010)
* The National "Food Safety - Changes in Law and its Consequences for the Food Industry" Conference (Polish Federation of Food Industry, Warsaw, May 2010)
* XVII National Conference "Between the Original and the Translation" - "Paratexts" (Jagiellonian University, Cracow, April 2010)
* III Conference of Translation and Localization Market in Poland (Krakow, March 2010)
* Trados training for advanced users
* XV National Conference "Between the Original and the Translation" - "Cultural Differences as a Challenge for Translators" (Jagiellonian University, Cracow, April 2008)
* I Conference of Translation and Localization Market in Poland (Warsaw, March 2008)
ProZ Virtual Conferences:
* Freelance Translator Virtual Conference
* Translation Agencies Virtual Conference
* ProZ.com's first virtual powwow for Certified PRO members
* ProZ.com's SDL Trados virtual event
Certificates and Education (including online training sessions)
- Goethe Institute's International Conference Certificate
- ProZ Certified Translator
-
Introduction to Philosophy
-
Sports and Society
- Boost Your Productivity Now!
- Improve your cross-cultural communication skills
- Software translation and localization for translators
- Optimize your translation business management
- Online Reputation Management: Preserve & grow your most valuable asset
- Scuba deep diving license
Hobbies
- scuba diving
- hiking
- tai chi
- philately
for references from my clients, please check WWA section in my Proz.com
Visit my website
Visit my Polish website
Find me on Facebook