A British freelance translator with an academic and clinical background in nursing, I specialise in the translation of medical texts from Italian to English.
With over ten years' professional translation experience, excellent writing skills and superb research abilities, I focus on providing quality texts with flair and precision, attention to detail and target register, attentive to meeting client needs and deadlines.​
I translate all types of medical, pharmaceutical and healthcare documentation, with a special interest in cardiology, radiology, endocrinology and diabetes.
I also have broad experience in translating the arts and the humanities.
CONTINUING PROFESSIONAL DEVELOPMENT
I am a member of the
European Medical Writers Association (EMWA)
and am committed to ongoing professional development through the association's training programme, as well as taking advantage of other educational and training opportunities as these arise.
Workshops attended to date:March 2017
The use of song in therapeutic and educational settings (
L'uso della canzone nei contesti terapeutici ed educativi
)
A workshop by Gaspare Palmieri and Cristian Grassili
Psicantria (www.psicantria.it)
January 2017
A series of seven webinars on medical devices, specifically; cardiac, vascular and thoracic surgery; orthopaedic surgery; neurosurgery; ophthalmology; laboratory diagnostics, medical imaging; intensive care
eCPD Webinars (www.ecpdwebinars.co.uk)
November 2016
Pharmacology for medical writers
EMWA conference workshop, Brussels
November 2015
Ethical Issues in Clinical Trials
EMWA conference workshop, The Hague
May 2015
European Regulatory Procedures for Medical Writers
Key Clinical Documents in Drug Development
From Protocol to Study Report: What's In-between?
EMWA conference workshops, Dublin
Please feel free to contact me for more information. I am more than happy to provide a free, no obligation quote, and no job is too small.
EDUCATION
Bachelor of Science in Nursing (BScN)
University of Bologna, 2014
Thesis on the presence of family members during cardiopulmonary resuscitation and invasive procedures.
Included clinical placements in neurology, cardiology, general and orthopaedic surgery, accident & emergency and psychiatry.
Postgraduate qualification in medicine and pharmacology for translators
(Master per Traduttori e Interpreti in Medicina e Farmacologia)CTI, Milan, 2009
Bachelor of Arts (BA Hons) in Modern Languages (German and Italian)
University of Westminster, London, 1995
PUBLISHED ARTICLES AND TRANSLATIONS
Authoring medical translations - to MD or not MD?​ (author)
Laura C Collada Ali, Fiona Grace Peterson
Medical Writing
2016: Vol. 25, no. 4, pp. 65-69
Accidents and injuries related to powered paragliding: a cross-sectional study (translator)
Francesco Feletti, Jeff Goin
BMJ Open
, 2014: 4
Although I have translated many medical texts, these are the only two in the public domain.
To date, I have translated over a million words of medical documentation.
VOLUNTEER WORK
Volunteer translator for Translators Without Borders
Volunteer work with ambulance service (Pubblica Assistenza di Castello di Serravalle, Bologna)
Search and rescue work with K9 Response Unit (Unità Cinofila Torrefire, San Lazzaro, Bologna)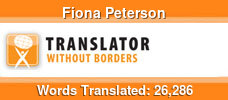 Italian to English volunteer translator