Member of the
Member of the NWTN
Member of the
Former contributor to Harrap's online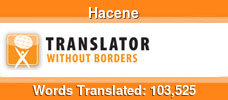 English to French volunteer translator
Seasoned user of DejaVuX Workgroup
If you need a project manager to deal with your large projects, please do contact me.
Service offered
Translation Management
DTP
Translation

File management
File preparation
QA
Resolving technical issues
etc.

Page layout
Text extraction
Test implantation
etc.

Translation FR>EN
Translation EN>FR
Proofreading FR
Proofreading EN
etc.
Areas of expertise
Technical
IT
Politics/News

Construction
Engineering
Heavy machinery
User manuals
Maintenance manuals
User guides
etc.

Software
Middleware
Hardware
Network
Telecommunications
etc.

Essays
Articles
Reports
Dissertations
etc.
I have 10 years of experience in Freelance translation, 3 years of experience as a project manager in a technical and engineering translation company after having worked 5 years as a history teacher in the UK.
Wide range of vocabulary (news, humanities, psychology and philosophy, education and IT).
Classically trained in British literature, language and civilisation.
All documents provided in the requested format;
Confidentiality guaranteed;
Ability to work with various CAT tools: DejaVuX Workgroup, Transit, SDLX, WordFast, etc
Can provide a perfect DTP rendering of the translation compared to the original
Strict adherence to deadlines as agreed.
Since March 2007:Full-time Freelance translator and project manager
2004- 2007:Linguist for a translation company specialised in technical and mechanical engineering
1999-2005:collaboration with OCR, AQA and UCLES
1997- 2004:tutor/teacher for history/Gov&Pols up to A-level
1998:collaboration with Trinity Press Ltd working on 3 monthly specialised magazines (Model Mart, Stamp Mart & the Dealer)
1996-1997:MA option British and American civilisation (University of Grenoble III)
1995-1996:BA in British lit., lang. & civ (Vrije Universiteit van Amsterdam)
free hit counter