Read "Celebrating 20 years with the ProZ.com Argentinian team" blog post »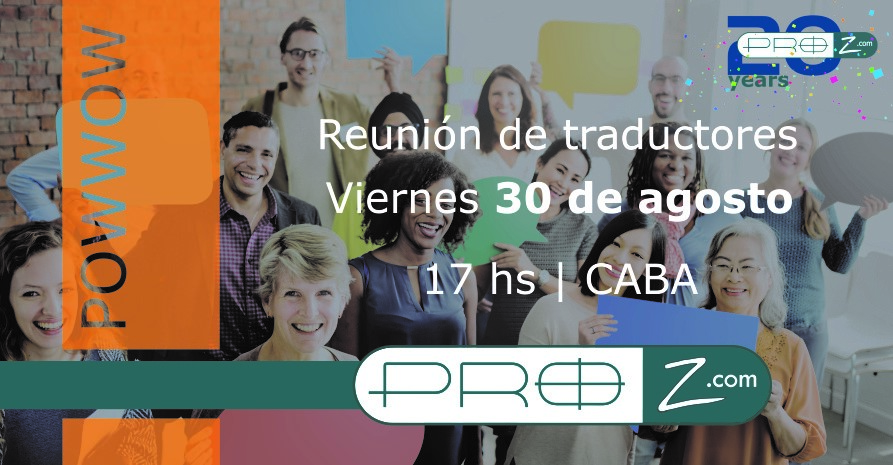 ¡Hola, comunidad de ProZ.com!
Los nuevos miembros del staff de ProZ.com estamos organizando el próximo powwow en Buenos Aires, el viernes 30 de agosto a las 17.00 hs. para tomar un café, una cerveza y quizás quedarnos a cenar. El encuentro tendrá lugar el día
30 de agosto de 2019, a las 17 hs. en Lo de Carlitos, Chile 342, San Telmo, Ciudad Autónoma de Buenos Aires
. Lo de Carlitos ofrece un variado menú sin TACC y es un ambiente apto para niños. Pueden ver cómo llegar
acá
.
El tema y motivo de este powwow es el 20º cumpleaños de ProZ.com, para celebrarlo con ustedes y tener la oportunidad de conocernos.
Como beneficio para quien compre la membresía ese día, el pago se utilizará para invitar la comida y los tragos. Así que, si la cuenta alcanza el valor de la membresía, simplemente pueden ofrecerse a pagarla y avisarnos, y su membresía será acreditada manualmente por miembros del staff de ProZ.com.
Durante este encuentro, los usuarios y miembros de ProZ.com podrán:
❧ Acceder a una revisión personalizada de sus perfiles y ayuda con la edición de información para atraer más clientes o para conocer al primer cliente a través del sitio.
❧ Solicitar la verificación de credenciales, de su identidad y hasta de su lengua nativa, tres factores importantísimos a la hora de atraer clientes.
❧ Acceder a descuentos exclusivos.
❧ Ganar acceso gratuito a cursos en linea y otros obsequios.
❧ Recibir asistencia con la certificación PRO (
Certified PRO Network
) o con el acceso exclusivo a
ProZ.com Pools
.
❧ Participar de un concurso de traducción en tiempo real y mostrar lo que saben no sólo ante otros asistentes al evento, sino también a través de sus perfiles y ante la mirada de posibles clientes.
❧ Intercambiar, vender y comprar memorias de traducción, consejos, proyectos, libros o cualquier otra cosa de utilidad tal y como lo hacen en linea a través del servicio de
Exchange
.
❧ Sumarse a "
Success stories
" con una entrevista en persona con uno de los miembros de staff.
❧ ¡Y más!
Esperamos verlos ahí. ¡Saludos!
Andrea, Mariano, Rocio, Julieta, Rocío, Ezequiel y Hayjor.